According to Harvard Health, the average American eats about 22 teaspoons of added sugar per day.  Sugar is a common additive in many packaged foods: sweets, breads, frozen entrees, frozen pizzas, soups, sauces and condiments.  It is recommended to cut back on added sugars to lower risk of obesity and heart disease.
Even if you cut back on added sugars, there are foods that naturally have sugars.  Fruits, vegetables, dairy, grains and legumes are all natural sources of carbohydrates which are broken down to glucose once absorbed from the digestive tract.
Dairy milk's natural sugar
Dairy milk's source of sugar is from the disaccharide lactose.  Lactose is one molecule of glucose connected to one molecule of galactose.  A cup of milk, whether skim or whole milk, provides about 12 grams of carbohydrate from lactose.
While this sugar from milk can increase blood sugar levels, compared to other beverages milk is relatively low in carbohydrates.  Milk also provides protein and fat which can blunt blood sugar absorption.  Fruit juices can provide 20-30 grams of sugar, and they don't usually have anything else to slow down the absorption of sugar.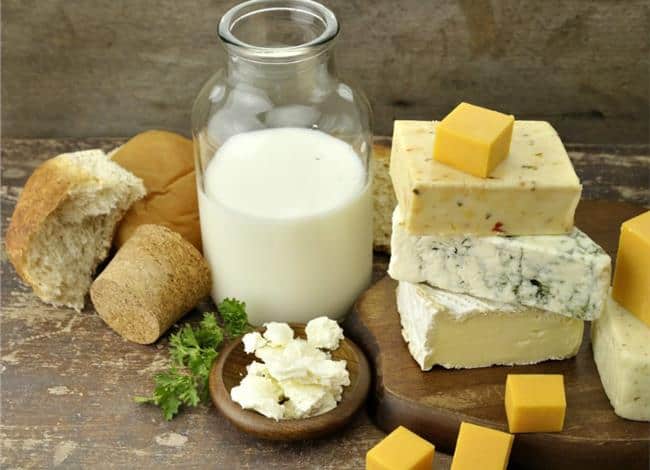 Milk can be considered a nutrient dense food because it provides many nutrients for the calories it provides.  Milk provides a complete protein source and provides about 8 grams of protein.  Fat content can vary between 0-8 grams of fat per cup.
Milk is high in calcium, fortified with vitamin D and a natural source of vitamin A, B6, B-12 and magnesium.
Keep in mind sweetened milks like chocolate or strawberry milk can have more sugar in them and are also a source of added sugar.  Chocolate milk can have around 24 grams of sugar, and half of this is from regular sugar not lactose.
See also: Is dairy good or bad for you?
Dairy alternatives
While the sugar content for dairy milk is pretty even around 12 grams per cup, the sugar content in dairy alternatives can vary between unsweetened options which may have less than 2 grams of sugar to sweetened options that have 10-15 grams of sugar.
Some dairy alternatives, like soy, provide about the same amount of protein as dairy milk.  However, some dairy alternatives provide little protein.  If it is a sweetened variety, it may act more like juice for absorption with nothing slowing the rise in blood sugar after consuming.
Rice milk will naturally have carbohydrates, but soy or nut based milks will naturally have little carbohydrates.  Therefore, any sugar in these is from added sugars.
To pick the lowest sugar option for non-dairy milks, choose unsweetened options.  Avoid options that say sweetened or vanilla, chocolate, etc. flavored for the lowest sugar content.
What about milk with 50% less sugar?
In early 2015, Coca Cola released a milk called Fairlife which they consider as a premium milk.
What makes this milk premium?  Fairlife has 50% more protein, 30% more calcium and 30% less sugar.  This may sound appealing for those looking for higher protein and/or lower sugar food choices.
Basically Fairlife milk is separated into 5 parts: water, vitamins and minerals, protein, fat and the sugar in milk, lactose.  Through processing, they can control how much of each component gets into the milk.
Nutrition experts (1) question the need for altering regular milk to something like Fairlife, and some suspect Coca Cola has moved into the dairy scene due to dropping numbers of soda consumption.
Fairlife milk has half the sugar content of regular milk because the lactose is split up into individual glucose and galactose.  They can also regulate how much is added during processing.
If someone is lactose intolerant drinking lactose free milk is recommended.  However, most health professionals suggest drinking Fairlife over regular milk may not be worth paying twice the money.
Do you need to be worried about the sugar in milk?
The 22 teaspoons of added sugar most Americans get per day is well above the recommended intake of limiting added sugars to 6 teaspoons per day (2).  Pure foods that naturally have sugar in them, like fruits, whole grains or dairy, are not considered sources of added sugar.
Does this mean you don't need to worry about this sugar?  Most healthy people don't have to as long as they are eating a balanced diet.
If someone has diabetes or pre-diabetes and is using insulin pumps or injections, they need to count the carbohydrates from milk as part of their total carbohydrate intake.
Drinking milk can be part of a healthy diet for diabetics, but make sure you speak with your health care team if you have any questions about using milk as part of your meal plan with insulin.
If someone has lactose intolerance, the lactose sugar in milk can be problematic for the digestive system.  This can be fixed by drinking lactose free milk or dairy alternative milks.  Flavored milks can have much more sugar than regular milk and can be a source of added sugars.
Conclusion
Milk does have natural sugar in it from lactose, but that doesn't necessarily mean you need to stay away from it.  Milk is also a source of protein, calcium and other vitamins.  Both dairy and dairy alternatives can provide these nutrients.
However, sweetened milks can have much more sugar in them, so make sure you are buying plain dairy or non-dairy milk to get the lowest sugar content.
If you are counting carbohydrates for diabetes or insulin purposes, it is important to include the sugar from milk into your total carbohydrates.  If you have more specific questions about your individual plan, speak with your healthcare team.