Walk into a grocery store and you will find yourself sifting through information on food packages.  Paying attention to nutrition and ingredient labels can help steer you to make healthier food purchases at the store.
There are many other labels that can come on food too: reduced fat, high in fiber, organic and natural are just some of the terms food companies may add on food packaging.
Do these extra catch phrases mean anything important?  Is organic food healthier to buy?
According to research from Consumer's Report (1), more than half of consumers search out foods that are labeled natural.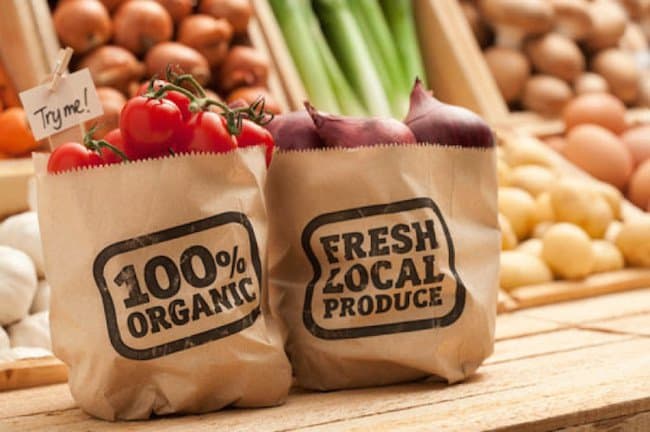 According to February 2017 The Guardian article (2), demand for organic food is at the highest its ever been.
With demand for healthier food growing in the general public, organic and natural food seekers are on the rise.
However, it is important to know what these terms really mean, if or how they are regulated and if these products do indeed offer health benefits.
What is considered organic?
If something has the organic label, it must pass USDA standards.
Certified organic means food is grown on land without synthetic fertilizer, pesticides or other prohibited substances for at least 3 years prior to harvesting.
Organic meats are animals that are raised in a natural environment, fed 100% organic feed or forage and are not given antibiotics or hormones (3).
Organic foods also are free of genetically modified organisms (GMO), sewage sludge or irradiation.
The phrase "made with organic ingredients" can be on foods that contain at least 70% organic ingredients.  The rest of the ingredients are conventionally grown.
Are there health benefits from organic?
There is some debate amongst researchers if organic foods have health benefits over conventionally grown food.
Some research has not indicated a significant benefit from organic foods, but other research studies do show some differences.
For example, a 2012 article (4) from Stanford Medicine suggests research from Stanford University did not find evidence organic foods are more nutritious compared to conventionally grown food.
However, a 2014 meta analysis (5) from over 300 studies concluded organic crops have higher antioxidants and lower pesticide residues than conventionally grown crops.
Another 2014 meta analysis (6) from 170 studies concluded organic had higher omega 3, antioxidant and iron levels but lower selenium and iodine levels than conventional milk.
However, some researchers suggest the higher amount of omega 3 from organic milk is not significant and may not translate to a significant health benefit.
What is considered natural?
Unlike being certified organic, having a natural label on a food really does not have any clear definition or accountability.
The FDA or any other governing body does not regulate the use of the word natural on food products.
Therefore, a food product could say natural on it even if it still contains artificial ingredients.
A report from experts with Consumer Reports (7) suggests consumers should not be duped by the natural food label.
There is standard or regulation of what natural on food packages means.
Something that is conventionally or organically grown could be labeled as natural.
Unfortunately, it doesn't mean the ingredients are all natural; the food could still have artificial ingredients or contain food products in unnatural forms.
Are there health benefits from foods labeled natural?
Because there are no current regulations of using the word natural on food packaging, there are no health benefits from foods labeled natural.
Natural foods could be healthy foods, or they could be on foods that are not really "natural".
Center for Science in the Public Interest (8) suggests Congress should require claims for foods labeled "Natural" meet specific standards.
Letting companies label food natural that really isn't natural may lead people to think certain foods are healthier than they are.
Organic and natural don't always equal healthy
Just like a food being labeled as natural doesn't guarantee a food is healthy, a food labeled organic doesn't mean it is necessarily healthy either.
Scientists don't always agree if organic foods have more health benefits than conventionally grown food.
Some studies suggest organic food has higher nutrients like antioxidants or omega 3's, but not all research has shown organic foods to have higher nutrients.
Some scientists suggest the differences in some nutrients levels between conventional and organic are non-significant.  More research is needed.
If you choose organic food for health or environment reasons, note that not all organic food is automatically healthy.
Foods low in nutrients like chips, cookies or other packaged snacks can be labeled natural or organic.
This doesn't mean these foods are healthy.
The foods may have ingredients that were grown organically, but it doesn't mean the packaged foods, like chips, are healthy.
What is still most important, regardless if food is labeled natural, organic or not is what food you choose to eat.
Health experts suggest getting more fruits and vegetables while cutting back on processed foods is important for health whether the foods are conventional or organic grown.
Conclusion: difference between natural and organic
Besides the nutrition label and ingredients list on packages, there are now many other health indicators on food that can catch our attention.
Sometimes health claims are made or labels such as reduced fat, organic, natural, etc.
Unfortunately, sometimes these extra labels on food can be misleading.
Using the term natural on foods is not regulated by the FDA and does not have a specific definition.
Most people would like to think foods labeled as natural are free of artificial ingredients, but this is not always the case.
Foods labeled as natural do not mean they are necessarily advantageous for health.
Foods that are labeled as organic have to go under stricter guidelines and regulations.
Certified organic foods have to be free from synthetic pesticides, fertilizers, GMOs, sewage sludge, irradiation and grown on land that has been free of synthetic pesticide use for at least three years.
Animals that are certified organic have specific regulations for feeding and use of antibiotics and hormones.