Eating too much any time of the day can hurt weight loss efforts.  However, is eating in the evening more harmful than over eating at other times?  Some follow the rule of not eating after a certain hour, example 8 pm.  Well there may be no magic time to not eat after, avoiding over indulging at night may be beneficial for many reasons.
Total calorie intake for the day
Instead of focusing on a time at night to not eat past, focus on your total calorie intake for the whole day.  Ideally food intake should be spread out fairly evenly throughout the day, maybe even eating the majority of food intake earlier in the day.
For example, someone could eat about 500 calories for breakfast, lunch and dinner and maybe 250 calories as snacks through the day for a total of 1,750 calories.  If someone skips breakfast, eats a small 250 calorie lunch then eats 1,500 calories in the evening.  Both scenarios have the same calories, but different distribution.
If you go all day without eating much, you are bound to be very hungry in the evening.  When someone goes a long period without eating, they are more likely to consume higher calorie foods and larger portions. See also: Is it bad to only eat once a day for more information.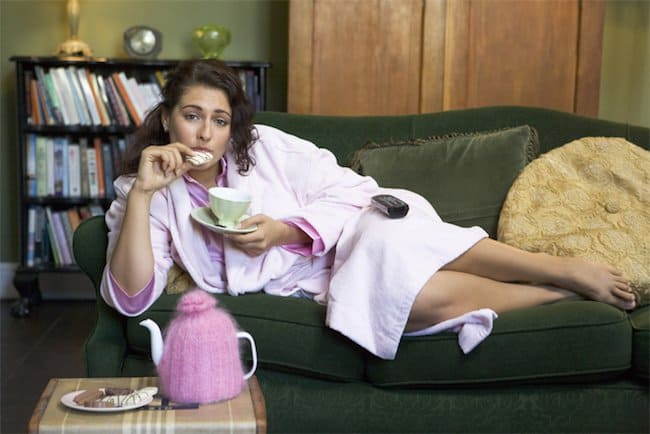 What's the difference?  Eating high number of calories in a short period of time can promote fat storage and insulin response to a meal greater than a smaller meal.  Also, at night you are probably not going to be active and likely to go to bed soon after eating.
Other harmful effects
Night eating syndrome (NES) is defined as eating more than or equal to 25 % of calories in the evening, morning anorexia, getting up in the night and eating something before going back to bed and a depressed mood often accompanies this syndrome.  NES can be common in people battling obesity, and it is thought there is an association between night eating and weight gain.
A 2008 study in Eating Behaviors studied the effects of NES on non-obese study participants. People with NES experience greater depression, greater body image concerns, and perceived increase in stress, decreased quality of life and increased anxiety compared to non-obese participants without NES.
This study suggests a NES pattern of eating most of daily calories at night can have other health consequences besides weight gain.
Mindless munching
Munching while making dinner or snacking after getting home from work could be adding subtle extra calories that are hampering your weight loss efforts.  Maybe you don't eat a large evening meal and do a good job of spreading out your food intake over the day.  It may be the all the little "extras" in the evening that can work against your weight goals.
If you tend to let down your guard after getting home in the evening by eating little extra helpings while making dinner or munch on snacks as a way of unwinding from a stressful day, your habits could keep you from losing weight.
Be mindful of what you're putting in your mouth.  The extra handfuls of snacks or the second helping at dinner could add an additional 200-500 calories in the evening that go unnoticed.
Tips to cut down evening eating
Eating in the evening could be sabotaging your weight loss efforts, and excessive night eating could be related to other negative health effects.  In conclusion, here are some tips to cut down evening eating.
Make sure you are eating a balanced breakfast and lunch if you're not already.  This will keep you from feeling ravenous by the time you get home in the evening.  Eat breakfast and lunch that contains fiber, protein and healthy fats.
Eat a small snack midafternoon if you find yourself really hungry in the evening.  Eating a small snack can take the edge of feeling hungry when you get home from work so you can have a sensible portion for dinner.  Choose something that is unprocessed like fresh fruit/veggies with yogurt, cottage cheese, nut butter, or a small handful of nuts.
If you eat out of boredom or as a stress reliever in the evening, find a healthier alternative instead of eating.  Go for a walk, ride your bike, knit, paint, garden, etc.  Find something that you enjoy and will help you unwind.
Pay attention to what you put in your mouth.  Avoid mindlessly munching on food as you cook, watch tv or are on the computer.
If you tend to eat the majority of your calories at night, start eating breakfast.  You may not feel hungry in the morning, but in order to break the cycle of eating heavily at night and very light through the day you need to shift your habits.  With time, you will start to look forward to breakfast and not feel the need to eat so much at night.
Also read: How to eat lunch and still lose weight
References used in this article