Eating diet high in fruits and vegetables is associated with many health benefits, and it is recommended to eat half your plate as fruits and vegetables at all meal times.  Fruits and vegetables are high in fiber and antioxidants, which can be beneficial for heart health and may help lower risk for some chronic diseases.
Spinach, like all other leafy greens, are considered a nutrient powerhouse by many.  Spinach is high in many nutrients, antioxidants and fiber.  It is virtually calorie free, so it is conducive for a healthy diet.
There are no contraindications for eating spinach daily for healthy adults, in fact, eating it daily is encouraged.
To get the most benefit from a diet high in fruits and vegetables, consider adding in many different types and colors of fruits and vegetables.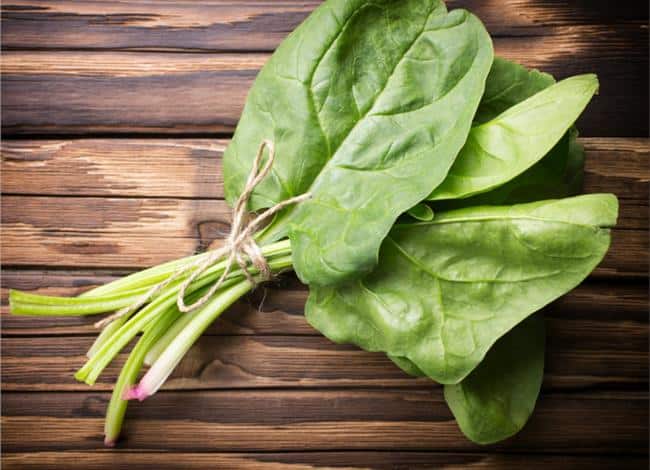 Brain protection
One antioxidant in spinach, chlorophyll, has been shown to help block some carcinogens, and the alpha lipoic acid in spinach could have beneficial effect on lowering risk for type 2 diabetes (1).
In general antioxidants from food can protect cells from damage caused by free radicals.  Free radical damage has been associated with diseases such as cardiovascular disease, cancer and cognitive decline.
A 2015 study (2) has shown that eating spinach daily could help add years of health to your brain by slowing the effects of cognitive decline with age.
Researchers tracked the diets of more than 900 elderly patients for five years.  What they found was subjects who ate the most spinach had significant lower rates of cognitive decline.
Researchers think nutrients in spinach like vitamin K, folate, lutein and beta carotene are responsible for the protective effect on brain function.
Researchers also noted spinach is likely not the only vegetable to offer brain protection, other fruits and vegetables that are rich in these nutrients can also have the same effect.
Full of fiber, not calories
A cup of raw spinach (30 grams) is only 7 calories and provides 1 gram of fiber.  You can make a big salad with at least 2-3 cups of spinach, and this will help keep you full because of the high water and fiber source.
Eating a diet high in fiber is important for digestive health and cardiovascular health.  Eating enough fiber every day helps lower risk of constipation.  Most Americans struggle to get enough fiber every day, and eating a diet high in fruits and vegetables, like spinach, can help you get to your daily target fiber intake.
Important for bone and heart health
Raw spinach is a source of potassium, magnesium, B vitamins and low in sodium.  Getting enough magnesium, potassium and calcium are important for healthy blood pressure levels.
The antioxidants in spinach can also protect the cardiovascular system from damage that may lead to risk factors for heart disease.
Eating raw spinach every day, along with eating many other fruits and vegetables, can help you get the recommended intake of potassium and magnesium.
Most Americans have a hard time getting enough daily potassium and magnesium through their diet.
Spinach, like all leafy greens, is a rich source of vitamin K.  Vitamin K plays a role in bone health by helping absorb calcium and lowering calcium excretion from urine (3).  Vitamin k also plays a role blood clotting.
Source of vitamin C
Spinach, like other fruits and vegetables, is a source of vitamin C.  A cup of raw spinach provides about 15% DV of vitamin C.  Vitamin C works as an antioxidant, but it is also used as a building block for forming collagen.  Collagen is important for healthy skin, hair and gums.
Another benefit for being a vitamin C source is spinach may actually help improve iron absorption.  Vitamin C is a known enhancer for absorbing iron from non-animal sources.
While spinach does have tannins which can block absorption of iron, the vitamin C counteracts this effect.
When should you not increase your intake of raw spinach?
In general, healthy adults have no reason to worry about adding spinach to their diet.  Remember, all fruits and vegetables have nutritional benefit.  It's a good idea to bump up your spinach intake, but you should also try to up other fruits and vegetables as well.
If you are taking any blood thinning medication, you should speak with your doctor before changing the amount of leafy greens you eat.
Drastically altering your vitamin K intake while taking blood thinning medication could cause an interaction with your medication.
If you have any kidney issues, speak with your physician before altering your spinach intake.  Getting more potassium in the diet is a good thing, except if you have kidney issues.
In this case, the kidney can have a hard time getting rid of excess potassium from your body which could have negative effects.
How to add more spinach in your diet
Adding in spinach doesn't have to be difficult.  Leafy greens can easily be added to any smoothies, as they are virtually tasteless in a smoothie.
You can also add spinach leaves to sandwiches, eaten with main dishes for any meal or added to soups, salads or egg dishes.
Conclusion
Eating raw spinach every day can be very good for you.  Eating raw spinach every day could especially be important for delaying cognitive decline, according to some research.
Spinach is a very low calorie food, a source of fiber and many antioxidants, vitamins and minerals.
Even though spinach offers many nutritional benefits, keep in mind all fruits and vegetables offer nutritional benefits, and it is recommended to eat a diet with a variety of fruits and vegetables.