The absolute truth is that sometimes being on a weight loss diet is hard. Temptation is everywhere and there are some habits which are not easy to break. Work overeating is one of them.
I remember moving to London for a job and the pounds piled up straight away. I joined the gym, tried dieting but my menace was work. I worked in rehab in a special needs school. Every morning there was a big tray with freshly cooked cookies, cakes etc from the kitchen, etc; the parents would often very kindly bring us chocolates to thank us and around Christmas…the food would never stop. I lost the weight when I got another job and moved out of London.
I'm sure a lot of people may have been, or are in a similar situation where all the weight loss efforts crumble under the 'work' monster. However, I now know that I don't have to leave my job and city in order to keep in shape. There are always ways to avoid overeating in work.
1. Snack healthy
Common diet menace: the cookie tin. They may come in different forms such as chocolate box or donut box, cake tray etc. They all fit in the same category. The most usual time to give in is when you first come in or when the coffee/hot drink break comes around.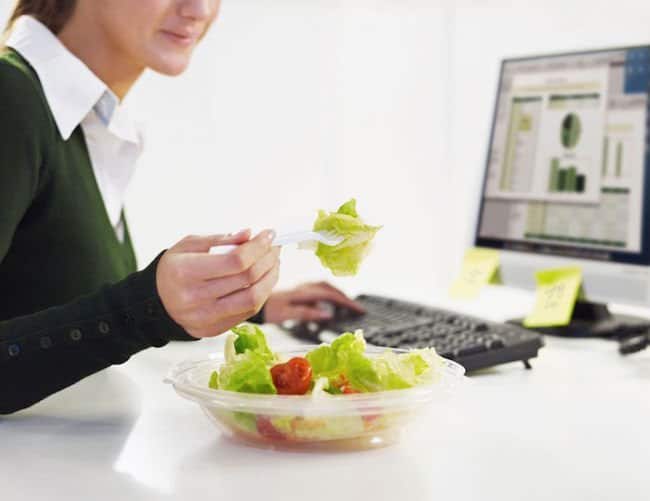 How do you fight it? Snack healthy. Have an alternative snack in your bag. Opt for fresh or dried fruit and nuts to satisfy a sugar craving. Some fruit can be quite sweet and as tasty (especially if in season) and can provide a healthy, low calorie and packed with vitamins snack.
Try some strawberries (or any berries) with a spoonful of yogurt and a drop of honey. Or just bite on a banana (quite feeling to take you through to lunch) or just have a handful of dried fruit and nuts (keep it to a handful as they are very calorie rich).
2. Stay away from temptation
I remember in one office I used to work we used to have a table in a corner which had all the tea and coffee making facilities and with it all the sweets, biscuits, chocolates etc. My simple trick was to not visit the table. My theory was that if I don't see it I don't know it's there I will not eat it. It did work. It was easier for me as I am not a big lover of hot drinks.
Alternatively, use the staff room to make a drink or bring it in a travel mug from home. Stays hot for hours and it can save you money. To be honest is not very healthy to drink 10 cups of tea and coffee in a working day.
3. Be prepared
With hard times heating our pockets we saw the return of the lunch box. This is a good thing in some ways. Canteens and local sandwich shops don't usually have the healthiest or most dieting options, plus if you are following a specific diet plan it may be hard to find exactly what you are meant to be eating in a canteen.
Moreover, it is easy to not control the portion in your plate, or give in to desert, go for seconds or have an extra bread roll and butter with your meal.
What more simple than bring it in with you, prepare it from home, and this way you can control what you eat, how much and it is tailor made to your diet plan. Not to mention that it saves money.
An easy way to make your lunch box is from the night before. This way you don't have to rush in the morning or be stuck with what to make. An idea is to keep a portion of what you cooked the night before for lunch.
4. Don't eat at the desk and do have a proper lunch break
Two things here, one leave the desk to have your lunch and two do take the time to have your lunch. It is common to work through lunch time, and just grab something quick or just munch away on lunch while looking at the computer.
This is probably the easiest way to overeat as you are not concentrating on what or how much you are eating. If you are short of time take 10min but make sure these 10min are your 10min for your lunch.
5. Get a work buddy
Having support will always take you a longer way. Studies do suggest that people who have support from their environment they tend to lose more weight and for longer.
Even if you are not 'dieting' as such why not buddy up in work in eating sensibly? Do you have a work friend or colleague who wants to lose weight or trying to keep in shape and weight? Join forces and support each other in having healthy lunches, avoiding sweets and biscuits etc.
In times of temptation you can talk it out with each other or when everybody is munching on those delicious donuts you are not alone in biting in an apple and feeling sorry for yourself.
6. Smart business lunch
For many going to work involves regular trips, entertaining clients or having numerous business lunches. Following a weight loss plan or even just not overeating can be hard work.
Be prepared and no, I'm not implying to bring your packed lunch in a business meeting. If you are travelling to specific place often try to find a couple of places/restaurants which can offer healthier choices. Most places have details of their menus or the services they offer on the internet so you can do your research from home.
Even if you can't find something in the menu you can always contact them and ask if they would be happy to cater for what you want. You will be surprised, but a lot of places are happy to offer alternatives or make something which is not on the menu, especially if they know you will be going often.
Finally, look for healthier options in a menu. Opt for the salad, or have a grilled steak/chicken etc with vegetables and salad instead of chips or pasta with sauce. Skip the starter, or have a small starter (avoid sauces, fried fatty) and do skip desert. Trust me there is always a healthier option or combination in a menu.
7. De-stress
Whether at work or home, stress can be responsible for overeating; not only in terms of amount but also in terms of calories.
It is common when we feel stressed to reach for the comfort foods, the chocolate, the sweets the deep fried and stodgy takeaway. A good trick is to try to de-stress, this will be good in the long run for your health as well.
Not easy to run for a massage in your lunch time but there are little tricks to try. A quick walk, or some slow breathing for 5 min, taking yourself of the desk for your lunch, or having a quick 5min chat with a friend are all quick and easy things to do on the spot.
9. Don't skip breakfast
Is as simple as that; if you let yourself go really hungry you are likely to eat whatever you can grab. Breakfast can be an important meal for the day. Although delaying breakfast in the morning can be good for enhancing fat burning skipping it completely will actually slow down your metabolism and by lunch you will be starving.
Two common things may happen here:
1-End up picking biscuits, snacks, crisps etc through the morning.
2-Be too hungry to think by lunch and have a big, fatty, lunch. I'm sure there may be different variations, however these 2 results are the most likely to happen.
If time is tight in the morning for breakfast do make sure you have it when you get in work. Is best to try and take it with you or avoid picking readymade breakfast sandwiches, burgers, pastries etc as they can be as calorific and fattening.
Try preparing from the night before or pick up healthier options, such as breakfast cereals, poached eggs, yogurt and muesli or fruit etc. Protein based breakfasts do tend to make people feel full for longer so it may make a good option.