Bad breath can be caused from bacteria in your mouth, food particles from smelly food or as a symptom of another health condition.  Having good oral hygiene is the first place to start for having fresh smelling breath.
Colgate (1) recommends brushing your teeth at least two times a day, flossing at least daily and making regular visits to the dentist twice a year as the top ways to treat bad breath.
For an extra step, you can also use a tongue scraper when you brush your teeth.  This can help remove odor causing bacteria from your tongue.
Foods can influence what your breath smells like for the better or worse.  Obvious foods like onions, garlic and drinking coffee can cause foul smelling breath, but some foods can actually help your breath smell fresh.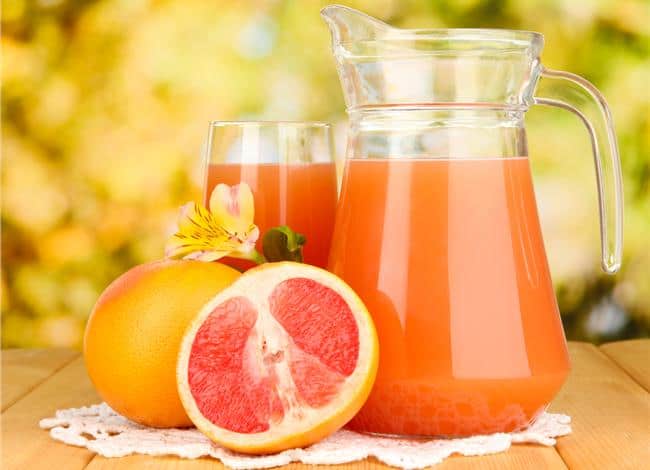 With a combination of eating foods that help freshen breath and good oral hygiene, your breath should smell fresh.
If foul smelling breath persists, speak with a doctor as it could be a sign of a more serious medical condition.
Citrus fruit
All fruits and vegetables are a rich source of vitamin C, especially citrus fruits.  Vitamin C is a powerful antioxidant, and another benefit it can offer is helping fight odor causing bacteria in the mouth (1).
Crunchy fruits and vegetables, like carrots, bell peppers or apples, can also further help fight bad breath because they act like an abrasion against teeth to help remove food particles.
Any fruits or vegetables can help give you a boost of vitamin C, so try adding more fruits and vegetables at meal times and snacks.
Yogurt
Yogurt and other fermented foods are a source of beneficial bacteria called probiotics.  These probiotics can play an important role in immune function and fighting off other harmful bacteria in the body.
Some research has shown yogurt can help fight off odor causing bacteria in the mouth.
According to WebMD (2), a study concluded eating 3 ounces of probiotic yogurt twice a day for 6 weeks helped reduce sulfur (odor causing) compounds in research participants.
The result of this reduction is fresher smelling breath.
Eating yogurt and other probiotic sources may help you have fresh smelling breath.  Keep in mind the best choices for probiotic sources are plain varieties without added sugars.
Bacteria in the mouth can feed off sugar, so limiting added sugars is advised.
Fresh parsley or basil
Fresh parsley and basil can help fight bad breath and offset some of the odor causing compounds from other foods like garlic and onions.
Similar to probiotics, the polyphenols in these fresh herbs help break down the sulfur compounds from smelly foods.  This helps neutralize them in the mouth and helps keep your breath fresh.
For the biggest benefit from these herbs, Eating Well (3) suggests to include these herbs in dishes that contain garlic or onions.  For example, make a pesto with fresh basil to offset the garlic or add fresh parsley on top of a casserole or egg dish with onions.
Fresh mint may also help neutralize odor causing bacteria.  Adding fresh mint to water or adding mint in a smoothie can be easy ways to get fresh mint in your diet.
Other herbs like cloves or fennel seeds could also help fight bad breath.  Experiment with different herbs for flavor and pairing with different dishes for an antioxidant boost and to help fight odor causing compounds from food.
Unsweetened tea
Green and black tea are good sources of antioxidants.  These antioxidants from tea may help protect cells from damage caused by harmful carcinogens, and it turns out these tea antioxidants can also help fight off bad breath bacteria in the mouth.
Drinking tea can be an easy way to get more of these bad breath fighting compounds in your diet.
However, be aware that adding sugar to your tea can promote bacteria growth in the mouth.  Therefore, drink tea that is unsweetened for the most benefit.
Drink more water
Fighting bad breath might be as simple as drinking more water.  Water can help flush out food particles from your mouth and encourage saliva production.
Odor causing bacteria tend to grow in a drier atmosphere, so staying hydrated could help further deter the growth of these bacteria in the mouth.
Avoid drinking a lot of coffee or alcohol drinks throughout the day if you want to keep your breath smelling fresh.
Alcohol and coffee can promote dry mouth which is more conducive for bacteria to grow (4).  If you do drink coffee or alcohol, make sure you drink plenty of water throughout the day.
Avoid heavily using over the counter mouth rinses, as these often contain alcohol and can dry out the mouth.  They may mask bad breath temporarily, but they won't help long term.
Spinach
The health benefits of eating leafy greens are numerous, and another reason to eat leafier greens like spinach is to help fight bad breath.
Spinach, like parsley and basil, is high in antioxidants that can help eliminate sulfur odor causing substances from smelly foods.
Health conditions affecting mouth odor
Sometimes bad breath isn't from the food you eat or from your oral hygiene.  Bad breath can be a symptom or caused (5) by the following conditions: abscessed tooth, cavities, acid reflux, lung or throat infection, gum disease, smoking, side effect from some medications, diabetes, kidney or liver problems or bowel obstruction.
If bad breath isn't going away or is consistent, you may want to speak with your doctor or dentist.
Conclusion
Stinky foods can translate to stinky breath.  Having good oral hygiene and drinking enough water is the first line of defense for fighting bad breath.
Foods that can help freshen your breath are probiotic food sources, like plain yogurt, and antioxidant foods.
Spinach, fresh herbs, fruits and vegetables high in vitamin C and tea are all sources of antioxidants that can help offset sulfur compounds in the mouth.
Eating crunchy fruits and vegetables can also help act as an abrasion against teeth to remove food particles.