Maca is a plant that has grown in the mountains of Peru for thousands of years.  Ancient Incans used maca root to help give them increased stamina.  The root of the maca plant has recently been growing in popularity as a remedy for various health problems.  While maca root is considered safe for consumption for most people, the clear benefits of maca root are still being studied.
According to WebMD, there is not a lot of evidence to back up claims of maca root helping with low libido, energy levels, improving memory, osteoporosis, menopause, etc (1).
Some people claim that having maca root increases their energy levels and may be an alternate for caffeine.
While there is not research to support most health claims of maca root, it can be a source of many important nutrients.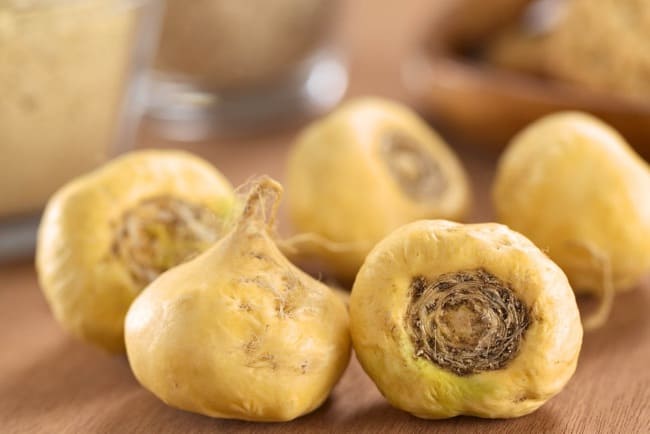 There is a chance maca root could interfere with some medications or be contraindicated for some medical conditions, so speak with your physician if you are wondering about taking maca root.
How do you eat maca root?
Maca root is usually ground into a finer powder than can be used to make something like a porridge, used in soups and can even be used to make a fermented drink.
You can also add maca powder to smoothies, lattes and desserts.  Maca root is known to have a slightly malt like flavor.
Nutrients in maca root
Maca root can be a vegetarian source of protein; one ounce of maca powder provides about 4 grams.  An ounce serving of maca also provides 2 grams of fiber and over 100% RDA of vitamin C.  Maca is a source for iron, calcium, magnesium and other minerals as well.
Taking a serving of maca multiple times per day could provide many nutrients that can be hard to get in a typical Western diet.
Maca root, like all other fruits and vegetables, is also a source of antioxidants and phytochemicals.
More research needs to be done on any specific health benefits these phytochemicals could provide.
Does it help support energy levels?
Some people who take maca root claim it helps them have more energy.  More research needs to be done on the effects of maca root boosting energy levels.
People who are really sensitive to caffeine may especially be drawn to maca because it won't give a jittery feel like caffeine can.
Another reason maca root may help with sustained energy is that it may have a role in regulating stable blood sugar levels.
Some also claim maca root has a role in balancing hormones and may be beneficial for the endocrine system, but more research is needed to verify these claims.
Does it help with sexual dysfunction?
Maca root has been speculated to help with improving testosterone in men, increasing serotonin, sperm count or libido.  However, much research needs to be done on these health claims associated with maca root.
Research does not support that maca root can help increase testosterone levels in men.
A 2010 review article (2) looked at the results of all randomized clinical trials involving maca root and sexual dysfunction in men and women.
Researchers found that there was limited evidence for maca root improving sexual function.  However, these conclusions came after looking at only 4 research studies, and these studies were relatively small.
Researchers concluded more research needs to be done to understand the relationship between maca root and sexual function.
Is it safe?
As of now, more research is needed to validate any health claims associated with maca root.
However, maca root appears to be safe for general consumption for most of the population.  It can provide a source of vitamins, minerals, antioxidants, fiber and protein.
Maca root is usually well tolerated and has been consumed as a diet staple for thousands of years in Peru.
However, if you notice you experience any side effects from taking maca root, immediately stop taking it and speak with your physician.
Caution with maca root
Pregnant and breast feeding women are advised to not take maca root because the effect on babies is not known.
Since maca root may have an impact on hormonal function, people with hormone sensitive conditions, like breast cancer, prostate cancer or endometriosis, should consult their medical team before taking maca (3).
The effect maca root has on other health conditions is not well known, so speaking with your physician before you add maca root to your diet is recommended.
Conclusion
Maca root has been used for centuries as something that can be eaten as a porridge form or baked with.  Maca root has recently become popular as a healthful supplement or dietary aid, but health claims associated with maca root should be read with caution.
There are very few research studies with maca root, and the degree of effect on hormonal balance, as sometimes claimed, is not fully known.
What is known is that maca root does provide many vitamins, minerals, antioxidants and is also a source of fiber and protein.
It can be added to smoothies, used for baking or be taken as a supplement.
Maca root is generally considered safe, but if you have any underlying health conditions you should speak with your physician before you add maca root to your diet.
Maca root could potentially interfere with some hormonal health conditions and is not completely cleared for use with breast feeding or pregnant women.