Jogging is a great exercise that has many health benefits.  It is a cardiovascular exercise, meaning it is good for your heart and increases physical endurance.  Jogging is a weight bearing exercise meaning it is good for your bones, and jogging can help tone your muscles in your legs.
Even though jogging will strengthen your legs, you may need to supplement other exercises to tone your legs and butt for the greatest impact.  Diet and weight loss may play a role for seeing leg definition as well.
How jogging tones legs & butt
Jogging uses all major leg muscle groups: the quads, hamstrings, glutes (butt) and calves.  These muscles all work together so the jogging motion can happen relatively smoothly. The quadriceps muscles work to extend the knee during walking and jogging, the hamstring muscles flex the knee and rotate the lower leg.
The glute muscles help stabilize the pelvis and extend the legs back when jogging.  Calf muscles help pull the heel up when pushing off during jogging.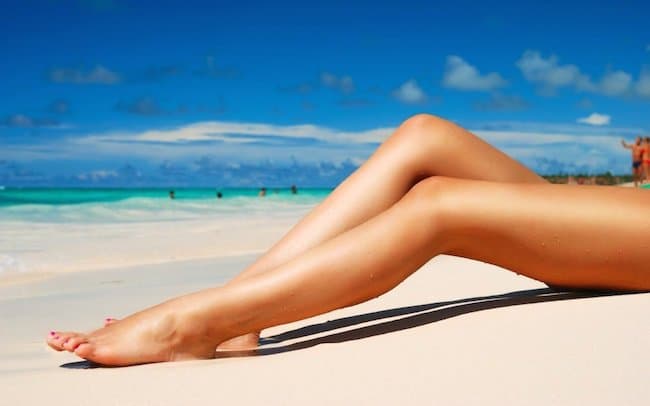 As someone starts to exercise more, theses muscles will get more developed and get stronger.  As jogging training progresses, adding variety to training can help strengthen muscles in different ways.
Jogging hills, intervals or running on different surfaces can stress the leg and butt muscles in different ways than running at a moderate pace on flat terrain.  Varying running intensity and incline can also help prevent injury.
If one muscle group is tight or over stressed, it can impact the efficiency of other muscle groups.  For example, if the hip flexors and quads are tight, the glutes and hamstrings may not fire properly.
Must Read:
Other exercises that will help tone
Even though jogging can tone leg and butt muscles, adding strength training to an exercise routine can give greater toning benefits.  Strength training can also help tone weak muscles and target areas that are under or over developed.
For example, sometimes runners don't fire their glute muscles properly and overuse the hamstrings.  Strength training glute muscles specifically can help increase nerve stimulation and strength in the glutes.
The quads, hamstrings, glutes and calf muscle groups contain many individual muscles that make up the larger muscle groups.  For example, there are 3 major muscles in the glutes.  Strength training different glute exercises can target all 3 individually.
Common strength exercises that may be beneficial for runners include:
Squats
Lunges
Single leg dead lifts
Core work
Other cardio exercises like biking, swimming, dancing or stair stepping can also help tone leg/glute muscles.  Varying up your exercise routine can help strengthen your legs over all.
For more information on leg/glute strengthening, talk to an exercise professional.  If you have questions or have a leg injury, talk to an exercise professional before starting a lifting program.
The American College of Sports Medicine recommends to strength train each major muscle group 2-3 days each week with a variety of exercises.
Can't spot reduce
Jogging and strength training will tone leg/glute muscles, but you will not notice results over night.  Physical benefits from exercise may take a while to be seen.  Keep in mind your legs may be getting toned even if you can't physically see a difference in your muscle tone.
If you carry extra fat mass on your legs, you may not be able to see increased muscle definition from jogging.  Jogging is a great way to burn extra calories, but will not guarantee you will lose fat mass from the legs.
Unfortunately, we can't spot reduce fat from exercise.  For example, doing abdominal crunches probably won't melt away belly fat, but it will increase ab strength.  Most people will lose fat mass when starting a jogging program, but where the fat is lost on a body is genetically determined.
Don't forget the core
Core strength is important to remember when jogging.  Strong abdominal and back muscles can help improve running form and could improve running efficiency.
When you're jogging, your core should be engaged.  If the core is not engaged when jogging, shoulders can slump forward, arm swing can be limited and running stride length may be shortened.
Jogging will probably not give you an automatic 6 pack, but as mentioned jogging is a great calorie burn exercise.  Increasing calorie burn can help with weight loss.  Joggers should include core strengthening so the core is strong, not necessarily to try to spot reduce fat in the belly area.
Examples of core work include abdominal crunches, strengthening exercises for the low and upper back, planks or bicycle crunches just to name a few.
Conclusion
Jogging can tone the legs and butt; however, adding in additional strength training exercises for each major muscle group can help tone more.  Adding variety to your jogging workout like adding in some interval training, hill workouts or varying your jogging terrain can further tone muscles.
Strength training can also help strengthen weak muscles not noticeable when running.  Core strength shouldn't be over looked; it is important for running form.  Jogging is a great calorie burn, but keep in mind jogging cannot spot reduce fat loss.
Talk to an exercise professional for more information on jogging, muscle toning and strength training.
References used in this article