Burning 200 calories on a treadmill may or may not be enough for your fitness, health or weight loss goals depending what the rest of your day looks like. 
Finding the right balance between eating and exercise can seem like an elusive equation.  There are ways of finding out your basal metabolic rate (BMR) and estimates for your daily calorie needs, but these are estimated equations.
Therefore, the exact amount of exercise or food intake you need for weight loss is not as simple as an equation for your calorie needs.  It can be used as a starting point for weight loss, but you may need to alter your habits as you progress in your weight loss journey.
Getting in any planned exercise, no matter how many calories you burn, can have health benefits.  However, if you are trying to figure out a certain number of calories you should be burning per day for weight loss, 200 calories per day on the treadmill may not be enough for weight loss.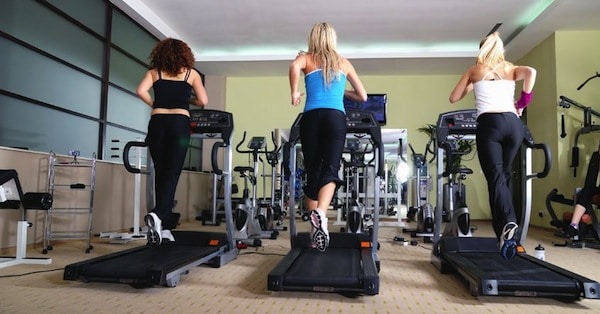 A general rule of thumb for losing 1-2 pounds a week is to be in a calorie deficit per day between 500-1,000 calories.  This can be accomplished through a combination of diet and exercise.
Recommended reading: How many calories in a pound
Therefore, if you are primarily using exercise for weight loss, burning an extra 200 calories a day may not be enough.
However, if you are combining this with other weight loss measures, it could fit into your plan.
What does it take to burn 200 calories?
How long it takes to burn 200 calories on a treadmill or any other mode of exercise can vary greatly.
Your calorie burn can vary based on genetics, body size, age, sex and other health factors.
If you are walking 4 MPH on a treadmill, a person weighing 150 pounds will burn approximately 200 calories in about 35 minutes.
However, someone weighing 185 pounds will burn about 200 calories in about 30 minutes.
If you increase your exercise intensity during exercise, generally you burn more calories.
For example, someone weighing 150 pounds running on a treadmill instead of walking could burn 200 calories closer to 20 minutes instead of 35 minutes.
If you don't want to exercise at a higher intensity the whole duration, you can do intervals on higher intensity exercise.
For example, you could run for a minute and walk for 2 minutes and repeat several times.  Doing this type of cycling may help you be able to burn more calories in a shorter duration.
Ways to increase calorie burn throughout the day
To get more movement in the day, there are things you can do outside of your time on the treadmill.
You can do resistance training a few days a week whether you are at home on the treadmill or at a gym.  Adding in resistance exercise is recommended for overall health and can help build and maintain your muscle mass.
If you are at home and don't have weights, no problem.  There are many exercises you can do with your own body weight.
If you sit at a desk most of the day, take regular breaks throughout the day to walk or do some steps.
If you go on the treadmill once a day, could you schedule another exercise session later or earlier in the day?  Even 10 minutes of exercise can be beneficial.  It could be a different activity besides going on the treadmill such as: riding a bike, gardening, hiking, rowing, dancing, etc.
What are your weight loss goals?
How do you know if burning 200 calories on the treadmill is enough?  It depends on your goals.  How much weight are you trying to lose and what the rest of your lifestyle looks like are important factors for determining how much exercise would benefit your goal.
According to a 2014 review (1) on the role of exercise in weight loss and maintenance, unless your exercise training is quite high, significant weight loss is unlikely to happen.
Therefore, if going on the treadmill and burning 200 calories is your primary method for losing weight, you will probably need to do more than this to meet your goal.
This could be done by increasing your exercise time, varying your type of exercise, increasing exercise intensity or better yet doing a combination of all of these.
It's also important to account for your food intake, stress levels and sleep quality at night for determining weight loss success outside of exercise routine.
Burning 200 calories alone on a treadmill won't be enough if your food intake is unbalanced.
Is treadmill calorie burn accurate?
How do you know if you're burning 200 calories?  The exercise equipment or fitness apps can estimate calorie burn.  However, there is a margin of error with these, as individual rates of calorie burn can vary.
If you just jump on a treadmill without putting in your specific information, the calorie burn probably won't be accurate.
Even if you put in your age, weight, etc., the calorie burn estimate could be slightly off because it doesn't account for slight variances in calorie burn like percent body fat.  ACE Fitness (2) suggests treadmills in general can give fairly accurate calorie estimates, and newer machines may have more accurate calorie estimates.
Other measures to focus on for exercise is improvements in strength and how you are feeling during exercise.  Regardless of calorie burn, these are significant measures of improvement.
Conclusion
Burning 200 calories on a treadmill may or may not be enough for your fitness, health or weight loss goals depending what the rest of your day looks like.  If you are in a weight loss plateau, try altering your exercise routine.
Adding in a few days per week of higher intensity intervals, different types of exercise or longer duration may be beneficial for improving your fitness and weight loss plateaus.
How long it takes for you to burn 200 calories can vary.  In general, the harder you exercise the more calories you burn.  Therefore, if you go at a higher intensity, you can burn 200 calories quicker than if you are going at a leisurely pace.