Happy hours are a common way to relax, unwind and catch up with friends. Restaurants entice customers by offering discounted food and drinks with the hope people will purchase more.
Something to watch out for at happy hours is calories can add up quickly from mixed drinks, and potentially high calorie appetizers.
These 5 simple tips can help you save calories while enjoying happy hour and keep you on track with your weight and health goals.
Keep your drinks simple
A general rule of thumb is the fancier the drink, the higher the calories. A margarita or a mojito can easily have over 200 calories per drink, and a Pina Colada can over 300 calories per drink.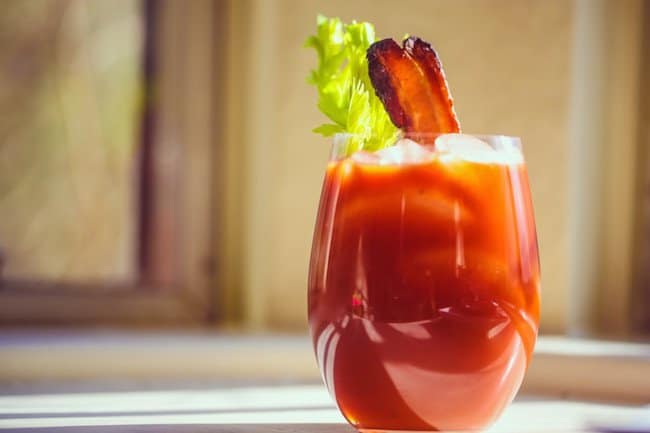 Chocolate martinis and chocolate liqueurs are also notoriously high in calories and sugar. A drink like a White Russian, which has coffee liqueur, cream and vodka, can surpass 400 calories, and an 8 oz Long Island iced tea can total over 700 calories.
Stick to something simple when ordering a drink at happy hour. Five ounces of wine or a Bloody Mary provides about 120 calories. Drinks that are usually under or around 200 calories can be screwdrivers, 12 ounce of beer, martini (2.5 oz) or a vodka and tonic. Some restaurants also will be able to make a skinny martini or other lower calorie drink on request.
In general, lighter colored alcohol like gin and vodka have lower calorie amount than darker rum or whiskey. Use this information to make smart drink choices that can save you "hidden" extra calories when you are enjoying happy hour.
Alternate alcoholic and non-alcoholic drinks
Moderate alcohol consumption is up to 1 drink per day for women and up to 2 drinks per day for men. A standard drink is 5 oz of wine, 12 oz of beer and 1.5 oz liquor. If you are going out for a happy hour, stay within the guidelines for moderate alcohol consumption. Not only is this recommended for health reasons, but it can save you calories if you stick to this guideline.
Alternating between alcoholic and non-alcoholic drinks can keep you within the moderation guidelines. Drink a tall glass of water or seltzer water before drinking an alcoholic beverage.
This will hydrate you and make you feel full before you start eating food and drinking alcohol. After one drink, switch back to a glass of sparkling water with lemon or lime.
Eat off small plates
Instead of grabbing handfuls of chips, pretzels or unconsciously eating fries, portion food onto a small plate. Some research by Dr. Wansink from Cornell University suggests humans eat less when we eat off plates instead of mindlessly eating from a larger container.
Filling up small plates can make us think we're getting more food than we actually are. Eating off larger plates cues us to put more on our plate to fill it up. Another tip for saving calories is to fill up with veggies first. Then, if you want something that is not so healthy, you won't be as hungry when you eat it. See other 7 control portion tips that work.
Infused instead of mixed drinks
Infused alcohol is becoming more common, and infused alcohol is usually lower in calories than a mixed drink. Infused vodka, for example, is flavored by infusing with real ingredients instead of a sweetened syrup. Just drinking infused alcohol can save you calories by replacing it with a mixed drink.
Have a plan before going
Simply having a plan before you go out for happy hour can save you calories you may regret afterwards. Have a plan before you go on which 1-2 drinks you are going to have and alternates to alcohol to drink (i.e. club soda).
A good idea is to not go to a happy hour really hungry if you can help it; instead eat a light, healthy snack before you go out. Sip and eat slowly when you are out instead of rushing through the meal. This can give adequate time for signaling your brain from your stomach when you are full and can help avoid over eating. See also: What alcohol can I drink on a diet?
Conclusion
Happy hour calories can add up in a hurry and may be a source of extra intake that is keeping you from your weight goal. Healthier happy hour choices can be made, however; and as with anything, portion control can go a long way. (See also: Alcohol and weight gain)
Stick within the recommended moderation guidelines for alcohol, 1 drink per day for women and up to 2 drinks per day for men. Choose drinks that are simple and naturally lower in calories like red/white wine, light beers, infused vodkas or a simple martini. Instead of ordering multiple drinks, have a club soda with fruit slice after a drink, and drink a tall cup of water before your first drink.
Watch out for fancy, mixed drinks, as they are usually higher in calories. Eating off small plates can help naturally lower food intake compared to eating food directly from a larger container. Fill up with veggies first then enjoy a higher calorie appetizer so you won't be inclined to eat as much.
References used in this article.