Drinking hot water with lemon is often suggested as a popular healthy thing to do.  There are many health claims that drinking hot water with lemon, specifically in the morning, can give many benefits including: detox, immune health, skin health, digestive health etc.  However, are these just unwarranted claims, or is there any validity to these proposed benefits?
Immune health
Lemons are high in vitamin C and other antioxidants that could help boost immune health.  Vitamin C can help protect body cells from free radical damage and may help reduce inflammation.  Vitamin C is also necessary for collagen formation, which is found in connective tissue throughout the body.
A phytochemical in lemons and limes, called limonin, has been shown in animal and cell studies to fight cancer cells and may inhibit cancer cells from proliferating.  However, more research is needed for how limonin works in the human body and what amounts are absorbed.
Drinking lemon water can provide vitamin C and other beneficial phytochemicals related to immune function.  However, eating lemons or other fruits and vegetables can provide vitamin C and phytochemicals as well.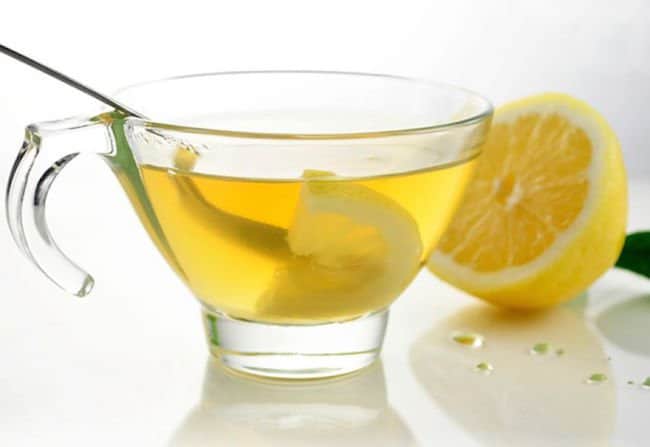 See also: Does lemon water help you lose weight?
Potassium
Potassium is a nutrient that some Americans probably don't get enough of every day.  A typical Western diet, high in processed food, is high in sodium and low in potassium.  Potassium is an electrolyte used in fluid balance, muscle contraction and nerve signaling in the body.
Getting the right amount of potassium per day may help lower blood pressure and may decrease risk for a stroke.  Some research also indicates that adequate potassium intake could lower risk for osteoporosis in certain populations.
Lemons, like other fruits and vegetables, are a source of potassium.  Therefore, drinking hot lemon water in the morning can provide potassium.  However, a diet rich in many fruits and vegetables can provide potassium in the diet.
Digestive health
Some advocates of drinking hot lemon water suggest that a benefit is improving digestive health.  This claim may be true, but there are not research studies confirming this.  In fact, some health professionals suggest that drinking lemon water could be harmful in certain instances for digestive health.
The citric acid naturally found in lemons could contribute to stomach pains in some people when they drink this first thing in the morning.  Some claim that the acid in lemons can help balance stomach acid, but there is not research confirming this claim.
Some people claim they feel better after drinking hot lemon water and it improves their digestion.  If this is the case, great whether it is indeed true or a placebo effect.  However, improving digestion from hot lemon water may not be best for all.
Adequate fluid intake could help prevent and treat constipation, which may be another reason people associate lemon water with digestive health.  If drinking lemon water increases fluid intake, this could help alleviate constipation.
Hydration
Drinking hot lemon water first thing in the morning can be a healthy way to start the day because you are hydrating your body.  Drinking water with lemon throughout the day can also add flavor and variety to plain water and may increase over all water consumption.
If you replace lemon water for other beverages that are full of sugar, caffeine or preservatives this can also improve hydration status for your body.
Possible other benefits
All fruits and vegetables have phytochemicals in them that researchers are still finding out about the effects on the body.  Therefore, as researchers learn more about health benefits of lemons, more substance may be given to drinking lemon water.
However, there is hardly if any substantial research suggesting drinking lemon water is better than drinking other water with other fruit squeezed in it.  Some websites claim lemon water detoxifies the body, but this claim is very general and not substantiated.
A compound in citrus fruits, specifically the peels, has been shown in research studies to activate enzymes in the liver used in the detoxification process.  However, this does not directly translate to the thought that drinking lemon water can help you "detox".
Since vitamin C increases the absorption of iron from plant foods, drinking lemon water while eating a meal with plant foods can increase iron absorption.  Other sources of vitamin C include bell peppers, oranges, leafy greens and berries.
Conclusion
Drinking hot lemon water in the morning can be a refreshing way to start your day.  It can provide you with hydration, vitamin C, other antioxidants and potassium.  However, the claims that drinking hot lemon water in the morning can improve digestion or help your body detox have little scientific research to back up these claims.
Drinking water flavored from a splash of fresh fruits or herbs can be a pleasant change from drinking plain water, and it can save you calories if you drink this instead of higher calorie drinks.
References used in this article