Wheat grass are the small, tender shoots of the wheat plant Triticum aestivum, according to WebMD.  Wheatgrass can be grown inside or outside, and many people grow wheatgrass just by sprouting wheat seeds in water.
Like other green vegetables, wheatgrass is full of many nutrients.  The bright green color wheatgrass gives is from the abundance of chlorophyll.
Wheatgrass has been associated with many health benefits including: fighting cancer, diabetes, AIDS, chronic fatigue and in general boosting immune and digestive health.
However, as the Memorial Sloan Kettering Cancer Center (1) points out, these claims aren't supported by research studies.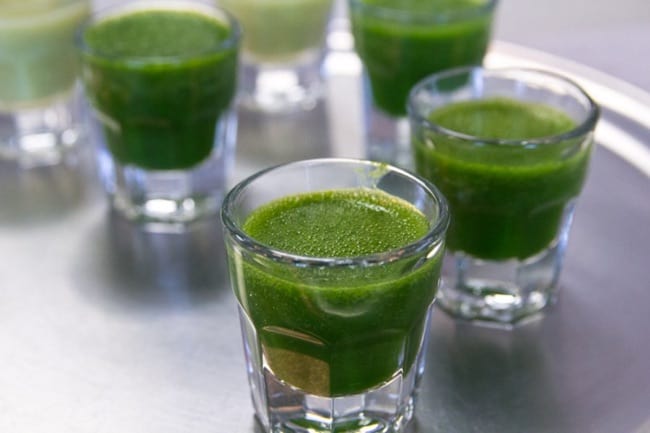 While the scientific evidence of some health claims from wheatgrass is lacking and more research is needed, what is clear is that, like other vegetables, wheatgrass can provide many nutrients.
Blood building nutrients
Another claim for wheatgrass is that it can increase blood oxygen levels.  The reason for this suggestion is that because wheatgrass is so high in chlorophyll, the chlorophyll can act like hemoglobin once absorbed in the blood.
However, there is not scientific evidence to back up this belief.
What is known about wheatgrass is that it provides a source of iron.  A one fluid ounce of wheatgrass "shot" can provide 10% RDA of iron (2).
A wheatgrass shot is a common way to eat wheatgrass.  It is made by extracting the juice from the grass.  Getting enough iron is important for blood health, and iron deficiency can be a concern for certain populations.
Wheatgrass also provides vitamin C which among other important functions can help increase the absorption of iron.  Wheatgrass also provides vitamin K which is important for blood clotting and bone strength.
Antioxidant kick
Brightly colored fruits and vegetables provide an array of antioxidants, and wheatgrass is no exception.
Wheatgrass' bright green color means it is rich in chlorophyll.  Not much is well understood about how much chlorophyll humans can absorb from foods, but when chlorophyll is in the digestive tract it can help stop carcinogens from being absorbed out of the digestive tract (3).
Besides chlorophyll, wheatgrass provides other antioxidants such as vitamin C, E and beta carotene.  It also provides other phytochemicals that help protect body cells from damage that may help to lower the risk for certain cancers.
For the greatest benefit from phytochemicals in foods, the American Institute for Cancer Research (4) suggests eating a variety of differently colored plant foods and sticking with getting phytochemicals from foods instead of supplements.
Ulcerative colitis
Because of the high level of antioxidants found in wheatgrass, it may have a beneficial role in helping to lower inflammation in the body.  In fact, one small study (5) found that when people with ulcerative colitis where given wheatgrass juice, they had lower issues related to colitis than the group of patients who did not have wheatgrass.
While this was a small study and more studies are needed, it does show promise that wheatgrass may help lower symptoms associated with ulcerative colitis.
Consult your medical team before adding wheatgrass to your diet if you suffer from colitis or other digestive disorders.
Possible liver protection
A 2014 study (6) concluded wheatgrass may help protect liver cells from damage associated with alcohol intake.
The liver is considered the detoxifier of the body and will be the first line of defense whenever toxins, like alcohol, are taken into the body.
While claims that wheatgrass will detoxify your body are lacking scientific proof, this study suggests compounds in wheatgrass, and potentially other green vegetables can help protect liver cells from damage by toxins.
Lower lipid peroxidation
Some research suggests (7) wheatgrass supplements can help lower lipid peroxidation in young, healthy adults who exercise.
This is important because lipid peroxides are thought to be associated with increasing risk for cardiovascular disease.
Lipid peroxidation can be a fancy term meaning there is damage to cell membranes which can increase inflammation and possibly increase risk for diseases such as cardiovascular disease.
Conclusion
Wheatgrass is a source of many vitamins, minerals and phytochemicals.  There is not a lot of research on wheatgrass, but there is some research to suggest wheatgrass may have a beneficial role in helping with colitis and being a rich source of protection from damage caused by free radicals.
As a source for iron, vitamin C and vitamin K, it also has many blood building nutrients.
Wheatgrass may help protect liver cells from damage caused by toxins.
While there is no probable harm from consuming wheatgrass for healthy adults, if you have any altered health state you should speak with your healthcare team before adding wheatgrass to your diet.
If you consume raw wheatgrass, there is a chance for bacterial contamination.  Raw wheatgrass may need to be avoided for women who are pregnant or breast feeding.