Completely changing your diet to make it healthier can be overwhelming and difficult to maintain in the long term.  However, by making small sustainable changes gradually, you can slowly alter your diet in a way that will improve your health both in the short and long term.
1. Change to healthier fats
Eating the right types of fat can make a huge difference to your heart health and risk of developing lifestyle diseases.  A Mediterranean style diet that contains a larger proportion of unsaturated fats, such as those from olive oil, avocado and nuts has been shown to be effective in protecting against disease and may also help with weight loss in moderate amounts.
Saturated fats such as those from animal products and trans fats from processed foods should be limited as these are associated with adverse health outcomes.  Try replacing butter with olive oil or a trans fat free margarine and replace processed snacks that are high in trans fats with healthier alternatives such as nuts and seeds.
It is important to remember that whilst choosing healthier fats, if you are trying to lose weight it is important to moderate your intake of fat as even healthy fats can cause weight gain if eaten in excess.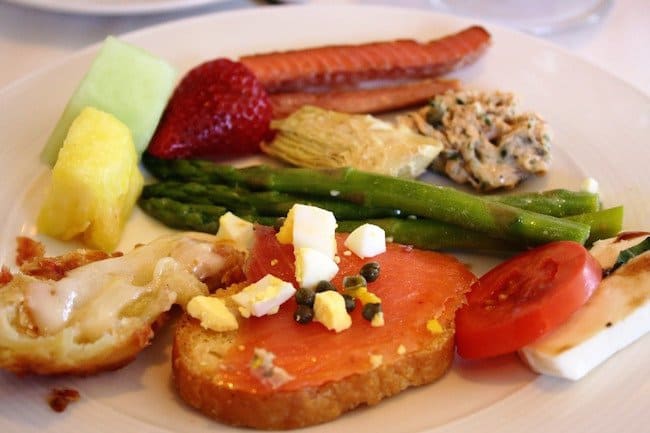 2. Eat more vegetables
The health benefits of vegetables are endless.  They provide fibre, numerous essential vitamins and minerals and are low in calories.  A high vegetables intake has been associated with reduced risk of many diseases including some cancers.   Most people do not consume enough vegetables on a daily basis, so an ideal way to make over your diet is to bump up your intake. 
Try to fill at least half your plate with vegetables at meals and add vegetables to meat based dishes like chilli or burgers in order to bump up the nutritional value and reduce the fat content of the meal.  Vegetables can also make a great snack, try carrots or celery dipped in hummus or a low fat dip or add grated vegetables to pancake and cake batters for a more nutritious treat.
3. Eat more fruit
Like vegetables, fruit contains a wide range of vitamins and minerals as well as essential fibre and so is an important part of a healthy diet that is often neglected.  Always choose fresh fruit over juices as these tend to contain less fibre and more calories.
Getting more fruit into your diet is easy as it makes the perfect portable snack and can easily be added to foods such as breakfast cereals, cake or muffin batters or served with low fat yogurt for a satisfying dessert or post-workout snack.
4. Choose whole grain
Replacing refined carbohydrates such as white bread and other processed foods with whole grain alternatives provides you with more fibre, B vitamins and healthy fats.  Whole grain products also often have the benefit of being low GI and thus keep your blood sugar levels stable for longer.  This in combination with the higher fibre, keeps you fuller for longer and less likely to overeat.
5. Drink water
By swapping high calorie drinks such as soda and juice for water, you can cut out a huge number of calories and a large amount of refined sugar from your diet.  Fluids are essential for our body to function correctly, and being well hydrated provides benefits in everything from energy levels to clear skin.
Water is the best choice for hydration as it contains no calories and nothing that may have adverse health effects.
6. Switch to low fat dairy or alternatives
Although we need some fat it our diets for health, the fat found in dairy products is often of the saturated unhealthy type, so it can be beneficial to choose lower fat products.  Low fat products may also contain less calories and therefore assist with weight loss, but be aware when choosing a low fat products and check that the fat has not been substituted with sugar.
Many low fat products may contain large amounts of sugar to maintain a good flavour, meaning they actually end up being higher in calories than the full fat version.
Choosing low fat dairy takes very little effort and whilst the taste may seem different at first, you will soon get used to it and many people end up finding full fat products too creamy.
7. Snack on nuts
Nuts are an excellent source of fibre, protein, healthy fats and minerals, and so make the ideal snack.  Many common snack foods are high in fat, sugar and calories and contain little or no nutritional value, so by replacing these with a small handful of unsalted nuts you can increase the nutritional value of your snacks hugely.
It has even been suggested that people who eat nuts tend to be less prone to weight gain and have a lower risk of some diseases.
8. Eat breakfast
Many people skip this important meal due to lack of time, not feeling like food early in the morning or simply because of habit.  However, making time to fit a nutritious breakfast into your day can greatly benefit your health.
People who eat breakfast tend to eat more healthily during the day and are less likely to overeat or consume unhealthy foods due to intense mid-morning hunger than those who skip it.  Breakfast also makes it easier to obtain all the nutrients that you need throughout the day and is a good opportunity to increase your fruit and wholegrain intake.
A healthy breakfast could be as simple as a bowl of high fibre cereal with low fat yogurt and fruit, or a slice of whole grain toast and a piece of fruit.  If you don't feel like eating in the morning try a homemade smoothie made with low fat milk, fresh fruit and ice.
See also:
Breakfast mistakes that can cause weight gain
The top 10 healthiest breakfast cereals
What to eat for breakfast if you want to lose weight
9. Eat less processed and more fresh foods
Processed foods tend to be less nutritious and contain large amounts of preservatives, additives and flavours, some of which may have negative effects on the health of certain people.  With fresh foods you know exactly what you are eating and where it comes from, and these types of foods are often a lot higher in nutrients and therefore better for your health.
10. Eat lean protein.
Lean protein is an important part of the diet and essential for a healthy body.  We need to eat some protein to obtain amino acids, which as essential building blocks for the proteins in our bodies.  Some of these can be synthesised by the body, but others must be obtained through the protein in food.  Protein also has the benefit of keeping you fuller for longer and therefore may be beneficial for weight loss.
Choosing lean protein sources such as chicken without skin, lean cuts of meat and fish, all of which provide a wide range of nutrients,  is a great way to give your body with the nutrition it needs and where possible some sort of protein should be included at each meal.
Do not neglect vegetarian sources of protein either, legumes such as chickpeas and lentils and tofu are all good sources of protein that are low in fat and offer additional nutritional value such as fibre or minerals.
References used in this article