Tea is consumed by cultures around the world and has been a popular drink for centuries. There are many types of teas providing health benefits, but green tea (Camellia sinesis) in particular has some benefits.
There are many health benefits to drinking green tea as it is high in antioxidants and other phytochemicals. Some research even suggests drinking green tea may be beneficial for weight loss and weight maintenance.
However, as is almost always the case for nutrition, the more green tea you drink does not always equal greater health benefit. There can be some negative side effects from drinking too much green tea and could decrease absorption of some other nutrients.
Green Tea – Health benefits
Green tea is high in antioxidants which help protect body cells from damage caused by free radicals. Free radical damage may increase risk for some chronic diseases like cancer or cardiovascular disease. By drinking green tea and eating other foods rich in antioxidants, you can help lower damage from free radicals which could decrease risk for these diseases.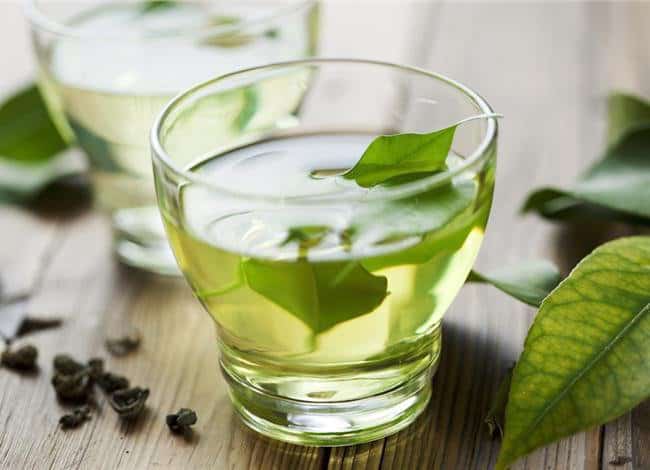 Some research also suggests black and green tea may help lower risk for heart disease by helping to lower cholesterol and triglyceride levels. Green tea may actually help raise the good cholesterol, HDL.
According to the University of Maryland Medical Center, green tea may assist with glucose regulation. Animal studies have shown that green tea intake may slow the progression of type 1 diabetes.
According to a 2009 review article from the International Journal of Obesity, green tea intake could have a small effect on weight loss and/or weight maintenance. Polyphenols in tea called catechins and epigallocatechin gallate (ECCG) in combination with natural caffeine from green tea appear to be responsible for increasing metabolism or increasing fat burn, although it is a relatively small affect.
Recommendation for green tea
Drinking 2-3 cups of green tea is the suggested dose per day. This will provide about 250-320 mg of polyphenols that can have advantageous health benefits. There is not a lot of research about green tea intake and children, so be cautious giving green tea to children.
Note that this recommendation is in fluid cups, and some cups will hold more than a cup of liquid at a time.
How much is too much?
How much is too much can be a tricky question regarding green tea. Some research indicates that drinking more than 2-3 cups per day may have some health benefit, and some research indicates it could have negative side effects.
For example, research from Dr. Zuo Feng Zhang at UCLA suggests drinking 4-5 cups of green tea per day may lower risk of stomach cancer. However, drinking more than the 2-3 cup recommendation per day may significantly decrease the absorption of iron and folic acid.
Green tea is a source of caffeine, even though it is lower in caffeine compared to coffee. Drinking more than the recommendation of green tea may increase risk for developing irritability or dependence on caffeine. People with kidney, liver or heart issues should seek medical guidance before drinking green tea, as it may be harmful in some instances.
In general, 2-3 cups per day shows to be a healthy recommendation, with possibly greater benefit at 5 cups per day for lowering risk of stomach cancer. Drinking more than this amount may also decrease absorption of other important nutrients.
Negative side effects of too much green tea
If anyone is on medication, they should check with their doctor before drinking green tea, as green tea can have numerous interactions with medications. If someone is already anemic and having problems getting enough iron in the diet, avoid drinking green tea at meal times.
The tannins from green tea can block the absorption of iron. These tannins can also block the absorption of folic acid, which is critical during pregnancy. For this reason, sometimes health professionals recommend limiting green tea during pregnancy. This is common for food interactions; by over doing one food or drink, you can disrupt the absorption of another nutrient.
Conclusion
Green tea has many health benefits because it is a source of antioxidants that can help lower risk for chronic diseases like cancer and cardiovascular disease. Green tea also has polyphenols like catechins and ECGC that may help with weight balance and increasing metabolism.
The general recommendation for drinking green tea is 2-3 cups per day. There may be benefit of drinking up to 5 cups per day for lowering stomach cancer risk. Drinking more than the general guideline may cause caffeine sensitivity in some people as well.
The main concern for drinking too much green tea is the consequence of decreased absorption of iron and folic acid. This would especially be a concern for people who already have a hard time getting enough iron in the diet and pregnant women.
References used in this article