With fast food and ready-made meals often costing significantly less than healthier options, it can be tempting to turn to these types of food if you are on a budget. However, by making the right choices in the supermarket, it is possible to enjoy a healthy, nutritious diet based on whole foods on the most limited of budgets.
Although cooking food from scratch may mean purchasing more ingredients, making large quantities of food and freezing it for later usually means that the cost per meal works out to be a lot less than buying something pre-prepared. It may mean a little forward planning and organization is required, but your body will thank you for the healthier options.
Top ten foods that are cheap but also nutritious
1. Brown Rice
A packet of rice goes a long way and can be served in numerous different ways from salads to stir-fries and curries. It can also be added to soups and stews to add bulk and carbohydrate content.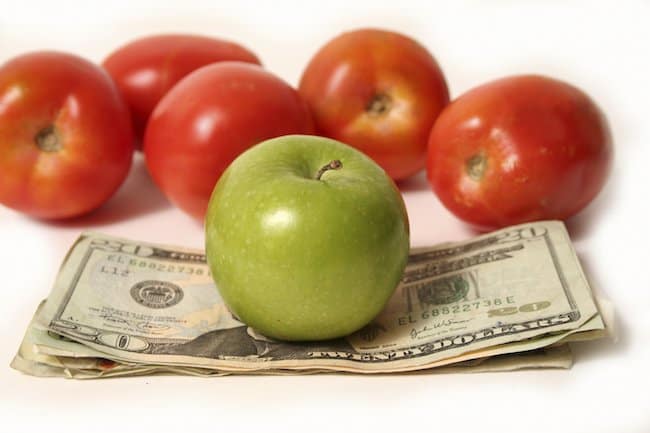 Although brown rice has a longer cooking time than white varieties, it is a healthier option as it has undergone less processing. The presence of the husk of the rice means that brown rice has a higher fiber, protein and vitamin content and also has a lower glycemic index, meaning it will keep you fuller for longer.
2. Whole 
grain bread
Bread is generally a cheap option and similar to brown rice, whole grain varieties provide valuable fiber and B vitamins, as well as carbohydrates needed for energy. Bread is often reduced in price at the end of the day, so you may pick up a bargain by leaving your shopping until later on, and can also be frozen very successfully meaning that no product is wasted.
Use it in a healthy sandwich, for breakfast as toast or as an accompaniment to soups.
See also: Is bread good for you?
3. Low fat natural yogurt
Low or no fat natural yogurt is an excellent source of protein, calcium and vitamin D. Larger tubs are generally more economical and choosing supermarket own brands tends to cut costs even further.
Unsweetened varieties are ideal as they contain fewer calories and are also more versatile as they can be used in both sweet and savory dishes.
Add it to cereal or fruit and sweeten with a little honey if desired or use it in place of higher fat options such as sour cream or mayonnaise.
In this context it can be used on a sandwich, as a marinade for meat or poultry or as a topping for anything from burritos to baked potatoes.
See also: Health benefits of yogurt
4. Dried lentils, peas and beans
Although they need soaking before cooking and therefore take a little more organization, dried legumes are probably one of the cheapest and most filling foods around. They are a great source of protein, carbohydrates, vitamins and fiber and can be used to make meat dishes go further as well as to replace meat.
A simple, cheap dish of beans on whole grain toast provides all of the essential amino acids required in the body.
5. Canned fish
Canned tuna, mackerel and sardines are all cost effective and highly nutritious, providing important omega-3 fatty acids that are good for heart health, as well as protein to fill you up.
If you are on a budget, canned fish is the best way to get the minimum of two serves of oily fish recommended per week, and if you are watching your weight, opt for those canned in water as these tend to have a lower calorie content.
Use canned fish on sandwiches, in salads, in pasta dishes or with rice.
See also Best fish to eat for a weight loss
6. Season fruit and vegetables
Fruit and vegetables can be an expensive part of the weekly shopping trip if you are buying them out of season. However, when you buy these foods in season, they tend to be very good value and of course are incredibly good for you, being packed with nutrients and fiber and low in fat and calories.
Try to base your meals around the produce that is available cheaply, rather than buying specific ingredients to suit a certain recipe and you will save money.
7. Whole wheat pasta
Pasta is incredibly versatile and cheap, as well as being quick and easy to cook. Whole wheat varieties are healthier as they contain more fiber, and by choosing a nutritious vegetable based sauce can make a healthy meal at a tiny cost.
Pasta sauces are generally inexpensive, but you can easily make your own with a few tomatoes, garlic and a little oil, and then just throw in any vegetables you have to hand and add a can of fish for protein.
8. Frozen vegetables
People often disregard frozen vegetables as they think they are not as nutritious as fresh produce, however, this is not necessarily the case. As frozen veggies are snap frozen and packed as soon as they are picked, it often means that they are in fact more nutritious than fresh versions that may have deteriorated in quality over the time they have spent between picking and arriving on the supermarket shelves.
The other bonus of frozen vegetables is that you can have them on had any time you need them and they last for a long time, meaning there is little wastage.
9. Oats
Hot oatmeal makes an excellent, cheap, nutritious breakfast or snack that is low glycemic index and high in fiber and B vitamins. Adding fruit, nuts, low fat milk and yogurt can make a more substantial meal.
Oats can also be used in more unusual ways such as to make a crispy coating for fish or chicken and in homemade cakes, biscuits and even pancakes to increase the fiber content.
10. Eggs
Although eggs have received some bad press in the past, they are now considered to be a nutritious source of protein and vitamins. They are also extremely versatile and cheap to buy.
Eggs can be used in salads, pastas, sandwiches, in an omelet or simply on their own with an accompaniment.