Pure fruit juice can be a source of vitamin C, but juice is a concentrated source of sugar even if it's all natural.  Consuming fruit juice does count as a serving of fruit, but the way the body handles juice from whole fruit is different.
One of the main differences from consuming juice compared to whole fruits is the fiber content.  The fiber from whole fruit slows the release of glucose into the blood stream.
Juice doesn't have the fiber to slow the release of sugar into the blood stream.
Naked Juice (1) is promoted as a 100% juice product with no added sugars or preservatives.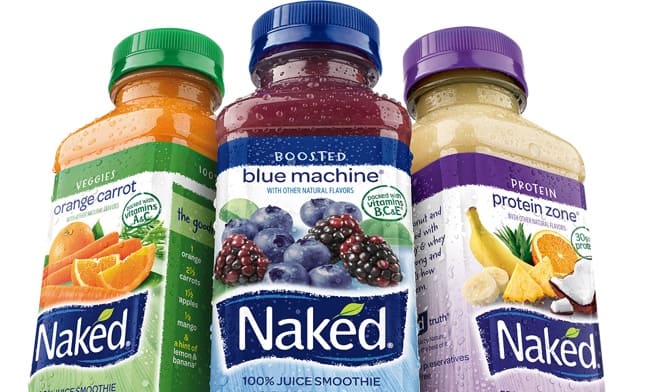 On each bottle, the company lists how many fruits and vegetables are supposed to be in each product.  These juices are promoted as a healthy beverage choice.
However, Naked Juice company has been involved with recent lawsuits suggesting their health claims are misleading.
For example, a 450 mL bottle of Naked Juice can provide between 20 to 55 grams of sugar depending on the flavor.  Even if the sugar is only from fruit, this sugar amount can be concerning.
Sugar in Naked Juice
According to an October 2016 Today article (2) the Center for Science in the Public Interest (CSPI) filed a class action lawsuit against Naked Juice because of misleading claims on their packaging.
A serving of Naked Juice provides a relatively high amount of sugar, in some instances as much sugar as 12 ounce soda.
The packaging on Naked Juice products has a no added sugars label which the CSPI suggests is misleading.
This is an example of tricky marketing.  Just because a food or drink claims to have no added sugars doesn't mean it is a sugar free food.
Fruit juice versus fruit for diabetes risk
Consuming juice has a different effect on the body than consuming whole fruit because of the difference in fiber.
Naked Juice Blue Machine (3) claims to have 3 1/3 apples, 27 blueberries, 3 blackberries and one banana in a 450 mL serving. The 450 mL serving of juice provides 320 calories with 55 grams of sugar and 5 grams of fiber.
Consuming these fruits as a whole would provide much higher fiber content than 5 grams.  Other components of whole fruit, like certain antioxidants, can be higher in fruit compared to fruit juices.
A 2008 study (4) looking at data from more than 70,000 women over 18 years concluded consuming leafy green vegetables and fruit was associated with a lower risk of developing type 2 diabetes.
However, consuming fruit juice was associated with a higher risk of type 2 diabetes.  Research from Harvard School of Public Health (5) found eating at least two servings of fruit a week lowered risk for type 2 diabetes, but consuming one or more servings of fruit juice a day increased risk for type 2 diabetes.
Fruit juice recommendations
Harvard Health researchers concluded increasing fruit, but not fruit juice, for diabetes prevention.  Therefore, even though fruit juice does count as a fruit serving, drinking fruit juice shouldn't be a replacement for eating whole fruit.
Children drinking too much fruit juice can also have an increased risk for obesity and tooth decay (6).
The American Academy of Pediatrics recommends the following for juice consumption in children:
Under 1 year: It is not recommended to give fruit juice.
1-3 years: Limit fruit juice to maximum of 4 ounces (½ cup) per day.
4-6 years: Limit fruit juice to maximum of 4-6 ounces per day.
8-18 years: Limit fruit juice to maximum of 8 ounces (1 cup) per day.
A 450mL bottle of Naked Juice is just under 2 cups.  Therefore, if you are giving Naked Juice to a child, keep in mind these recommendations.
A child shouldn't drink a whole bottle in day unless recommended for a specific reason by the child's doctor.
Consuming whole fruit should be encouraged instead of drinking fruit juice both for children and adults.
Can Naked Juice fit into a healthy diet?
Can Naked Juice or other 100% juices fit into a healthy diet?  Yes, it can as long as the juice is in small portions.
Consuming a bottle or more of juice per day can provide a significant amount of sugar and little fiber.  The best way to fit Naked Juice, or other 100% real juices, into your diet is in small amounts.
That could mean drinking ½ a bottle instead of a full bottle or drinking a bottle occasionally instead of routinely.
For specific recommendations for your health and juice intake, speak with your healthcare team.
It can be argues that even if certain Naked Juice varieties provide as much sugar as a bottle of soda, at least you are getting other nutrients with the juice like vitamin C and potassium.
Naked Juice can still be considered a healthier choice compared to other sugary beverages, but in general it is still recommended to limit intake of sugary beverages no matter where the sugar is coming from.
Conclusion: Is Naked Juice good for you?
Naked Juice can be a source of vitamins and minerals.  However, eating whole fruits and vegetables also provides vitamins and minerals as well as other antioxidants and fiber.
Eating whole fruits and vegetables is recommended over consuming fruit juice.  Fruit juice, even if no sugar is added, can be a significant source of added sugars in the diet.
Certain varieties of Naked Juice may provide as much sugar as a serving of soda.
Research studies have shown an association between fruit juice consumption and increased risk for type 2 diabetes.
However, there is a lowered risk for type 2 diabetes associated with consuming whole fruits and vegetables.
Fruit juices, like Naked Juice, can fit into a healthy diet but should be limited.
Consuming juice shouldn't be a replacement for eating fruits and vegetables.