Drinking sugary beverages is a major contributor to the increase of global obesity.  There are many risks associated with drinking sugary drinks including increasing risk for: obesity, type 2 diabetes, cardiovascular disease, gout and making poor diet choices.
Sugary drinks can include: soda pop, juice, lemonade, sweetened teas although most of the focus can be on soda pop specifically.
According to Harvard Health (1), on an average day in the US, half of the population consumes sugary drinks and one fourth of the population get 200 calories from sugary drinks.
#1 – Weight gain
Sugary drinks can have a range of sugar amounts and provide 15-18 teaspoons of sugar per serving.  The concern with sugary drinks is that they are considered empty calories that increase blood sugar levels.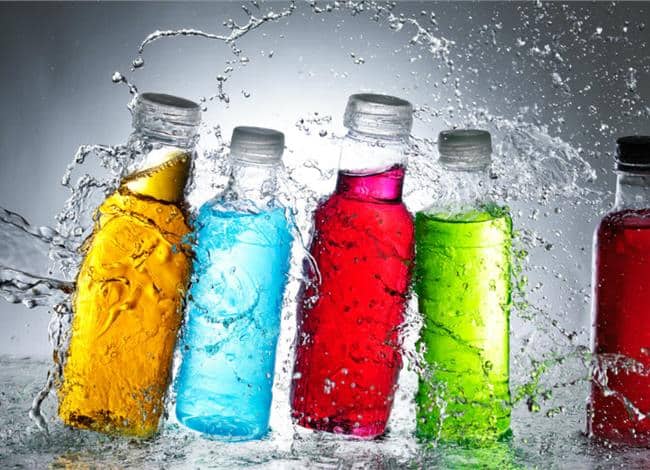 Another reason sugary drinks can increase risk for weight gain is because humans don't really "feel" the calories from sugary drinks.
In other words, drinking a couple hundred calories feels different than eating a couple hundred calories.
Eating food will fill you up and signal to your brain you have some fuel, but the brain doesn't register these calories from drinks.
Some research (2) suggests drinking just one can of soda a day over time, without changing anything else, could lead to a weight gain of an extra pound every 4 years.
If you drink more than this, the higher risk for weight gain.
#2 – Lower intake of milk and calcium
A concern with drinking sugary drinks, especially for kids, is the sugary drink can replace other nutrient rich drinks in the diet.  A 2007 meta-analysis study (3) looking at over 88 studies (found a clear association between soft drink consumption and a lowered intake of milk, calcium and other nutrients.
A concern for a lowered intake of calcium is a higher risk for osteoporosis later in life.
#3 – Type 2 diabetes risk
Many studies show an association between sugary drink consumption and an increased risk for type 2 diabetes including a 2011 study (4) looking at data from over 40,000 men.
This study found a significant increased risk for type 2 diabetes from consuming sugary drinks.
Anytime you consume sugar, the increase of sugar in blood stream after digestion signals the release of insulin.
Insulin pulls the glucose from the blood and brings them into body cells to be used for energy or storage.
If you are drinking a high amount of sugary drinks, this will mean your pancreas will have to release more insulin.
Over time, if your blood sugar is constantly being elevated, your body can grow immune to insulin and more and more insulin is needed to do its job.
This can lead to insulin resistance which can lead to type 2 diabetes.  Harvard School of Public Health notes one study found when people drink more than one or two cans of soda a day, their risk for type 2 diabetes is increased by 26%.
#4 – Increased risk of gout (from soda)
A study with over 80,000 women found when women consumed a can of soda a day, they had a 75% greater risk for developing gout compared to women who didn't drink soda
A 2007 study (5) also found an increased risk for gout in people who consume soft drinks.
Researchers found an increased level of serum uric acid levels.  Gout is caused by a buildup of uric acid in joints.
#5 – Heart health
Along with diabetes, sugary drinks can also affect heart health.  Observational studies have shown an association between sugar intake and risk for cardiovascular disease.
Besides contributing to weight gain and type 2 diabetes risk, sugary drinks can alter blood lipoproteins.
Some research (6) has shown an inverse association sugar intake and HDL levels.  HDL is considered the good cholesterol; higher levels can actually have a lowered risk for heart disease.
A high intake of sugar can also increase blood triglyceride levels which can increase risk for heart disease.
#6 – Teeth health
There is an increased risk for dental erosion from sugary drinks, in particular soft drinks.  Young children and toddlers can also have an increased risk for poor dental health when they have a high intake of sugary drinks.
#7 – Poor diet choices
Drinking sugary drinks can influence dietary choices, and a higher consumption of sugary drinks can mean more poor dietary choices according to research from a 2010 study (7).
Unfortunately, when you are drinking sugary drinks, you may be more likely to eat unhealthier food which can further increase risk for conditions listed above.
Conclusion
Sugary drinks are a big source of added sugar to our diets.  Sugary drinks are an easy way to add calories and sugar without our brain registering those calories.
Sugary drinks increase risk for weight gain, type 2 diabetes, tooth decay, heart disease, gout and negatively influence dietary choices.
Soft drinks in particular are associated with health risks, and health professionals recommend to limit your intake.