Pomegranates are known for being high in antioxidants and phytochemicals that have many health benefits.  Pomegranates have been used for centuries for medicinal properties, and today are popular as well for health.
Pomegranate juice can provide beneficial health for heart, help fight cancer cells and protect body cells from other damage.  Researchers are still finding out all the benefits of pomegranate juice and how it can impact the human body.
Here is a closer look at the potential health benefits of pomegranate juice.
Pomegranate Juice is Rich in Antioxidants
Eating a diet rich in fruits, vegetables, grains and legumes can provide a high amount of antioxidants.  Antioxidants from the diet can help prevent and lower damage caused by reactive oxygen species or oxidative stress.  Oxidative stress is thought to have a role in developing chronic diseases such as cancer, heart disease, Alzheimer's and Parkinson's disease.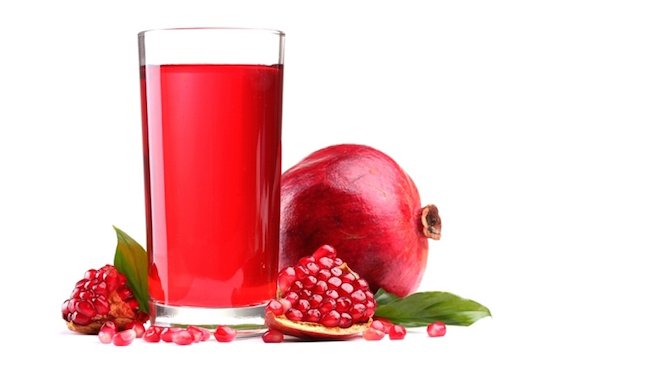 There are many types of antioxidants, so eating a varied diet with many types of fruits and vegetables can provide different antioxidants.  Pomegranates are known to be high in antioxidants, and according to the United States Department of Agriculture data base, a serving of pomegranate juice has an amount of about 2,681 Oxygen Radical Absorption Capacity (ORAC).
The ORAC is a way to measure antioxidant capacity for foods.  The USDA suggests this is only one way to estimate antioxidant capacity, and the ORAC values are derived from test tubes, not from human subjects.  Therefore, more research needs to be done to clarify absorption, metabolism and use of antioxidants in the body from certain foods.
Most of the health benefits attributed to pomegranates are from its antioxidant value.  There are some known compounds unique to pomegranates that can have beneficial health results, but there are many other compounds from this fruit researchers are still finding out the impact of them on the human body.
Fight cancer
Some research studies have shown beneficial role of pomegranates and cancer cells.  According to a 2007 Harvard Health article, some research studies suggest that drinking pomegranate juice may help prevent prostate cancer.
In one study, researchers found that pomegranate extract helped slow the growth and promoted cancer cell death in tissue samples.  Then researchers put the cancer cells in mice and gave one group water with pomegranate juice.  The mice group receiving water and pomegranate juice had smaller tumor sizes than the mice group without pomegranate juice.
Similar results were seen in human test subjects; men with prostate cancer receiving pomegranate juice had slower growth of tumors.  Although these studies are preliminary and more research needs to be done, they do hold some promise that pomegranate juice may be beneficial for fighting cancer cells.
A 2006 study from the Journal of Agriculture and Food Chemistry studied the effect of pomegranate juice on colon cancer cells.  Researchers found that compounds from pomegranates can actually interfere with the cell signaling of cancer cells causing lower growth for cancer cells and lowered inflammation.
Pomegranate is good Heart health
Pomegranate juice can help prevent LDL cholesterol (bad cholesterol) from oxidation.  This is important because when LDL cholesterol gets oxidized, it can cause more damage to blood vessels.  Some research studies with mice suggest pomegranate juice may help slow the buildup of plaque on arteries, which could lower risk for atherosclerosis.
A 2004 study from Clinical Nutrition studied subjects who had a condition called carotid artery stenosis (CAS), which is a narrowing of the carotid artery of the heart.  Researchers studied the effect drinking pomegranate juice would have on heart health; subjects drank pomegranate juice daily for 1-3 years.  Researchers found subjects drinking the pomegranate juice had reduced build up in the carotid arteries and lower blood pressure after 1 year. See also: How Many Milligrams of Cholesterol Should I Have a Day?
Caution: How to select pomegranate juice
When choosing pomegranate juice, choose 100% pomegranate juice not ones that have added sugars.  If you are on medication, talk to your physician before drinking pomegranate juice, as pomegranate juice can interact with some medications including blood thinners or ACE inhibitors.
Keep in mind these research results of pomegranate juice and cancer or heart disease risk need further testing, and drinking pomegranate juice in place of other medical treatments is not recommended.
Remember, the health benefits in pomegranate juice may work best when combined with other nutrients from whole foods.  Eating a healthy diet rich in a variety of fruits and vegetables is always recommended for health.
Conclusion
Pomegranate juice has many health benefits; it is rich in antioxidants and phytochemicals which can help lower oxidative stress in the body.  Test tube, animal and some human studies have shown that pomegranate juice may help fight off cancer cells and lower inflammatory responses associated with cancer cells.
Pomegranate juice can also have a beneficial effect of heart health.  Pomegranate juice can have a positive effect on protecting LDL cholesterol from oxidation, help lower blood pressure and could help lower risk of plaque formation in blood vessels.
References used in this article