The short answer to this question is generally yes.  Taking a closer look at McDonald's breakfast options will show why the options are generally bad for you.  There are limited fresh options with fruits or vegetables, and in general McDonald's breakfast options are high in calories, fat or sugar.
Options that appear healthy, because they sound fresh or are low in calories, may still not be considered healthy when you look closer.
McDonald's Breakfast sandwiches
McDonald's breakfast sandwich options include variations of egg McMuffins, sausage biscuits, and steak and egg sandwiches. These sandwich options vary from 250-680 calories.  The lowest calorie option at 250 calories is the Egg White Delight McMuffin which has cheddar cheese, egg whites, lean Canadian bacon and an English muffin.
This option is considered low in cholesterol, fairly low calories, 18 gm of protein, 4gm of fiber, 7 gm of fat and 770 mg of sodium (32% Daily Value).  You could consider this as a "healthier" option because it is low in calories, higher in protein and fiber.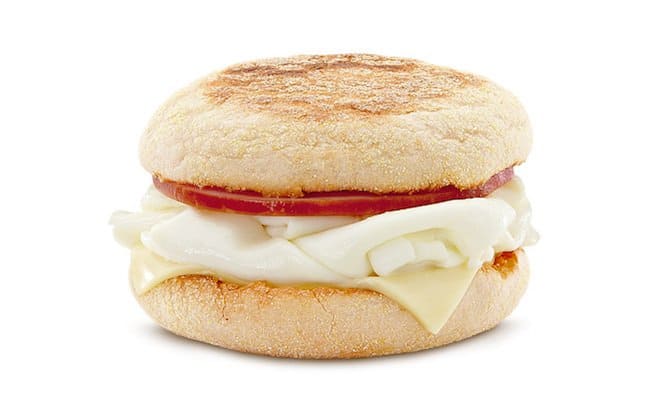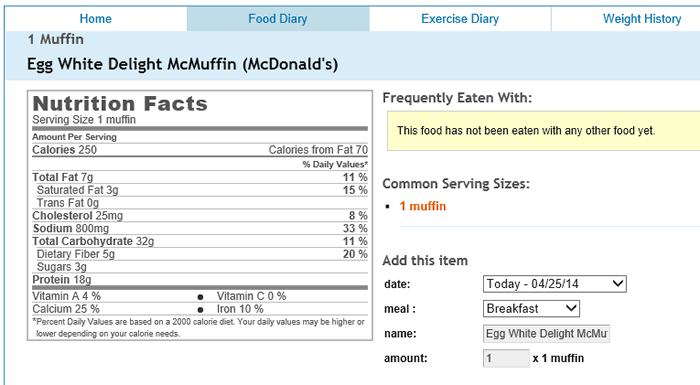 Note: You can use our free calorie counter to view nutrition information for all McDonald's food items as well as more than 250,000 foods, drinks and activities.
The highest calorie breakfast sandwich at 680 calories is the Steak Egg and Cheese Bagel.  It has 33 gm of protein, 35 gm of fat, 3 gm of fiber and 1520 mg of sodium (63% Daily Value).  McDonald's other breakfast sandwiches fall in between the Egg White Delight McMuffin and the Steak, Egg and Cheese Bagel.
Even with the lower calorie/higher protein breakfast sandwiches, they are not necessarily considered healthy.  Fast foods are known to have a lot of preservatives, high in sodium, artificial and questionable quality ingredients.
Also keep in mind it is recommended to have fruits/vegetables at every meal, and eating this for breakfast won't provide that.
McDonald's Parfait and oatmeal
The parfait and oatmeal may sound the healthiest on McDonald's menu.  The parfait has low fat vanilla yogurt, blueberries, strawberries and topped with granola.  The parfait is low in calories- only 150 calories.
However, it only provides 4 gm of protein, 1 gm of fiber, 70 mg of sodium (3% Daily Value) and a high 23 gm of sugar (the major calorie source).  The reason the parfait is high in sugar is primarily because of the sweetened yogurt and granola, but the fruit also adds sugar.
Even though the parfait is low in calories and contains "healthy" looking ingredients, it is high in sugar and low in fiber.
The Fruit and Maple Oatmeal contains oatmeal, brown sugar (optional), diced apples, dried cranberries and raisins and a little cream.  The oatmeal with brown sugar is 290 calories, 5 gm of protein, 5 gm of fiber, 32 gm of sugar and 160 mg of sodium (7% Daily Value).
The sugar amount in the oatmeal is alarming; it is about the same as a can of soda.  Even with 5 gm of fiber, the high sugar content is alarming.  If you order the oatmeal without brown sugar, the calories drop to 260, and the sugar content drops to 18gm.
Even though these 2 options appear healthier and fresher, they are still high in sugar.  Chronic intake of high sugar foods and excess calories can increase risk of obesity and type 2 diabetes.
Another high sugar breakfast option from McDonald's are the cinnamon melts with 32 gm of sugar and 460 calories.
Making homemade parfaits and oatmeal with fruit will provide a more balanced breakfast option with lower sugar and higher fiber and protein content.
See also:
McDonald's Breakfast Plates
Breakfast plates can come with hotcakes (pancakes), scrambled eggs, sausage, bacon or hash browns.  All of these foods are high in calories naturally, so it is no surprise that McDonald's breakfast plates are high in total calories, sodium and fat content.
Most breakfast plates provide around 3gm of fiber, which is low.  The exception is the Big Breakfast Plate which provides 5 gm of fiber, but it also contains almost double the calories as some other plates.
Hotcakes with sausage and maple syrup provides 700 calories, 15 gm of protein, 3gm of fiber, 46 gm of sugar and 940 mg of sodium (39% Daily Value).  The Big Breakfast Plate with hotcakes provides over 1,000 calories!
The breakfast plate option from McDonald's offer some of the unhealthiest options because they are so high in calories, sugar (hotcakes with syrup), fat and sodium.
See also:
Conclusion
Breakfast is supposed to be a healthy start of the day.  Eating a meal high in overall calories, sugar, fat, preservatives and low in fiber is anything but healthy.  Even options that sound healthy like parfaits and oatmeal can be deceptively high in sugar and not as healthy as they sound.
McDonald's is just one example of fast food breakfast; keep in mind other restaurants can offer just as or higher calorie breakfast options.  Making breakfast at home, with fresh ingredients, is probably the healthiest option.  Taking an extra 5-10 minutes to make breakfast instead of going through a drive through can offer health benefits.
Nutrition information: http://www.mcdonalds.com/us/en/full_menu_explorer.html