Once viewed in a harsh light, eggs are now known as a nutrition powerhouse.  Eggs are rich in many vitamins, minerals, protein, antioxidants and low in calories.  Eggs are a cheap protein source with high bioavailability.
Eggs also provide saturated fat and are relatively high in cholesterol, which is the main reason they were not always considered nutrition super stars.  Most healthy people can eat about 7 eggs per week with no increase for negative health effects (1).
However, people with diabetes or other health conditions may need to watch their egg and cholesterol intake closer.
Most people eat cooked eggs or use them for baking.  However, eating raw eggs or egg whites can be popular with people trying to bulk up on protein.  Under cooked eggs can also be served sunny side up, in sauces like mayonnaise and in some desserts.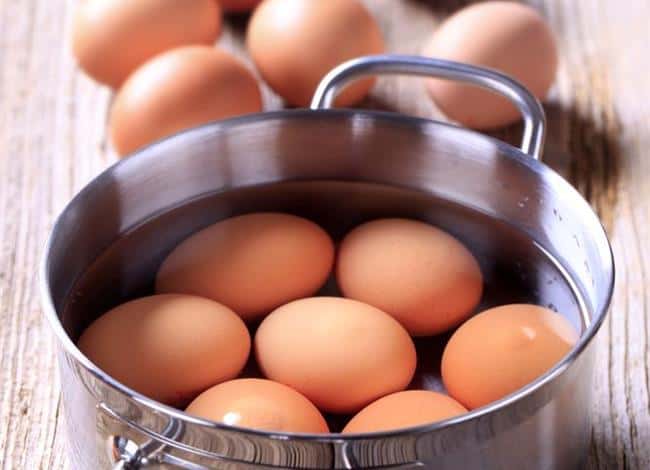 A main concern for consuming raw eggs is from Salmonella contamination. The Center for Science in the Public Interest (2) found raw eggs were responsible for over 350 outbreaks of Salmonella contamination between 1990 and 2006.
Pasteurized eggs are considered safe to eat in raw form, but there may be other potential down sides for consuming raw eggs whether or not they are pasteurized.
Salmonella concern
Salmonella is one of the main factors for foodborne illness across the world, and eggs are one of the biggest sources for Salmonella poisoning.  This foodborne illness is only a concern for raw or undercooked food sources.
Salmonella can contaminate eggs from many variables including: flock size, age, stress of the bird, transportation, molting of the bird feathers, contamination from environment or improper handling of the eggs (3).
Studies looking at the differences in Salmonella contamination between free range, organic or conventional eggs are inconclusive.  Therefore, just because an egg is from a free range bird, don't assume there isn't a risk for Salmonella poisoning.
People with compromised immune systems may be especially at risk for Salmonella poisoning from raw or under cooked eggs.  These people can include: pregnant women, young children, elderly and those on immune lowering medications.
Proper cleaning of eggs and proper transportation, storing and handling of eggs significantly lowers risk of foodborne illness from eggs.  Eating eggs cooked also significantly lowers risk.
Pasteurized eggs
Another way to lower risk for Salmonella from undercooked or raw eggs is to pasteurize or irradiate the egg products (4).
In fact, companies who make pasteurized eggs (5) claim eating these raw eggs and egg products won't be harmful for foodborne illness risk.  In fact, the USDA also recommends to use pasteurized eggs if consuming them raw or undercooked.
On the other hand, another consideration for eating pasteurized egg products is the nutritional content may be lower compared to non-pasteurized eggs (6).
Nutritional differences between raw and cooked eggs
A nutritional concern for eating a high amount of raw eggs is that it can lead to low levels of biotin.
Biotin is needed to metabolize carbohydrates, fats and proteins for energy and to build new proteins in the body.  Biotin deficiency is rare, but symptoms can include hair loss, dry scaly skin and cracking of the lips.
A 2015 study (7) also found there was differences in absorbing carotenoids from other foods between cooked and raw eggs.  Carotenoids are a pre-cursor to vitamin A and function as an antioxidant.  Cooked eggs increased absorption of carotenoids, but raw eggs did not.
Allergen concerns
Children may be more sensitive to allergen differences between cooked and raw eggs.  Egg are one of the top allergens for children, but cooked eggs are usually tolerable for most with egg allergies.  Raw eggs are more likely to create a reaction in someone with an egg allergy.
If you have an allergy to eggs, make sure you speak with your health care team before eating anything with raw or cooked eggs as individual tolerance can vary.
Read before you eat raw cookie dough
Salmonella concerns aside, what's wrong with sneaking some uncooked cookie dough?  A little bit won't hurt, right?  You may want to think again from eating raw cookie dough and not just because of the concern with eating raw eggs.
According to a July 2016 NPR article (8), the uncooked flour in cookie dough could also be a risk for foodborne illness.  Many people are used to associating raw eggs as a potential for foodborne illness, but raw flour may also be a source.
Experts suggest wheat can be contaminated with E. coli in the field from animals or be exposed to it from improper handling methods.  Therefore, think twice about scooping some unbaked dough that has uncooked eggs or flour in it.
Conclusion: are raw eggs safe?
Raw eggs can be considered safe if they are pasteurized.  Raw eggs that are not pasteurized can increase risk for Salmonella foodborne illness.  Irradiated eggs are also at a much lowered risk.  Note that all countries have different rules for egg manufacturers and best practices in place for lowering risk for foodborne illness from eggs.
Another consideration with eating raw eggs is it can significantly lower absorption of biotin.  Some nutrients are also not absorbed as well when eaten with raw eggs like the antioxidant carotenoids.  People at risk for egg allergies can be more sensitive to raw eggs compared to cooked eggs.
If you have further questions about if eating raw eggs are good for your health, speak with a health professional who knows your medical history.