Tuna fish is the second most consumed seafood in the United States, and tuna fish is accountable for about 37% of mercury exposure to Americans according to an April 2016 Newsmax article (1).  Concerns with tuna fish and mercury contamination are not new and have recommendations for limiting consumption have been in place for years.
Recent research from Consumer Reports (2) suggests mercury levels in tuna have been rising for the past 15 years due to pollution.  Therefore, tighter guidelines for eating tuna fish may come into place.
Fish can be a good source of protein, minerals and omega 3 fatty acids.  In general, the benefits of eating fish outweigh risks as long as you follow suggested guidelines.
Eating tuna fish everyday may not be the best idea for keeping mercury exposure low.  Instead, eating a variety of seafood is recommended.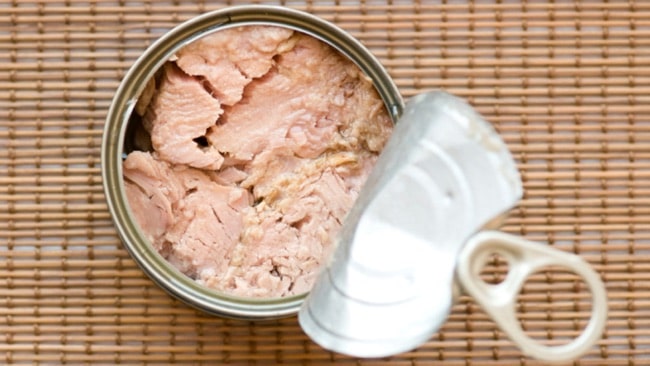 Tuna fish and mercury
Mercury is released into the environment from coal power plants and other industrial companies.  The mercury gets into the air and ocean water which then accumulates in sea animals and fish.
In general, the larger the fish, the more potential for higher mercury levels.
The concern with mercury is it can affect the brain and nervous system in humans.  The concern with mercury exposure in pregnant women and young children is high because mercury can especially be damaging for them.
Not all tuna fish has the same amount of mercury.  The levels of mercury, or other contaminants, in tuna fish could depend on how big the fish is, where it was caught and the type of tuna.
Also, keep in mind when choosing tuna light tuna is usually lower in mercury compared to albacore tuna.
Tuna that is in steaks or raw like in sushi can also have higher mercury levels compared to light canned tuna (3).
Recommendations for tuna fish intake
The FDA (4) recommends having fish and seafood as part of a healthy diet for people even for young children and women.
The FDA suggests nearly all seafood and fish contain low levels of mercury, and for most people the risk of mercury from eating fish and seafood is not a concern.
Mercury can accumulate in the blood stream, so if you have too much mercury built up in your body it could take some time for levels to get down.
For this reason, women who are not pregnant but are in child bearing years and may become pregnant should watch their intake of higher mercury level fish (sword fish, shark, king mackerel and tile fish).
The FDA suggests eating up to 12 ounces a week for women and young children for intake of seafood and fish lower in mercury (5).
These include tuna fish, shrimp, salmon, Pollock and catfish.  Pregnant women and children should avoid seafood and fish with higher levels of mercury.
If you eat more than the recommended amount of tuna for a week or two, it usually is not a concern.  It is only a concern if you consistently eat more than the recommended intake.
Therefore, eating tuna fish everyday may be ok only if you eat a small amount that comes up to 12 ounces total.  Keep in mind the 12 ounce recommendation is for all low level mercury seafood.
However, if you are a pregnant woman or in child bearing years you may want to cut back even further in tuna intake.
Recent research results: new recommendations?
According to Consumer Reports (6), levels of mercury have been rising in tuna fish an average of 4% every year from 1998 to 2008.  Researchers suggest based on these findings the following:
Pregnant women should avoid eating tuna
Women of child bearing age should limit their intake of tuna to less than 4.5 ounces per week
People who eat more than 24 ounces of tuna fish per week may be at risk for mercury over exposure.
These guidelines are not officially in place, but they could replace the previous FDA guidelines.  If you have questions about tuna affecting your health, you should consult your medical team for individualized recommendations.
What are some substitutions for tuna fish?
If you are eating tuna fish every day, it could be beneficial to substitute other protein sources for variety.  Try substituting other low level mercury seafood options, like salmon or shrimp.  If you have tuna fish sandwiches, try making egg salad sandwiches instead.
If you eat a lot of tuna sashimi or sushi, eat other sources of seafood like octopus, salmon, eel, etc.  If you eat a lot of tuna steaks, add variety by using lean pork chops, chicken breasts or other wild caught fish.
If you eat tuna fish everyday as a primary source of omega 3's, incorporate other omega 3 sources like olive oil, walnuts, hemp seeds or flaxseed in place of some tuna.
Conclusion
Current guidelines from the FDA suggest most healthy people can have up to about 12 ounces of low level mercury seafood and fish.  Tuna fish is included in this category.
If you eat tuna fish everyday but it is less than 12 ounces total, it could be ok.  However, keep in mind this is total levels for all types of seafood and fish.
Larger fish like shark, sword fish and tile fish are considered higher risk for mercury.
Recent research has suggested mercury levels in tuna fish are rising.  New recommendations with stricter guidelines for tuna intake may be advised.
Therefore, as a precaution you may want to stay under the current guideline for tuna fish.
Women who are pregnant or may become pregnant and younger children may want to avoid eating tuna or limit intake to less than 4.5 ounces per week.  If you eat locally caught tuna, check local advisories about mercury warnings.
Instead of eating tuna fish every day, consider eating a variety of seafood or other protein sources.  This is recommended to lower risk for mercury exposure.