Grapefruits are loaded with antioxidants, fiber, vitamins and minerals that can be beneficial for many reasons.  Eating a high intake of fruits has been shown to help reduce body weight, and some studies have shown an inverse association between fruit intake and weight.
All fruits are full of nutrients the body needs, but each fruit can offer unique benefits.  Some studies have shown eating grapefruits before meals may help lower the energy intake of the total meal.
Grapefruits may also offer benefit for controlling blood sugar levels and sensitizing the body to insulin.
While taking it to the extreme and following the grapefruit diet is not recommended, adding them in before breakfast, or any time of the day, may offer some health benefits.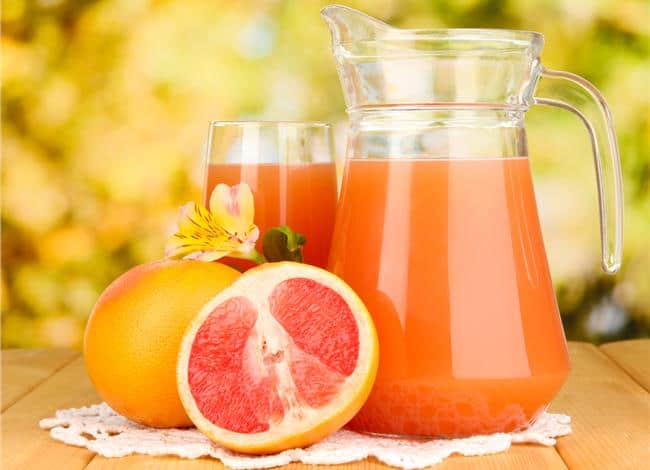 Before you add grapefruits to your diet, make sure to clear it with your doctor first if you are taking any medication.  Grapefruit can interact with various medications and change their affect in the body.
Lower blood sugar and improving insulin resistance
A study with mice (1) found when mice ate a high fat diet for 100 days supplemented with grapefruit juice, they gained 18% less weight than mice following the same high fat diet and getting the same amount of calories from a sweetened drink.
The mice who got the grapefruit juice also had lower insulin and blood sugar levels.  Could the same effect be seen in humans?  It's possible, but more research needs to be done.
Researchers think a chemical called naringin found in grapefruit may be what helps lower blood sugar levels.  However, it's not known yet why mice getting grapefruit juice would be protected against weight gain on a high fat diet.
A 2006 study (2) put obese subjects into 4 supplement groups: apple juice with placebo pills, grapefruit pills with apple juice, grapefruit juice with placebo pills or half a regular grapefruit.  They received these supplements for 12 weeks 3 times a day before meals.
Researchers found all the grapefruit groups lost significantly more weight than the apple juice and placebo group with the group eating the real grapefruit having the biggest weight loss.  The real grapefruit eaters also had greater improvements in insulin resistance.
Grapefruit before a meal: helpful for weight loss
Mice and human studies have shown eating grapefruit before meals may be helpful for weight loss and beneficial for fighting insulin resistance.
Another reason why eating grapefruits before breakfast is that it can help lower the calorie content of the meal.
A 2011 study (3) compared the effects of eating a grapefruit, drinking grapefruit juice or drinking water on the amount of food consumed at breakfast, lunch and dinner.
Obese subjects for this study ate or drank a preload before each meal for 12 weeks.  Researchers found that all groups lost weight and body fat around the trunk and concluded that eating a low calorie preload before a meal can be a useful weight loss strategy.
The grapefruit groups also showed some favorable changes in blood lipids which was an additional benefit.  However, there weren't significant differences in weight loss in this study between the water and grapefruit groups.
Eating a grapefruit before a meal may help for weight loss, but eating a grapefruit before a meal isn't the only thing that could help.
Breakdown fat?
Compounds extracted from grapefruit and oranges were found to breakdown fat cells in an 2008 study (4).  This citrus supplement was shown to break down fat more than other weight loss supplements like caffeine or guarana.
This was a small study and more research is needed for these compounds.  It is also unknown if eating citrus fruits can have the same effect of encouraging breaking down fat in the body and how much would be needed for an effect.
What are you putting on the grapefruit?
The health benefits of eating a grapefruit can easily be negated by piling sugar on it.  Grapefruit is of course somewhat bitter which can be unappealing to some people.  If the bitter taste of grapefruit is off setting, instead of putting sugar on it, combine the grapefruit with other naturally sweet fruits for a fresh fruit salad.
When is grapefruit not recommended?
If you are on any medication, speak with your doctor before bumping up your grapefruit or grapefruit juice intake.  Grapefruit can interact with many medications and may cause harm.
Consuming more than a quart of grapefruit juice per day may not be recommended for post-menopausal women (5).  Drinking a high amount of grapefruit juice could increase risk of breast cancer in some post-menopausal women because grapefruit can affect how the body breaks down estrogen in the body.
Eating grapefruit as part of a balanced healthy diet is generally considered safe, but consuming high amounts of grapefruit may be contraindicated for women who have breast cancer or are at risk.
Nutrition breakdown of a grapefruit
Eating a whole grapefruit provides about 4 grams of fiber and about 100 calories.  Grapefruits are a good source for vitamin C, potassium, vitamin A and in smaller amounts vitamin B6, magnesium and calcium.
It is a rich source of many different antioxidants which may help protect body cells against damage associated with heart disease, cancer, dementia and nerve degeneration.
Conclusion
Grapefruits can offer benefit before breakfast or at any time through the day.  Grapefruits have been shown to help improve insulin sensitivity and lowering blood sugar.
Eating grapefruits or drinking grapefruit juice before a meal may help lower total calorie intake which can help for weight loss.
However, other fruits and other low calorie foods can also have the same effect when eaten before a meal.
Grapefruits and considered generally safe, but grapefruits can have many interactions with different medications.
An excess intake of grapefruit juice may also be contraindicated for post-menopausal women for increasing breast cancer risk.