Canola oil is a vegetable oil that is often put in a heart healthy category with olive oil, avocados, nuts and peanut oil because it is high in monounsaturated fats.  Some research suggests canola oil, as part of a healthy diet, can improve health.
However, recently canola oil has gotten bad press because of the highly processed way it is made.  Here are some healthy and maybe not so healthy points about canola oil.
Heart health
Canola oil is low in saturated fat, contains no cholesterol and is higher in monounsaturated fats.  According to a 2013 review of canola oil health benefits from Nutrition Reviews, researchers concluded the following health benefits of canola oil:
Reduce total blood cholesterol
Reduce low density lipoprotein (LDL)
Lowers the bad cholesterol
The American Heart Association and other governing health organizations recommend limiting total fat consumption to 25-35% of calories and limiting saturated fats to 7% of calories with the majority of fat calories coming from monounsaturated fats.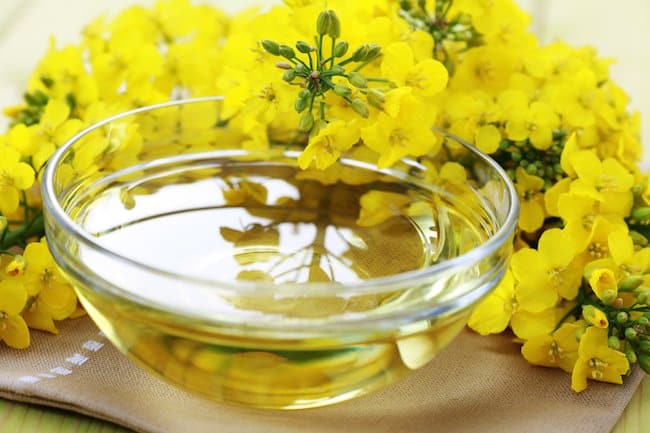 Since canola oil is high in monounsaturated fats, it is considered a heart healthier fat option.
Other health benefits
The 2013 review article concluded canola oil may provide other health benefits including:
Increasing tocopherol (antioxidant) blood levels
Improving insulin sensitivity.
Omega 3 and omega 6
Canola oil is a source for omega 3 and omega 6 fatty acids.  Both are considered essential fatty acids meaning humans need these nutrients but can't make them, so they need to be eaten in the diet.
The problem for most Americans and others following a typical Western diet is that most people get way too much omega 6 and not near enough omega 3s.
Even though canola oil provides omega 3, it is very high in omega 6 fatty acids.  For this reason, some health professionals advise to use fats that are lower in omega 6 but higher in omega 3's like extra virgin olive oil, grass fed butter or avocados over canola oil.
Omega 6 increases inflammation in the body and increased inflammation in the body can increase risk for chronic diseases like arthritis, heart disease, diabetes, certain cancers or possibly dementia.  A 2010 study from the British Journal of Nutrition analyzed studies looking at diets with mixed omega 3 and omega 6 and diets higher in omega 6.  Researchers concluded that diets high in omega 6, not high in omega 3, increased risk for cardiovascular disease.
Vegetable oils like soybean oil, safflower and corn oil are also high in omega 6.  These oils are consumed widely in the Western style diet because they are mainly used in processed and fast foods.
Highly processed
Canola oil is actually made from a hybrid of the rapeseed.  Canola oil can be considered highly processed because of the way it is made.  It is brought up to a high temperature, bleached, deodorized and further refined.
Canola oil is almost always made with genetically modified ingredients (GMO).  Health concerns over eating genetically modified ingredients increase, as the health implications to humans for eating GMO's, especially long term, are not known.
Because it is processed at such high temperatures, some argue that this damages the content of omega 3's in the oil and increases its risk for canola oil going rancid.  It is also thought that the processing of canola oil increases the saturated and trans fat content, making it not as healthy as it seems.
Cooking benefits
Canola oil has a light flavor and can be used at high temperatures.  Because of that, canola oil is popular, versatile cooking oil.  It is often recommended as a healthy cooking option because it is high in monounsaturated fats.  It can be used for baking because it doesn't give off the flavor that olive oil can.
Diversify
Keep in mind using different kinds of fats/oils at different times can help keep omega 6 and omega 3 ratios healthy.  Most people do not need to get more omega 6; usually they need to cut down on omega 6 food sources.
Instead of only using one kind of cooking oil, try using multiple fat and oil sources.  Olive oil is considered a heart healthy oil with many other health benefits, but peanut or other nut oils are also high in monounsaturated fats.
Coconut oil, used in moderation, can also be used in place of butter or shortening.
Conclusion
Research studies have shown some health benefits with canola oil including improving heart health, improving insulin sensitivity, high in monounsaturated fats and low in saturated fats.
However, canola oil is highly processed and usually genetically modified, so if that concerns you may want to use other cooking oils.
Canola oil has many cooking benefits and has a light taste.  Instead of using only one kind of oil, try using other cooking fats to diversify your tastes and get a variety of omega 3 fats in your diet.
References used in this article