Intermittent fasting (IF) is gaining in popularity and has been associated with potential benefits such as: lower risk for chronic diseases, increase fat burn, maintain muscle mass and increase glucose sensitivity.
Prolonged calorie restriction has been shown in research settings to have these health benefits in animals.  The down side with restricting your calorie intake by 30% long term is you will probably feel pretty deprived, hungry, have lowered energy, low libido and other side effects.
IF on the other hand, could possibly give the same health benefits as long term calorie restriction without the prolonged deprivation.  At least, that's what proponents and some research studies suggest.
IF does not mean you go days without eating.  In fact, most time periods of not eating are relatively short with IF.  There are many variations with IF, but here are some general guidelines to start IF.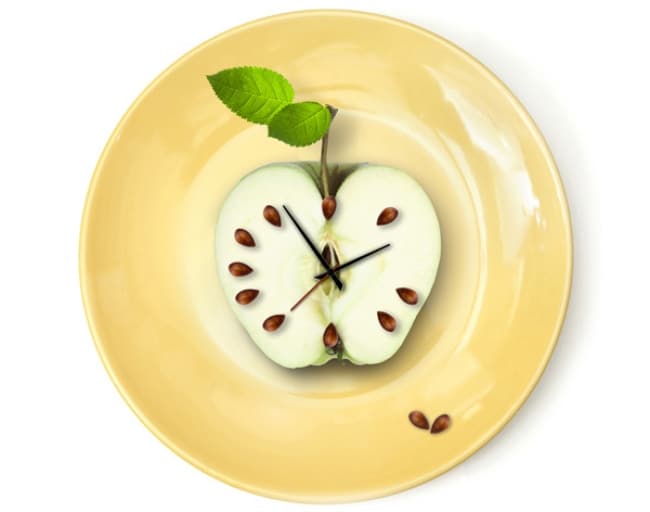 Every other day
Dr. Krista Varaday (1), author of The Every-Other-Day Diet, experimented with mice for IF having them go through a cycle of fasting one day and feeding the next.
After fasting for a day, the mice did eat more than usual, which is to be expected.  However, the mice only ate about 25% more food on the feeding days than what they would on a regular diet.
Therefore, over time the mice ate less food overall and lost weight.
Does this approach work with humans?  According to Varaday, yes it can.
To put the mouse research on a human level, she suggests eating about 500 calories, or 25% of your calorie needs, on fasting days.  The following day would be a "normal" eating day.
According to her research, people will eat more on eating days, but only about 15% above average which is not enough to make up for the deficit of the previous day.
The first days of trying every other day IF can be tough, but once you get used to it, this can be easy to follow and potentially stay with long term. Varady suggests for a maintenance plan, you can go on a 1,000 calorie amount on fasting days for weight maintenance.
Only eat your meals during specific times
Instead of fasting every other day, following this approach for IF allows you to eat every day, according to Nerd Fitness (2).
What is different is you eat your meals at certain times, for example between noon and 8pm.
You "fast" from 8pm to noon.  The time allotted for eating can be adjusted to a 6 or even 4 hour time frame per day.
Allowing yourself 8 hours to eat per day is basically just skipping one meal a day, usually breakfast.  However, is it ok to skip breakfast with IF?
Aren't you supposed to eat a healthy breakfast for weight regulation?
The benefits of eating a healthy breakfast have been linked for many years, especially for children.
However, the link between eating breakfast and weight regulation has recently been challenged in a 2013 American Journal of Clinical Nutrition review article (3).
Researchers concluded there wasn't sufficient evidence from studies indicating there was a strong link between skipping breakfast and gaining weight.
While more research is being done with skipping breakfast and the effects of the body from IF, it appears for healthy adults there shouldn't be an increased risk for weight gain by following this type of IF.
If you skip a meal with IF, yes you will eat more in later meals, but proponents of IF suggest it's still not enough to make up for what wasn't eaten.
5:2 Diet
Another variation for IF is the 5:2 diet or referred to in the book The Fast Diet.  With this approach, you eat pretty much whatever you want for 5 days of the week and fast for 2 non-consecutive days a week.
The Fast Diet, written by journalist Michael Mosley was a 2013 best seller.
The 5:2 diet philosophy goes beyond just eating IF for weight loss, it's more about the emphasis on the research suggesting IF has benefits for longevity and possibly lowering some disease risk.
However, researcher Dr. Varaday points out the 5:2 diet does not have research behind it like the 'every other day' method.
It's not known from a research perspective if the 5:2 diet method of IF could have the same benefits suggested by the research from every other day fasting.  She even suggests some people could gain weight with 5:2 diet plan.
How hard will it be to start Intermittent Fasting?
One of the health benefits associated with Intermittent Fasting is lowered release of insulin and lowered blood glucose levels.  If you are used to eating a fair amount of sugar and/or processed foods, your body is used to getting quick energy throughout the day which can promote fat storage.
By fasting for short periods, the body switches to breaking down stored carbohydrates and fat for energy, and insulin levels will be low.
Switching to IF, whatever variation you choose, could be hard to adjust for the first few days especially if you are used to a higher sugar diet.
However, after this first initial phase, it can be easy to get accustomed to, says John Olson, former director of the Strategic Analysis and Integration Division in Human Exploration and Operations at NASA (4).
If you eat a healthy diet, it could even be an easier adjustment.
Should you try Intermittent Fasting?
Some people have had success with variations of IF for weight goals or other health reasons.  However, as with any diet, this is not a one size fits all approach.
IF is not the only way to eat healthy, and it may not be the best fit for some people.  If you find yourself binging on days or times when you can eat with IF and obsessing about food when you can't, this probably isn't the best fit for you.
It may also not be the best fit for people who have a history of disordered eating.  If you are wondering if IF could be helpful for you, consult your medical team first especially if you are on any medications or have any health conditions.
What are the benefits of Intermittent Fasting?
Much of the health benefits associated with IF are from animal studies.  Calorie restriction (CR) benefits are also sometimes used interchangeably with IF benefits.  A 2005 article (5) found IF and CR have a beneficial effect on the cardiovascular system and can help lower blood pressure.
Interestingly, animals following IF or CR showed a stronger resistance to damage caused by a stroke or heart attack compared to animals following a normal diet.
Researchers also suggest the benefit of IF/CR is similar to benefits seen with exercise, so there may be similar mechanisms for how IF/CR could be beneficial.  More research is needed for understanding of IF on the cardiovascular system and brain function.
A 2006 study (6) also concluded CR and IF could have a beneficial role on brain function.  Both CR and IF impact the way the body uses oxygen and energy metabolism which could translate into changing the way the body cells cope with stress and disease.
More research is needed in this area, but some data suggests IF or CR may impact the neurological system in a way that may help lower risk for Alzheimer's or Parkinson's disease.
In a 2012 article from Scientific American (7) Mark Mattson, head of the National Institute on Aging's neuroscience laboratory, suggests the mild form of stress from IF could help cells increase their defense against molecular damage.  T
his defense could translate into the lowered risk for diseases like cancer, cardiovascular disease or Alzheimer's.
IF could help with weight loss because it can help lower overall calorie intake and help increase the body's sensitivity to insulin.
Obesity can be accompanied by a lowered insulin sensitivity which can lead to increased risk for type 2 diabetes.  However, if you have diabetes or are on medication for insulin, speak with your medical team before trying IF.
Bottom line is more research is needed for IF benefits or risks.  The long term effects of IF in people are not well studied, and according to Scientific American (8) not all studies have shown a positive benefit from IF.  For example, a 2010 study found that rats on IF developed stiff heart tissue.
Conclusion
Starting Intermittent Fasting can be hard for the first few days, but also relatively easy to follow and maintain.  There are many variations for Intermittent Fasting that range from every other day fasting, eating only for certain hours of the day or following a 5:2 diet.
While there are some promising research studies suggesting benefit from IF on the cardiovascular system, insulin levels and brain health, more research is needed for long term effects.
As of now, most but not all studies suggest Intermittent Fasting could have some benefit on health.
IF is like any other eating pattern; it could be really helpful for some.  However, it is not a one size fits all; IF may not be the best fit for all.
If you have any questions about IF affecting your health or weight, speak with your medical team first.