Do your eye lids feel heavy after lunch?  Is it harder to focus in the afternoon?  It's common to feel the afternoon slump because of your body's biological circadian rhythm.  According to the National Sleep Foundation, most adults feel the highest sleep drive between 2:00-4:00 am and again between 1:00-3:00 pm.
Afternoon energy levels can be influenced by many things including sleeping habits, stress, genetics, medications, etc.  However, what you eat throughout the day can have a big impact on your fatigue levels.
Eating the right foods and combinations of nutrients can help your body and mind feel more awake throughout the day.
Pair protein, fat and fiber together
If you struggle with the afternoon slump, one of the first things to check is what you ate for breakfast and lunch.  Blood sugar swings could affect your energy levels.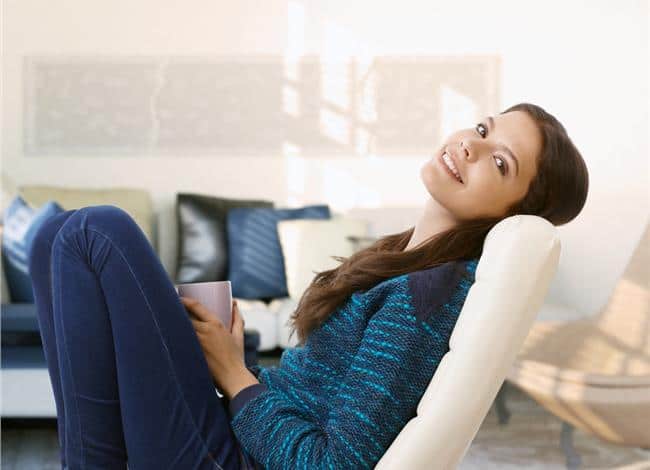 Eating a balance of carbohydrates, protein and fat can provide your body with nutrients for energy that won't send your blood sugar levels soaring up then crashing down.
For example, eating a sugared donut or plain bagel will give you a lot of carbohydrate but little else.
Carbohydrates get broken down fairly easily and enter the blood stream.  This triggers insulin to come out and bring the sugar into body cells for fuel.  The result can be a crash in blood sugar levels which can leave you feeling low on energy and hungry again.
For breakfast and lunch, pair fiber from fruits, vegetables, or legumes with lean proteins and healthy fat sources like nuts, avocados or olive oil.
For example, breakfast could be an easy to make eggs scrambled with veggies or pairing plain yogurt with some fruit and nuts.
Stay hydrated
What and how much you drink can affect your energy level.  Research from University of Connecticut (1) found even healthy, active young men and women were affected by mild dehydration at rest and during exercise.
They experienced headaches, anxiety, fatigue and difficulty concentrating when just mildly dehydrated.
Researchers noted women were more sensitive to the effects of mild dehydration, which is considered only losing 1.5% of normal body water volume.
The benefits for drinking enough water through the day are many and include keeping your energy levels high.
How much water you need to drink depends on many factors, but it is generally recommended to drink about 2 liters of water per day for most adults.
While all fluids can help you meet your fluid intake recommendation, for optimal energy levels, the vast majority of your fluid intake should be from water or tea.
Avoid drinking high amounts of caffeine and sugary beverages.
Get enough iron
A common source for low energy is not getting enough iron; iron deficiency is one of the most common nutrient deficiencies in the world.  If you think your iron may be low, talk with your doctor or get your blood tested.
Getting enough iron from the diet can be hard, especially for some vegetarians.  If you're feeling tired, make a conscious effort to try to get more iron sources in your diet.
Rich sources include meat, almonds, beans, dried apricots, broccoli, dates, leafy greens and hemp seeds.
Remember, make sure you eat a food high in vitamin C when trying to get iron from plant sources for increased absorption.
Munch on an apple or carrots
It's a common suggestion to eat an apple instead of drinking coffee to help energize you.  Apples don't have caffeine in them, but they do have carbohydrates, fiber, antioxidants and are a source of many vitamins and minerals.
One other simple reason why eating apple may help your feel more awake is because of the all the chewing it takes.
Try eating other crunchy fruits and vegetables like pears, carrots or celery for the same effect.
For an added bonus, pair it with some nuts, nut butter or cheese to provide a source of protein and fat.
Stay away from refined grains and high sugar foods
Refined foods like white bread, sugary cereals and packaged sweets can be disastrous for helping with stable energy levels.  These foods are high in sugar and low in fiber.
A difference between the carbohydrates from an apple compared to refined grains is the fiber content.  Refined foods usually don't provide significant vitamins, minerals or antioxidants like you can get from real, unaltered foods.
Packaged sweets and snacks can be a source of trans fats, which are considered the worst for heart health.
If you find yourself relying on packaged foods, see where you can add in extra time in your day to prepare healthy meals and snacks.
Don't depend on the caffeine
The health benefits of drinking a cup or two of coffee a day are many (2), but relying on caffeine to give you an energy boost through the day can lead to surges and crashes in energy levels.
People who are sensitive to caffeine can also suffer at night with sleep if they drink coffee in the afternoon. An alternative is to drink tea in the afternoon which is lower in caffeine.
Energy drinks can have a lot more caffeine than coffee and may be more likely to get dependent on for energy.
If you find yourself needing to drink energy drinks to get through the day, cut back your intake gradually.
Conclusion
There are many factors that go into how much energy you have.  What you eat and drink can have a direct impact on your energy level.
Make sure you are eating meals that are balanced in fiber, protein and healthy fats to support steady blood sugar levels.
Avoid depending on processed, refined foods and caffeine to give you energy through the day.  An alternative to depending on caffeine?  Try eating more crunchy fruits and vegetables, like apples.
Drinking more water can help you feel energized, as being even mildly dehydrated can make zap your energy.
Eating foods high in iron throughout the day can lower a risk of iron deficiency which is important because low iron levels can lead to low energy.