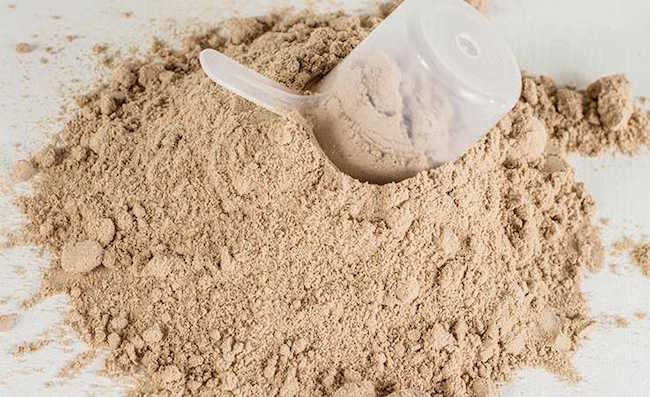 Many people take protein powders in an effort to gain muscle.  However, there is some controversy as to whether this is really effective.  There is evidence suggesting that consuming high level s of protein may in fact have negative side effects for your health.
Does protein powder help to build muscle?
It is certainly true that protein is required to build muscle, as well as for numerous other important functions in the body.
However, there is a limit to how much muscle growth can actually occur, no matter how much protein you consume.
The first thing to remember is that eating protein alone will not increase muscle.
To build muscle you have to use it.
The slight damage done to the muscle during weight lifting and other resistance activities and then healing is how the muscle grows larger, so if you are simply consuming protein powders in order to gain muscle but still sitting at home on the sofa, this isn't going to happen.
Muscle growth requires adequate supplies of protein, however, for the majority of people this is easily obtained from food sources and there is no need to supplement with powders.
The average American has a diet higher in protein than is in fact recommended anyway, so adding extra with powder is an expensive process that is unlikely to have any real effects.
To encourage maximum protein synthesis and muscle growth, the diet should also be sufficient in complex carbohydrates which can be burnt to fuel muscles leaving the protein free for synthesis of new tissue.
(Also read: Should you eat protein and carbs together)
What are the side effects?
Consuming high levels of protein in the form of protein powders or even from food alone can be detrimental for our health.
Fat gain
Adding extra protein to the diet in the form of protein powder adds extra calories.
As excess protein cannot be stored in its original form in the body, if you are not burning these calories by doing a sufficient amount of physical activity, or doing enough weight bearing activities to build more muscle, these extra calories are likely to be converted to fat. (See also: How to burn more fat while exercising)
An increase in protein intake as well as calories without an increase in physical activity levels is likely to result in an equal gain in both fat and muscle, which may not be exactly what you are looking for when you supplement protein powder.
Bone loss
High levels of protein intake generates a large amount of acid in the body due to the excess sulphates and phosphates that are introduced.
The kidneys then try to restore the balance of acid by excreting more acid, at the same time the skeleton releases calcium which is also lost in the urine as a buffer.
This results in the loss of calcium from bones which can increase the risk of osteoporosis if it occurs over a longer time frame, particularly in high risk groups such as women.
There is a possibility however, that a diet which is high in alkaline fruit and vegetables in addition to protein may help to counteract this effect.
Kidney damage
High protein diets can put increased strain on the kidneys due to the need to excess waste products called ketones that are generated with such a diet and the need to excrete these products.
For people with reduced kidney function this stress can worsen the condition and may even contribute to reduced function in people with healthy kidneys if followed for a long period of time.
Dehydration
A high protein intake, particularly if you are not eating enough carbohydrates, can push the body into ketosis, a state in which there is a build-up of toxic ketones in the body.
Your kidneys then go into overdrive trying to eliminate these substances and in the process a lot of water is lost as urine.
This increases the risk of dehydration, particularly if you are also losing a lot of fluid through sweat during exercise.
This dehydration not only puts stress on the kidneys, but can also affect the function of the heart in extreme cases.
Other undesirable side effects could include dizziness, lethargy and bad breath.
How much protein do we need?
Protein should not make up more than 30% of your daily calories, but in fact much less than this, around 15%, will provide most people with enough protein.
The recommended daily allowance for protein is 0.36 grams per pound of body weight.
So if you weigh 190 pounds, you will need about 68 grams of protein per day.
If you consider that an average steak contains about 42 grams of protein, this is not difficult to achieve.
References used in this article