Bananas are one of the most widely eaten fruits around the world. They are cheap, portable and full of potassium, fiber and magnesium. A medium banana provides about 110 calories, 3 grams of fiber and is a source of potassium, vitamin C, magnesium, vitamin B6, vitamin A and iron.
Bananas offer many health benefits and can be eaten daily as part of a healthy diet. Here are just some of the reasons bananas can be good for you every day. (See also Banana diet).
Bananas are beneficial for Heart health
Having a diet rich in potassium can be beneficial for lowering risk for heart disease, muscle wasting, osteoporosis and kidney stones. However, only about 2% of American adults reach the recommended 4700 mg of potassium per day according to data from the National Health and Nutrition Examination Survey.
Eating enough potassium and lowering sodium intake can help lower high blood pressure which is beneficial for heart health. A medium sized banana contains about 425 mg of potassium. Other fruits and vegetables are high in potassium too, so eating a lot of fruits and vegetables per day can help you reach your recommended potassium intake.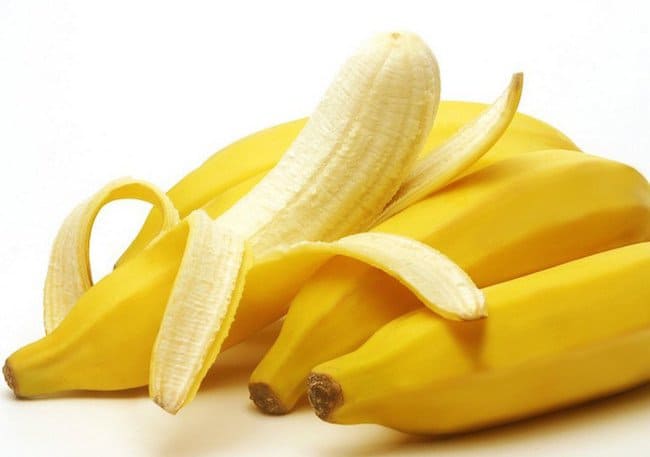 Another reason bananas can be considered heart healthy is because they are a source of soluble fiber. Soluble fiber, found in fruits, oats and legumes, work to lower blood cholesterol levels.
Bananas act as fuel for exercise
Bananas are primarily made of carbohydrates which means the energy from bananas enters the blood stream fairly quickly. Because of this, eating a banana before exercise can be an easy fuel source before a workout.
Electrolyte (calcium, magnesium, potassium or sodium) imbalance can be one reason for a muscle cramp during exercise. Eating a banana before, during or after exercise can provide your body with a natural source of fuel and electrolytes.
Bananas aid digestive health
Bananas are a common comfort food to eat when the digestive system is upset. Bananas are full of nutrients but are relatively easy for the digestive tract to break down. They can be a tolerable food for ulcers, diarrhea or nausea. If you are constipated, eating high fiber foods, like bananas, can help restore normal bowel movements.
Bananas are a prebiotic source meaning they are food for the good bacteria in your gut called probiotics. Having a healthy balance of probiotics in the digestive tract can have many beneficial effects that researchers are just starting to understand.
Brain health
Bananas could have a positive effect on brain health because they contain a high amount of the amino acid tryptophan. The body converts tryptophan into the hormone serotonin. Serotonin can be considered a "feel good" hormone and promote healthy sleep and stable mood.
In order for tryptophan to be converted to serotonin, the body needs adequate levels of iron, riboflavin and B6. Bananas also can help with this because they provide iron and B6. Other sources of tryptophan include chicken, cheese, eggs, nuts and soy products. (See also: Is it bad to eat bananas at night)
Improving bone health
The same prebiotics found in bananas that can promote probiotic growth in the digestive tract have another important health benefit: they can increase calcium absorption. Therefore, eating bananas every day may be good for building strong bones and lowering risk for osteoporosis.
Other ways for building strong bones include eating a diet that is high in calcium, vitamin D, magnesium, vitamin K and weight bearing exercise. Bananas are a source of the bone building nutrient magnesium, so this is another way bananas help improve bone health.
Potential risks for eating bananas
Can you eat too many bananas? Most people don't need to worry about eating too many bananas. However, if you eat an extremely high number of bananas per day (like over 40), you could increase your risk for getting too much potassium, a condition called hyperkalemia.
Because bananas have a high level of tryptophan, eating a few bananas at a time could make you sleepy. People on beta blocker or other heart medications may be advised to not eat high potassium foods like bananas. Also, those that have kidney issues may need to watch potassium levels as well, and it may be recommended to avoid eating bananas.
Conclusion
There are many reasons why bananas are good for you every day. They are a low calorie, high fiber, and high nutrient food. Bananas can be beneficial for heart health because they are high in potassium, low in sodium and a source of soluble fiber. Bananas can be an easy food to eat around exercise because they are easy to digest, provide a quick energy source and provide electrolytes.
If you have digestive issues such as diarrhea, nausea, heart burn or ulcers, bananas are considered a safe choice because they are easy on the digestive system. They are also a source of prebiotics which promote the growth of beneficial bacteria probiotics in the gut. These prebiotics can also increase calcium absorption from the intestines.
Bananas provide tryptophan which is converted to the hormone serotonin. Serotonin is considered a mood enhancing hormone and can help promote healthy sleep patterns.
References used in this article