1. Snack on fruit and vegetables
Eating enough fruit and vegetables is a challenge for the majority of people.  If you feel you can't fit the desired two fruit and five veg into your daily meals, try incorporating them into snacks instead.
If you are someone who often feels the need to reach for a snack between meals, replacing conventional snack foods that are often high in fat, sugar and calories with fruit and vegetables can be a great way to cut down your calorie intake.
Fruit and vegetables are naturally high in a wide array of vitamin and minerals as well as fibre which is important for heart health and a healthy digestive system.  By eating a wide variety of fruit and vegetables, it is easy to obtain enough nutrients to meet your requirements without resorting to expensive supplements.
Good fruit and vegetables based snack options could be fresh fruit, canned fruit, a small portion of dried fruit, (look for varieties with no added oils or sugars), frozen berries mixed with low fat yogurt, vegetable sticks with hummus, vegetable chips made by baking thin slices drizzled with a little olive oil until crispy, or celery with a little peanut butter.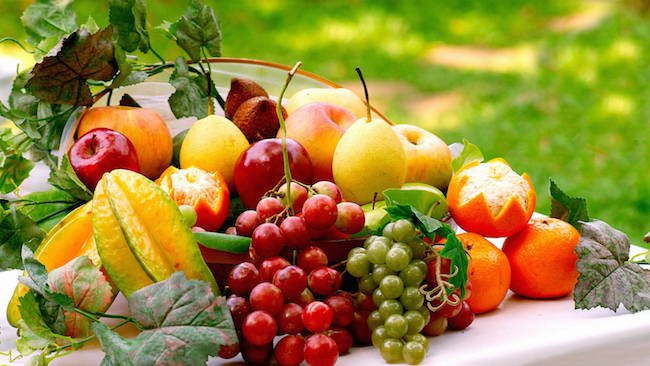 2. Cook from scratch as much as possible
Americans are eating more and more convenience food and spending less time in the kitchen, which may be a contributing factor in the increasing rates of obesity and lifestyle diseases.
Processed and convenience foods are often high in unhealthy fats , salt and sugar and low in nutritional value, making them a poor diet choice which can contribute to bad health if eaten too often.
By cooking food from basic fresh ingredients, you are aware of what you are eating and can make healthier choices.  This can also help you to cut down your calorie intake, for example if you make a cake from scratch and see the amount of butter, sugar and other high calorie ingredients that go into the batter, you are more likely to eat less of the finished product than if you buy a product with no idea what is in it.
It is also easy to modify dishes to improve their nutritional content, such as cooking with olive oil rather than butter, adding extra grated vegetables to mince meat when making burgers or replacing cream with yogurt in cooking.
Cooking from scratch can also be more cost effective if meals are planned well and in season ingredients are used.  Ingredients such as lentils and beans can be used as a cheap protein alternative, or to add to meat dished to make them go further.
Making large batches of foods such as soups and stews and freezing them in portions for later is generally a cheaper alternative to  readymade meals.
3. Swap your fats
Simply swapping saturated and trans fats in your diet, found in butter and some (not all), margarines, for poly and mono unsaturated fats may also improve your health.
Replacing these unhealthy fats with unsaturated alternatives such as those found in olive oil, vegetable oils, nuts, seeds and avocados may reduce risk of heart disease and other lifestyle diseases.
There is also some suggestion that this kind of substitution may help with weight loss.
4. Find an exercise regime you can stick to
Finding time to exercise is a key factor to good health.  The American guidelines for physical activity suggest a minimum of two hours and thirty minutes of cardio based physical activity weekly, as well as at least strength training at least twice a week, but more than this is obviously a bonus.
However, there is no point signing up for an exercise regime you will never stick to in the long term, so for the best results choose something you enjoy and that is fits into the time you have available.
Make it as easy as possible for yourself by choosing an activity that can be fit in any time such as running, or if you prefer more structure, a gym class that is at a convenient time and close to your home or work.
5. Drink water
Drinks are often forgotten when we think about a healthy diet, but can contribute a large number of calories and often very little nutrition to our diets.
It is also imperative to be well hydrated in order to be healthy, have plenty of energy and feel good.
Water is the best drink option as it contains no calories and will not contribute to weight gain, it is cheap and it contains no artificial ingredients.
Herbal teas make a good calorie free alternative for a change.
6. Serve vegetables with lunch and dinner
Another way to ensure you and your family meet you recommended intake for vegetables is to always serve at least two kinds of vegetables with lunch and dinner (not counting potatoes or other high starch varieties).
7. Eat fish
A high intake of fish, particularly oily fish such as sardines, has been associated with reduced risk of heart disease and other lifestyle diseases due to the high content of omega fats.
Fish is also a great source of protein, versatile and nutritious and makes a great meat replacement.
Make sure the fish you are eating is cooked in a healthy way and not battered and fried for the healthiest option.
8. Use healthy cooking methods
Choosing healthier cooking methods or foods that have been cooked in a healthier way in restaurants is a good start to improving your health.
Grilling, baking, steaming and poaching are all good cooking methods that need limited fat added. Frying should be avoided where possible, but if you do fry make sure the oil is at hot as hot as possible as this means less fat is absorbed into the food.
Try alternative cooking methods such as baking or fry with a little healthy unsaturated oil for commonly fried foods such as French fries and chicken.
When eating out, choose grilled meat, chicken and fish rather than fried options, and choose dished based on vegetables.
9. Choose whole grains
Whole grains carbohydrates are a key part of a healthy diet as they provide important fibre, B vitamins and minerals.  They are also more likely to be low GI and thus cause a longer lasting but smaller increase in blood sugar levels, keeping you fuller for longer.
10. Enjoy your food and meals
Studies have shown that those who sit down to a meal without distractions such as TV tend to consume less.  Making time to enjoy and focus on your meal, rather than eating mindlessly whilst you are doing something else is a good way to control your intake.
Food is a big part of our culture, so enjoy your food, rather than focusing on dieting or what you can't eat.  Look at the positives and enjoy the great, healthy foods that are available.
References Used in this article