Tips for a healthier dinner don't stop with the question what kinds of vegetables are best. A healthier dinner starts at the grocery store, makes a pit stop in the kitchen and reaches it final destination at the dinner table. What do I mean by that? Read on.
#1 Make a meal plan
The first step for a healthier dinner is to make sure you know what you are going to have for dinner. Maybe you are good at improvising but most of us are not. And because inspiration just doesn't want to click in by the look at the fridges contents we reach for the take out pamphlet and order a not so healthy dinner.
Sit down twice a week, plan ahead and draft a meal plan. Is there anything in the fridge that has to be implemented? What do you need to buy or restock? Make sure your meal plan includes fresh veggies every day.
#2 Keep it simple
Recipes with a list of ingredients that just don't want to end are stressful. Reserve them for experiment day on the weekend. Let's be honest, during the week we just want to get dinner done.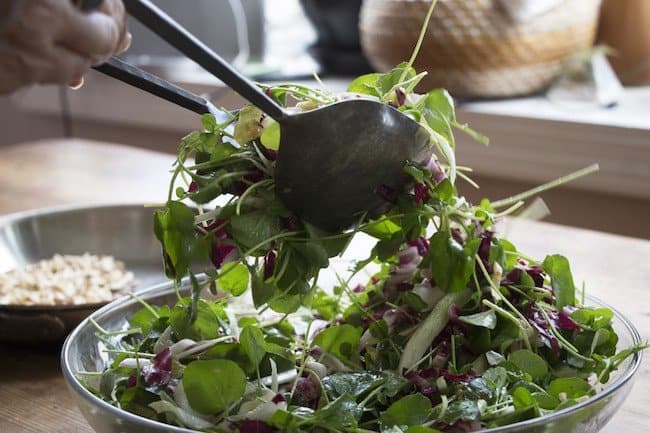 What's wrong with a cucumber lox sandwich, a spinach omelet or a hearty wild rice vegetable soup? Dinner doesn't have to be the biggest meal of the day.
# 3 Try food combining
When you make your meal plan you can try to implement the rules of food combining. It sounds more complicated than it is. Food combining is a strategy to improve digestion. Fats and proteins take longer to digest than starchy carbohydrates and simple sugars.
If your digestion is weak and you combine all food groups in a meal you set yourself up for digestive troubles. The starches and sugars ferment in the stomach while they have to wait for the proteins and fat to be broken down. Gas, belching and bloating follow.
Combine chicken, fish, meat with non-starchy vegetables like zucchini, spinach, tomatoes, peppers and so on NOT with potatoes, rice, pasta and bread. Pasta and rice can also be combined with non-starchy vegetables but not with protein and fat.
# 4 Limit starchy carbohydrates for dinner
Pasta, bread, rice and Co. are concentrated sources of simple sugars. Not only do they digest very quickly but they also have the potential to raise your blood sugar level. Whenever there is excess glucose (blood sugar) in the blood the body stores sugar as fat in our fat cells.
If you flop onto the couch after dinner, than a wise move to prevent weight gain is to limit starchy carbohydrates and sugars. Another option is to work the extra glucose off by going for a digestive walk twice around the block.
# 5 Use healthy cookware
Teflon coating is made from chemicals that have shown to be toxic. Non-anodized aluminum pans can leach aluminum salts, which is not healthy either. Don't use plastic in the microwave. Even microwave safe plastic cookware can leach chemicals, especially after they come in contact with the fats in your meat sauce.
Glass, stainless steel and cast iron pots and pans are your safest bet.
#6 Healthy ways of cooking
I know the microwave is just a damn convenient way of heating things up in no time. But nuking your food with incredible powerful microwaves is just like roasting a chicken by lightening. Not sure if that would be delicious.
Steaming your vegetables just lightly in a steam basket prevents nutrients to leek into the cooking water and then thrown out.
If you are a lazy chewer (see #10) than master the skill of turning every vegetable in a puree. Green peas, celery root, beets, kohlrabi, rutabagas, carrots, cauliflower, spinach? No problem. It is also a great way to introduce kids (and adults) to new tastes.
Should I mention that deep-frying is not a healthy way of cooking? No, you got this. (See also: How to Cook Healthier Meals)
# 7 Have a digestive aid before dinner
A healthier dinner does not only mean that you have to think about the foods you are going to eat. A healthier dinner means also thinking about efficient and proper digestion.
Only with proper digestion is your body able to make use of all the nutrients that you just gobbled down. If your stomach is overwhelmed, digestion is impaired.
To improve digestion you could have a glass of water with freshly pressed lemon juice or apple cider vinegar 15 minutes before dinner. This "natural digestive cocktail" stimulates digestive juices for a better breakdown of your food.
Furthermore recent studies have shown that apple cider vinegar may help people with diabetes type 2 in achieving a more stable blood sugar level.
If you dislike the taste of apple cider vinegar you can also buy digestive enzymes in pill form at your local health food store.
#8 Start with a bitter salad
Bitter foods accomplish the same. The bitter taste of arugula, radicchio, rapini, kale or dandelion will get our digestive juices running, which aids in both digestion and easing gas production. Bitter foods are also nutritious and have cleansing abilities.
#9 Appreciate your food
No, you are not eating while standing in the kitchen or grazing down the food in front of the TV. Improved digestion starts with connecting with your food.
That might sound silly but looking at your food, anticipating your food and smelling your food not just pleases your nose and taste buds but prepares your stomach. It is the first step of proper digestion.
Dinner or every meal for that matter is where we nourish our bodies. It's our daily Thanksgiving mini dinner. So set the table nice and celebrate all the hard work that you have done in the kitchen with a relaxed sit down.
Furthermore you need to be relaxed to draw blood circulation into your digestive organs. When you are stressed the blood is needed in your muscles and brain. Therefore nutrient can't be proper absorbed.
If your household is larger than the number 1 than have family dinners and do not eat alone. Dinner is a great time to connect and catch up on each other's day. After all you are a team. A good team needs good communication.
No need to say that the distracting electrical devices are off during that time. And no fights over the dishes. Everyone helps.
#10 Chew your food
Digestion is a very complex process. It's not just that it goes in on the front and leaves later on the other end. Food enters the mouth where digestive enzymes in your saliva wait for it to break it down. The more you chew the more surface you create and the more surface there is the more the food is exposed to enzymes. Just image a well-chewed steak and a partially chewed steak in your stomach. What do you think will be harder to digest?
I hope you all enjoying your healthier dinner. Remember, we eat for energy and nourishment. Healthy food is the reason you can enjoy and do all the things you want to do. Healthy food, proper digestion and healthy lifestyle choices lead to long lasting health, wealth and happiness.