Working out in the winter can take extra motivation and planning.  However, getting out in the cold to exercise can feel very rewarding afterwards and can help keep you healthy during winter.  Before heading outside in the cold, there are some safety tips to consider to make your experience more enjoyable and decreasing risk for injury from cold weather.
Dress Appropriately- Layers
People can actually over dress for exercising on cold conditions.  If you bundle up too much, you will sweat more which can lower your body temperature.  The best approach for exercising in the cold is to dress in layers.  This way you can shed layers as you get warm and won't over sweat.
Sweating is the body's natural way to cool off.  If you are sweating excessively in a cold environment, that sweat can sit on your body which can make you cold after you stop moving.  Dressing in layers can avoid over sweating and causing excess sweat from staying on your body in the cold.
For your upper body, choose a synthetic material base layer closest to your skin that is designed to wick away sweat.  Most athletic gear is made of some type of material that is designed to pull sweat away from your skin.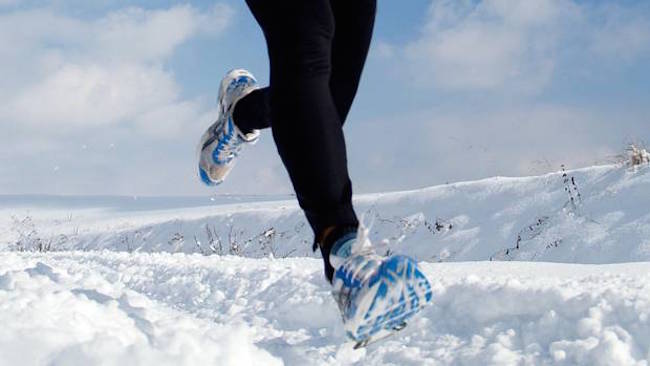 After the base layer, put on a warmer layer that is designed to keep you insulated from cold conditions.  If the weather is windy or snowy, you can also put on wind or water proof jacket.
As you exercise and start to become warm, you can remove a layer at a time to avoid becoming too sweaty.  You can put the layers back on if needed if you get too cold again.
For your lower body, you could wear 2 layers- a base layer designed to wick away sweat and a thicker outer layer.  Depending on how cold it is, one thicker layer for your legs may be suitable.
Don't forget about your feet!  Thick, wool socks or wearing 2 layers of socks are usually a must for exercising in the cold.  Test out your socks with boots/shoes before exercise to make sure your feet are not too squished.
Hypothermia
Hypothermia happens when your body temperature gets too low, below 95 degrees.  When the body gets below 85 degrees F, unconsciousness and death could happen.  Hypothermia is mostly a concern when exposed to cold water, as your body loses heat a lot faster in cold water compared to cold air.
Swimming or getting wet in extreme cold is dangerous because of hypothermia risk.  Excessive sweating or extreme snow fall could also get you wet enough in extreme cold conditions to increase risk for hyperthermia.
Wearing a water proof jacket can be beneficial in extremely snowy conditions to prevent getting wet in the cold.  If you get wet while exercising in extreme cold, keep your body moving and get to a warm environment as soon as possible.
Frost bite
Frost bite can happen to exposed areas of skin in extreme cold.  Frost bite happens when skin becomes so cold it freezes and can actually become detached from the body.   Frostbite is usually only a concern when the temperature is below 0°F (-18°C).  When the temperature is around -18°F, frost bite can happen in as little as 30 minutes.
If the temperature is hovering around 0°F, reduce risk for frost bite by covering skin with a protective layer.  Face, ears and fingers can be vulnerable for frost bite in extreme cold.
Don't forget to hydrate
It may be easier to remember to hydrate when exercising in a hot environment because you know you are heavily sweating and the hot environment triggers thirst.  When exercising in a cold environment, you are still sweating but your desire to replace lost fluids may be blunted.
If you're exercising in the cold for long periods, remember to replace lost fluids from sweat.  For every pound lost in sweat, you should drink about 2 cups of fluid.  Weigh yourself before and after exercise to determine sweat loss.
An easy way to check hydration level is by urine color.  Clear to very pale yellow urine indicates your body is well hydrated.  If the urine is darker yellow to brown, you are dehydrated.
Conclusion
Most people don't live in climates cold enough that hypothermia or frost bite are a concern.  The main issue for safety in exercising in the cold is sweat loss and proper clothing attire.
Dress in layers when exercising outside, starting with a synthetic, sweat wicking material closest to your skin.  Then layer a warmer, insulating layer followed by a water/wind proof layer.  As you get hot, take layers off to avoid excessive sweating.
If the weather is close to 0°F, make sure to protect skin that will be exposed to outside air such as your face, ears and hands.  Avoid getting wet in extreme cold to decrease risk for hypothermia.
Bottom line, don't use cold weather as an excuse to not exercise.  By properly dressing, you can still get a good workout in outside when it's cold.