Marathon racing season has started. Congratulations if you just signed up for 26 beautiful miles or 42 kilometers of self-induced torture. But assuming that you are already a solid runner, you know best why you are doing this. Never forget that reason when training for a marathon.
It is not only willpower and training that's needed to catapult you over the finish line. Half of the marathon battle is fought in the kitchen.
Nutrition is a key factor for your victory. So what should I eat when training for a marathon?
Carbohydrate vs. fat metabolism
The average runner will burn about 2,700 calories during a 4-hour marathon race. The exact number of course depends on factors like weight, gender and age.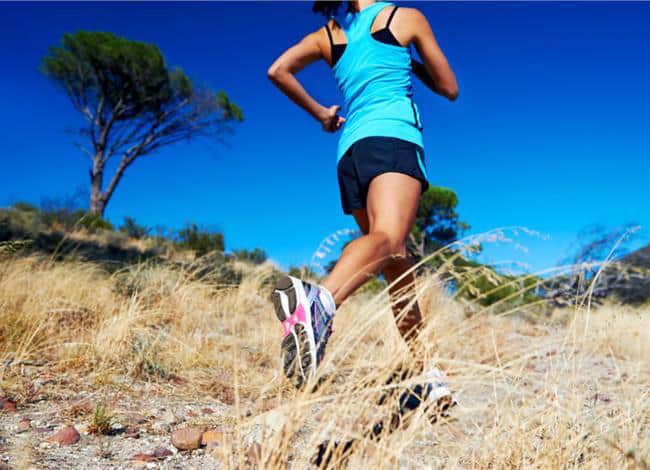 Now we all know carbohydrates are the preferred source of energy for fuel. That's why we started running in the first place, right? Unlimited indulgence into pastries, noodles, bread & Co…
Let's assume that we have done everything right and on race morning our glycogen stores (energy from carbohydrates) are 100% filled up. In that case we are ready to fire about 2,000 calories from carbohydrates.
Now if you are good in math you will detect that you are at least 700 calories short to finish your race in grace. Science even says that glycogen stores only last as long as 90 minutes while doing low intensity distance running.
However, don't panic just yet. The good news is that your body also uses fatty acids for fuel, which – slim or not – everyone carries around in a whooping amount of 20,000 calories. Awesome, right? What should I eat when training for a marathon case solved!
Not so fast my friend. Burning fatty acids for fuel is highly inconvenient for your body. And if you haven't trained your body to use fatty acids for fuel, your body will most definitely not start burning them during a high intensity marathon race. At least not in the range you would like it to. And when your glycogen stores are empty you are going to experience the beauty of hitting the wall. Game over – even if you have extra fatty acids to burn.
So one secret to a strong finish of a marathon is preserving glycogen stores and improving the ratio your body uses fatty acids rather than glycogen for fuel.
Running a faster marathon on a low-carb diet?
As a matter of fact more and more professional runners are experimenting with low-carb diets to ignite the fatty acid burning furnace.
Therefore they limit concentrated sources of carbohydrates such as bread, pasta, rice, potatoes, etc. during their training and sometimes even do carb-depleted training runs in the morning on an empty stomach.
However, refueling with high quality protein such as Greek yogurt, cold pressed whey protein, Quark and healthy fats such as fish-oil, chia seeds, hemp hearts, avocado, coconut oil is crucial to take this routine to success. A recovery shake high in antioxidants and minerals right after the workout is also recommended.
Here are some example meals:
Breakfast:
Eggs with sautéed spinach and ½ avocado
Smoothie with coconut milk, protein and greens powder
Chia seeds with Greek yogurt and strawberries
Lunch:
Green salad with carrots, tomato, tofu, hemp hearts and olive oil dressing
Egg salad with walnuts, celery and avocado
Deli turkey, sprouts, sauerkraut on low-carb bun
Dinner:
Baked organic chicken breast with cauliflower mash
Oven baked wild salmon with asparagus, tomato, basil salad
Halibut with kale mash with sundried tomatoes, olives and feta cheese
Why is this eating-training routine so effective?
A diet reduced in carbohydrates enhances the production of mitochondria. Every little cell in your body hosts these tiny organelles that perform the oxidation process. They produce molecules called ATP by burning molecules derived from food you eat. And ATP translates into power. The more mitochondria, the more ATP, the more power.
Furthermore a carb-reduced training increases lipid metabolism, meaning your body adapts to the new situation and learns to burn fatty acids for fuel. Ka-ching!
The benefits of running with an increased fat metabolism
Weight loss is just one of the benefits.
Furthermore you are delaying the production of lactic acid in your muscles, meaning your muscles will fatigue later.
You can run longer because you are not depending as much on refueling with carbohydrates.
And it has to be shown to reduce the time of regeneration, meaning you will be back on the street running before you know it. Not quite sure if that is a benefit or not.
And I kept the very best news until the end. Of course you want the best of both worlds. This is why you still need to fill up these glycogen stores before your race, meaning hello carb-loading.
Therefore the last three pre-race days you can indulge into carb-heaven. However, in my case I eliminated flour products, since grains have been shown to trigger sensitivities, which weakens your body. And I want to be as strong as possible when race day comes. Happy marathoning everyone.