Not drinking enough water every day can lead to mild dehydration which can lead to headaches, fatigue and affect mental performance.  On average, the human adult is about 60% water.  Being even slightly dehydrated of 1-2% can lead to mild dehydration symptoms. How much water you should drink daily depends on age, sex, physical activity and climate.
In general, adults living in a temperate climate should drink at least 2.5 liters per day according to the European Food Information Council (1).
Most or all of your fluids should be from water.  Drinking enough water per day can be a struggle for many people.  Drinking sparkling water can be more appealing to some because of the fizzy taste.  Some sparkling water also has added flavors which can also encourage drinking.
Carbonated beverages have added carbon dioxide in them to give them their fizziness.  This creates a weak acid once ingested, and there is some concern this weak acid could cause damage to teeth enamel, bones or stomach health.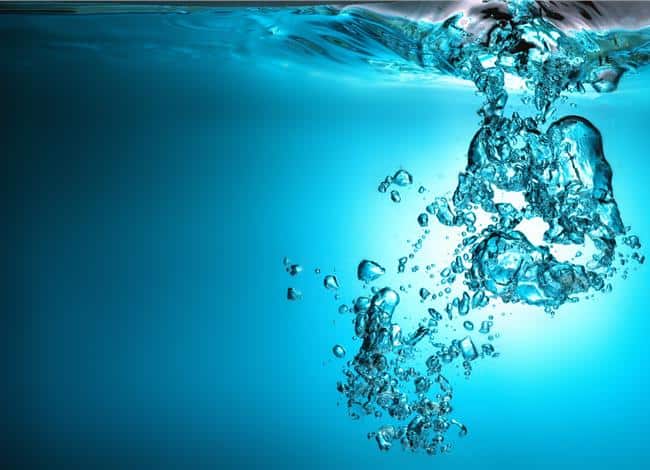 The good news is most studies, although they are few, suggest plain sparkling water will not cause damage to these systems more than plain water.
However, some health experts suggest flavored sparkling water could be a stronger acid that may cause some concern.
What else is added to the water?
Whether plain or sparkling water, if other flavors are added, it could change the effect the fluid has on your body.  Many flavored sparkling waters have natural flavor as an added ingredient.
There is no definition for natural flavor, and there is no way to know exactly what manufacturers put in for flavoring under this name.
Citric acid could also be added to flavored sparkling water which can increase the acidity.  The increase of acidity can negatively impact tooth enamel.
Plain flavored water could also have natural flavors or artificial sweeteners added.  The advised use of artificial sweeteners among health professionals is mixed, and most health authorities suggest to limit intake of artificial sweeteners.
You may also like:
Hydration ability
The good news is sparkling and regular water can both hydrate them body.  So far it appears sparkling water does not have an advantage or disadvantage over plain water for hydration.
Bone health
Drinking carbonated beverages like colas can be associated with an increased risk of weak bones, especially if they are drank in place of calcium rich drinks like milk or dairy alternatives.
However, the same concern for sparkling water with bone health does not appear to be valid.
A 2005 study (1) concluded drinking one liter of plain sparkling mineral water in postmenopausal women for 8 weeks did not impact bone remodeling.
One way to also positively affect bone health if you drink sparkling water is to choose sparkling mineral water.  Some varieties of sparkling mineral water can provide between 18-35% Daily Value of calcium for adults (2).
Teeth enamel
Sweetened beverages can be considered the highest risk for negatively impacting teeth health.  Acidic drinks like cola are also a concern for wearing down tooth enamel.
Sparkling water has a lower pH level (higher acidity) than plain water.  That is the concern some have raised for drinking sparkling water over plain water for dental health.
However, as a 2015 BBC article (3) suggests, the saliva in your mouth and other food and drink you have with water can impact overall acidity in the mouth.
It's not recommended to swish and hold sparkling water in your mouth, as that could increase risk for the weak acid to affect teeth enamel.
Flavored sparkling water can have a higher acidity than plain sparkling water.  Because of that, the effect on tooth enamel could be different.
A 2007 study (4) concluded flavored sparkling water could be considered erosive to tooth enamel.  What about plain sparkling water?
There is not strong research to suggest drinking plain sparkling water is damaging to teeth enamel, according to BBC.
Digestive system
The extra gas from the carbonation process from sparkling water could be problematic for increasing risk for bloating or gas.
However, drinking carbonated plain water could be beneficial for some with stomach problems.
A 2002 study (5) concluded when patients with dyspepsia or constipation drank carbonated water over plain water, dyspepsia, constipation and gallbladder emptying improved.
If you have any digestive tract issues, speak with your healthcare team before switching to carbonated water from plain water, as individual results can vary.
Weight loss
Whether plain or plain sparkling water, increasing your water intake can be beneficial for many reasons.  Some research even suggests increasing your water intake can be beneficial for weight loss.
For example, a 2012 study (6) found increases in absolute amounts of drinking water were associated with significantly more weight loss over time in postmenopausal women.
Carbonated water may also help you feel fuller because of the gas bubbles which may also help with weight loss and appetite.
Conclusion
Drinking adequate fluids, mostly water, is beneficial for overall health, but some people struggle drinking enough plain water throughout the day.
Drinking sparkling water can be more appealing to quench your thirst, but does it have advantages over plain water?
Both plain and sparkling water are equal in hydration ability.  There are some concerns over sparkling water being damaging to bone and teeth health, but most research suggests there isn't harm with drinking plain sparkling water.
In fact, sparkling mineral water can also provide a source of dietary calcium and other minerals.
Drinking flavored sparkling water could affect health differently.  Flavored sparkling water can have a higher acidity level which may be considered more damaging to tooth enamel.
Plain sparkling water may be beneficial for dyspepsia or constipation, but you should speak with your healthcare team before switching to carbonated water if you have digestive issues.
Increasing water intake in general may be beneficial for weight loss whether plain or sparkling.
However, sparkling water, because of the gas, could help you feel fuller.