When starting a weight loss regime which involves diet, exercise or a combination of both it can be very easy to lose weight.  The pounds usually slide off in the first few weeks provided that you are burning more calorie than you are consuming.
With some diets, particularly those high in protein and low in carbohydrates, there will also be a substantial water loss in the first few weeks, which although it is not the type of loss you are looking for, does show up on the scales.
What is a weight loss plateau?
However, once you settle into a diet, it is common for weight loss to slow and eventually even stop altogether, resulting in a weight loss plateau.  This can be demoralizing and frustrating, as although you are still following your diet, you are no longer seeing the results which make it worthwhile and give you that extra motivation to continue.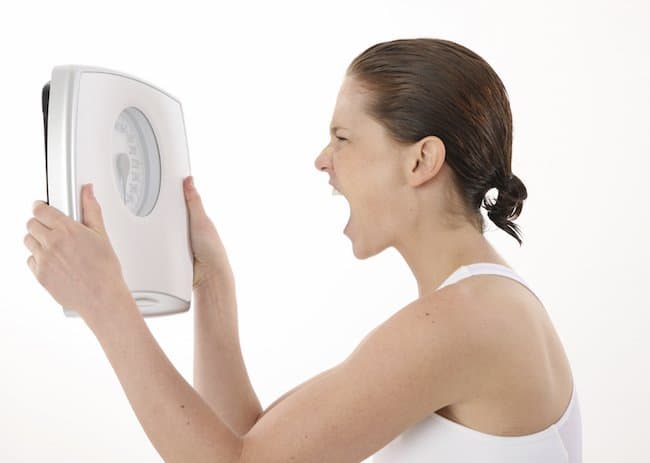 A weight loss plateau occurs because your calorie requirements to lose or maintain weight changes as your body weight changes.  At your new lower body weight, you in fact need fewer calories to maintain your new weight than you did when you were heavier and even fewer again to continue to drop the pounds.
For this reason, if you reach a plateau in your weight loss you need to either up the calories you are burning or reduce the amount you are consuming even further to get continued weight loss.
Changes to help you break the weight loss plateau. 
Assess if you really need to lose more weight
The first thing to consider when you stop losing weight is if you have already reached a healthy weight for you.  When setting a goal weight, it is important to be realistic and aim for a suitable weight that is appropriate for your height and body type.
If you try to aim too low, you will end up in a constant struggle in trying to reach and maintain this goal weight whilst your body is fighting against you – which is likely to be difficult to maintain and have a negative impact on your well-being.
If you find you hit a diet plateau at a weight which is healthy for you, take a step back and consider if you really need to lose any more weight, or if you should simply aim for maintenance.  If you are within the healthy weight range and feel energetic and healthy, chances are you are at your ideal weight.
Rather than losing more weight, aim to maintain your healthy weight and work on things like toning and strengthening which can improve your health and appearance.
Adjust your diet
If you feel you need to push past the plateau to reach a healthy weight, adjusting your diet is a good way to do it.  As you now weigh less than you did when you started your diet, you now need less calories to lose weight than you did before.  Try techniques such as reducing portion sizes, eating larger portions of low calorie foods such as fruit and vegetables and choosing high fiber and high protein options to keep you fuller for longer. These resources will give you more ideas:
Be aware of what you are eating and make sure that calories are not creeping into your diet through drinks, mindless snacks or eating left over's off kid's plates, as these all contribute calories to your diet.
If you feel that there is no easy way to reduce your calorie intake further in a healthy way, it is a good idea to consult a dietician, as they may be able to advise you on how to cut more calories without losing important nutrition in your diet.
Change your exercise routine
Burning more calories is another great way to break through a weight loss plateau, and may mean you do not need to cut your food intake any more, although a combination of diet and exercise adjustment is probably the most successful.
Increasing the number of work outs you do, the time you do them for or the intensity can all help to burn more calories.  If you have limited time to work out, the best way to burn more is to do higher intensity workouts as these burn more calories in a shorter time frame.
Sometimes, even a change or variety in your work out can be enough to burn more calories.  If your body gets too used to a workout it becomes less efficient at burning calories.  So by varying your routine or choosing something different you can burn more calories and prevent boredom.
Although cardio type exercises tend to burn the most calories, strength training can also contribute and will increase muscle mass which in turn burns more calories even when you are at rest.
Keep a food record
Even if you are sure you are still following your diet correctly, it is amazing how little bits of food, drinks, and larger portions can sneak in over time, often without you even realizing it.  By keeping a food diary or using a food tracking app (our food tracker is free!) and recording everything that goes into your mouth you can pick up on any areas where you might be sabotaging yourself.
Increase incidental activity
Although organized work outs are great if you want to lose weight, don't forget that every little bit of physical activity you do throughout the day will contribute to the calories you burn.  Be it playing with children, cleaning the house or walking up the stairs, the more of these types of activities you do, the more calories you burn.  Try walking or riding to work if you can, or take the stairs instead of the elevator.
Don't lose hope
It is easy to throw in the towel and give up when you are following a diet and doing exercise and not seeing the results you want.  A weight loss plateau can be a breaking point for many dieters, who simply lose hope and go back to their old eating habits as they cannot see the point of continuing.
However, if you push past this set back and find a way to continue to lose weight, you will not regret it.  Don't be afraid to ask for help if you cannot understand why you are not losing weight.  A health professional such as a dietician or even a personal trainer at the gym will be able to give you advice and support to come through the plateau and reach your weight loss goals.