Eggnog, alcohol cocktails, hot chocolate, etc. are all associated with the holiday season.  However, these holiday drinks can be a significant source of extra calories that may lead to holiday weight gain.  Drinks can also do more damage than just adding extra calories.
A 2010 study in Circulation concluded, "Sugar sweetened beverage intake is a significant contributor to weight gain and can lead to increased risk of T2DM and cardiovascular disease. "  Researchers also concluded sugar sweetened beverages are a major contributor for added sugar intake in the United States, and this extra sugar intake could be part of the reason for the drastic increase in obesity over the years in the United States.
Some research suggests we have a hard time registering liquid calories, and they may not fill us up the same as calories from food.  Here are some healthier alternatives to traditional high calorie holiday drinks.
See also: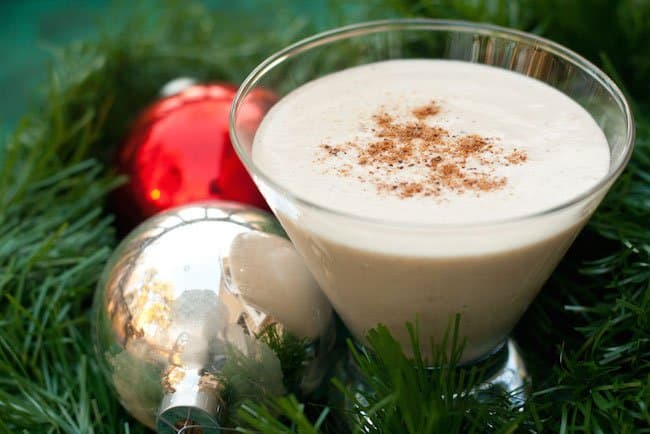 Does alcohol cause weight gain?
Eggnog
An average cup of eggnog has around 340 calories, 19g of fat and 21 g of sugar.  Remember, this is for 8 fluid ounces, so if you have more than 1 cup the calories, fat and sugar content are higher.
Thinking of getting an eggnog latte?  You may want to think again.  A tall eggnog latte from Starbucks with skim milk has 350 calories and 39 gm of sugar.  That's about as much as a can of soda!  Other holiday flavored lattes have a similar calorie and sugar profile.  Ask to go light on the syrup when ordering holiday drinks or make them at home.
Traditional eggnog has a lot of heavy ingredients: whole milk, cream, egg yolks and sugar.  To lighten it up, add a splash of eggnog to coffee instead of ordering an eggnog latte.  Mix skim milk or vegetarian milk alternative with eggnog in 1 to 1 ratio or 2 to 1 ratio of milk to eggnog.
Hot Chocolate
Arguably nothing says the holiday season like hot chocolate.  It is a comfort drink that, for many, brings nostalgic childhood memories of the holiday season.  Unfortunately, hot chocolate mixes are usually full of sugar, preservatives and can contain partially hydrogenated fats.
Lighten up this favorite holiday drink by making an easy mix of your own without any preservatives and to control excess sugar.  Simply mix 1-2 tbsp of cocoa powder and 1 tbsp of honey or other sweetener in a cup of hot, low fat milk.
Add a hint of peppermint with a candy cane in your mug or a drop of peppermint extract to add mint flavor.  Or add a dusting of cinnamon, nutmeg and extra cocoa powder.
Ask to go light on the chocolate when ordering a hot chocolate from a café or restaurant.  Hot chocolate tends to be extra sweet when prepared from a restaurant or cafe, so you probably won't even miss any sweetness.
Holiday Alcohol Drinks
Alcohol drinks are an easy culprit for being high in calories.  Alcohol has 7 kcals per gram, and when alcohol is mixed with sweet beverages calories can add up quick.  Mixing 100% juices with sparkling water and adding a fruit garnish can make a quick, healthy drink substitute that the whole family can enjoy instead of mixing alcohol with prepackaged, flavored mixes.
Mulled wine is a popular hot holiday alcoholic drink, and to cut down on the calories cut down the added sugar.  Instead add more spices like cinnamon, star anise, orange peel, nutmeg and ginger.
If you want to serve lighter cocktails, mix alcohol instead of sparkling water with a splash of pomegranate or cherry juice and a squeeze of lemon or lime.  Pomegranate and cherry juice are both high in antioxidants and just using a small amount can help keep calorie and sugar count down.
Margaritas can be up to around 450 calories per serving.  To lighten up this drink, combine tequila or other alcohol with freshly squeezed lemon/lime/orange with a touch of honey.  Another option is to combine strawberries, ice and tequila in a blender for a lighter version of a margarita.
Watch the serving size
With any holiday drink, watch the serving size.  It can be very easy to drink more than you realize with holiday beverages that can add on quick, extra calories.  If you want to indulge on a drink, enjoy a small portion.  Then switch to water.
To help with portion control, pour liquids in tall glasses instead of short, wide glasses.  It's easier to pour a larger amount of liquid in a short, wide glass compared to a tall glass.  Pouring into tall glasses looks like you're getting more volume than what is in a short, wide cup.
Instead of ordering holiday drinks or making them from a mix, make them from scratch.  There are many ways to make these drinks easily yourself, and you can control the sugar amount.  Whenever possible, swap fruit or spices as a sweetener instead of sugar in drinks.