Pickles are a loved traditional sandwich topping, condiment and even side dish for many cultures.  There are many ways to make pickles and many flavor profiles for seasoning them.  The common factor with making pickles is taking cucumbers and placing them in a brine with spices, herbs and an acidic base.
The cucumbers release water as the brine solution is absorbed into the cucumber.  For this reason, cucumbers appear larger than pickles and have a higher water content.
Pickles are considered a vegetable and are low in calories.  They do provide trace amounts of minerals and are higher in sodium which is a potential draw back.
Pickles can be part of a healthy diet, but because they are higher in sodium should be eaten in moderation.  Also, consider buying pickles that do not have added sugar to them for the healthiest alternative.
However, the higher salt content and vinegar solution from pickle juice may be a benefit for relief from muscle cramping according to some research.
Not all studies have shown conclusive results that pickle juice can help muscle spasms, and researchers still aren't exactly sure how pickle juice might help relieve muscle spasms.
Nutrition of pickles
A medium sized pickled cucumber provides less than 10 calories, so pickles can definitely be considered a low calorie food.
Luckily pickling does not detract the fiber from cucumbers, so pickles still provide fiber which is also beneficial.
A medium pickle provides just under 1 gram of fiber.
Pickles provide small amounts of potassium, vitamin A, iron and vitamin C.  Pickles are on the lower end of providing nutrients; other vegetables provide much higher levels of vitamins and minerals.
Therefore, having pickles as one of your main vegetable sources per day may not be the best choice.
Sodium concerns
What pickles are high in is sodium.  A medium sized pickle provides over 700 mg of sodium, which is about one third of the recommended sodium amount most people should get in a day.
Most Americans get too much sodium in their diet, much more than the recommended 2,300 mg per day.  A concern with getting too much sodium is that excess sodium in the body attracts extra fluid in the bloodstream.
This can increase risk for high blood pressure and even a heart attack or stroke.
According to Harvard Health (1), people at higher risk for health problems related to higher sodium intake include: people over 50, people who have high blood pressure, those with diabetes and African Americans.
Eating a pickle isn't cause for concern for most healthy people, but remember your sodium intake throughout the day can add up.  If you eat multiple pickles along with other foods high in sodium, you could easily get too much.
Along with a higher sodium intake, most Americans don't get enough potassium.  Foods high in potassium are fresh fruits and vegetables.  Therefore, eating more fresh fruits and vegetables and less packaged foods high in sodium can be beneficial for health.
Pickle juice and muscle cramps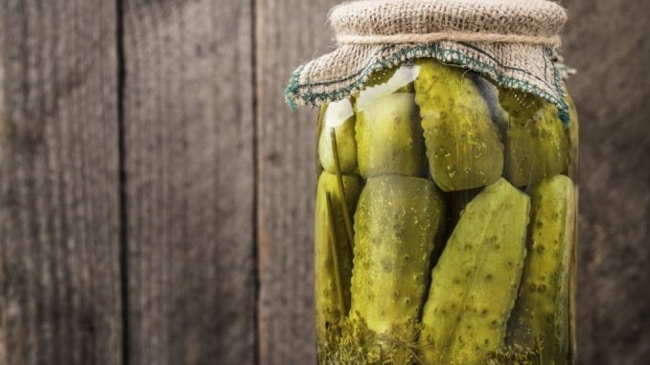 Pickle juice, which is high in vinegar and salt, has been used as an anecdotal cure for muscle cramps.
However, research on pickle juice alleviating muscle cramps is scant.  One study (2) did find in healthy young men when pickle juice was given after exercise induced dehydration, pickle juice helped alleviate muscle cramps.
These muscle cramps were artificially induced by electrical stimulation in the big toe.  For some participants, drinking pickle juice helped stop the cramp in under 90 seconds.
Researchers are not sure how pickle juice may help cramping, as the relief can happen for some before the contents even leave the stomach.
There can be many reasons for cramping, and proper training, hydration and nutrition can influence muscle cramps.
Therefore, before guzzling pickle juice before, during or after your workout, speak with an exercise specialist and your health care team for individual advice.
Fermented or pickled?
The relationship between the bacteria lining the digestive tract and your health has been a growing field of research.  Probiotics, beneficial bacteria, could affect the body through immune function, digestive health and possibly even affecting obesity risk.
Probiotic foods include fermented foods like kefir, kombacha tea and fermented vegetables like kimchi.
Some websites claim pickles are also a source of probiotics.  So does that mean if you load up on pickles you are boosting your healthy gut bacteria levels?
Not necessarily according to Alex Lewin, author of Real Food Fermentation (3).  Lewin suggests not all pickled foods are fermented, and fermentation is what produces probiotics.  Some pickles are made more the old fashioned way through fermentation, but most use a straight pickling technique.
Commercially or homemade pickles can be made quickly with an acid, like vinegar, and heated at a high temperature.  Fermentation takes a longer time and uses no or low heating.  Therefore, most pickles probably don't provide a big source of probiotics compared with other fermented vegetables.
If you are looking to get more probiotic food sources in your diet, making various fermented vegetables or dairy products can be rich natural sources of probiotics.
Conclusion
Pickles, while popular, do not provide that many nutritional benefits.  They do provide trace amounts of some minerals and vitamins, but compared to other vegetables they are relatively low nutritional amounts.
Pickles are high in sodium, which most adults actually already get too much of.
Pickles can be enjoyed as a condiment or for an occasional snack, but they shouldn't take place of other vegetables in your diet.
Pickle juice is often associated with the health benefit of relieving muscle cramps associated with exercise.
Pickle juice may offer some relief for muscle cramps, but researchers aren't exactly sure how it may help.  Also, pickle juice may not provide relief for all cramps, as they can be for different reasons.
Pickles can be enjoyed as part of a healthy diet, but they are not nutrition power houses like other vegetables.
Keep them as a low calorie condiment and watch out for pickles made with added sugars and high amounts of salt.