Summer is a great time to lose weight and keep it off.  After the heavier winter foods which seem unappetising in the heat, summer brings a breath of fresh air with lighter, healthier options that taste great.  Choosing fresh seasonal produce will provide even the strictest dieter with plenty of low calorie, low fat options that taste so good you won't even realise you are dieting.  Think salads, fruit, and barbequed seafood which are just some of the delicious foods that lend themselves to a warmer climate as well as a healthy diet.
Summer can also give us greater motivation to lose weight and keep it off, unlike in the winter months when we can hide beneath chunky sweaters and coats, a light summer wardrobe leaves nowhere to hide those troublesome extra pounds.  This may just give you the inspiration you need to give your diet a makeover and hit the gym.
Seasonal produce for summer
Choosing fresh produce that is in season helps to find the tastiest foods for the lowest price.  Fruit and vegetables that are best in summer include:
Apricots, nectarines, peaches and other stone fruit
Avocados
Most berries
Melon
Cherries
Chiles
Corn
Cucumbers
Eggplant
Green beans
Grapes
Mangoes
Oranges
peas
Rhubarb
Shallots
Squash
Tomatoes
Zucchini
Top ten foods to keep the pounds off over summer
To get the keep those pounds away during the summer months it is essential to choose the healthiest food options whenever possible.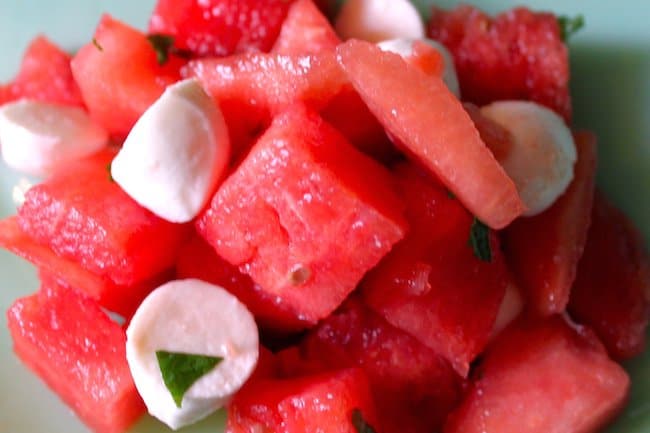 1. Salads
With endless options possible, salads make the ideal summer food.  Light, refreshing, low in calories and packed with nutrients they are also great for keeping those pounds away. Salads can be made with just vegetables, or add a nutritious protein source such as tinned tuna, grilled chicken with no skin or cooked chickpeas to make a salad that is filling enough to be a meal.   Try to vary the vegetables you use to get a wide range of vitamins and other nutrients.
Whilst salads are generally healthy options, be aware that the addition of unhealthy ingredients can really bump up the calorie and fat content.  Avoid creamy salad dressings, mayonnaise, bacon bits, and croutons.  Serve a vinegar based dressing on the side so you can add as much or as little as you like.
2. Grilled vegetables 
Another great way to reach your daily requirement for vegetables, grill a variety of produce inside or on the BBQ for a tasty, low calorie side dish.  Tomatoes, zucchinis and squash all lend themselves well to grilling and are in season in summer.  Drizzle or spray veggies with a little olive oil and season with herbs or spices for extra flavour.  Grilled veggies make a great addition to a salad, a sandwich or even a homemade pizza with a whole grain base and low fat cheese.
3. Chilled soups
Cold soups are mostly made up of water and are therefore a great way to fill up without adding many calories.  They are also packed full of healthy vegetables providing plenty of vitamins.  Gazpacho or cucumber versions are especially cooling for the summer months and can be served in as a smooth puree or with tasty vegetables chunks depending on your taste.
4. Grilled fish and seafood
Grilling is an excellent way to cook using minimal fat and also a great way to cook fish and seafood.  Fish is much lower in unhealthy saturated fat than meat, and so makes a great replacement as a protein source.  Oily fish such as salmon, sardines and mackerel contain high levels of omega three fatty acids which have been linked to reduced risk of heart disease and may also play a role in weight loss.  Fish and seafood are also high in protein and therefore will keep you fuller for longer.
5. Fresh fruit
The best sweet treat for the summer months, fresh seasonal fruit is delicious, indulgent and low in fat and calories.  Melon and berries are particularly low in calories, with berries also being very high in antioxidants, which are thought to protect the body against illnesses such as cancer and heart disease.
Freezing fruits such as berries, grapes and bananas make a great alternative to high calorie frozen desserts such as ice cream.
6. Yogurt
Low or no fat natural yogurt is the best option for fighting weight gain, as it has the least calories.  Yogurt is an excellent source of protein, which helps to keep you fuller for longer, and calcium which is important for strong bones.
Yogurt is an incredibly versatile product and can be used in sweet and savoury dishes.  For a sweet, filling snack, add a little honey or mix with fresh fruit or berries.  Yogurt can also be used as a replacement for mayonnaise in sandwiches, as a dressing for meat or vegetables or as an alternative to cream in cooking.
7. Beans and legumes
Substituting beans and legumes for meat is a great way to reduce calories and increase fibre.  Chickpeas, lentils and many more make a nutritious addition to a salad that will keep you full.  They can also be mixed with meat dishes such as burgers, bolognaise and lasagne to lower the calories and fat of the dish.
8. Whole grains
Whole grains provide fibre, which is important for bowel and heart health and are also packed full of B vitamins for energy.  Carbohydrates that contain wholegrains tend to be low GI and therefore are digested more slowly, resulting in more stable blood sugar levels and therefore keeping you fuller for longer.  Always choose wholegrain breads, pastas and cereals where possible, or look for grains such as tabouli, buckwheat or barley to add to salads for extra fibre and energy.
9. Iced green tea
This is a refreshing alternative to soda in the summer months for those times when you need a bit more taste than water provides.  Green tea is known to be high in catechins which are thought to be incredibly potent antioxidants that protect against a multitude of diseases and also flavonoids which are thought to strengthen the immune system.  Commercial varieties of iced green tea can be very high in sugar and calories, so the best option is to make your own and sweeten as little as possible.
10.   Summer herbs
Herbs can not only contain valuable nutrients, but can also add a lot of flavour to food with very few extra calories. Herbs have been shown to be beneficial for health in many ways, for example basil is thought to have a role in reducing blood pressure, whilst oregano is high in antioxidants.   Herbs such as parsley, basil, oregano and cilantro add great flavour to marinades, salads, sauces and dressings.  Herbs are a great way to reduce your salt intake too, as with he added flavour, less salt is needed in cooking.
Do not forget to keep hydrated…
In the summer months it is particularly important to keep your fluid intake up and drink plenty of water.  This is also a good way to lose weight, as at times we mistake thirst for hunger and eat when we should be drinking.  By staying well hydrated, food intake may be reduced.
References used in this article