Too much alcohol at night can mean a nasty hangover the next morning.  Alcohol is soluble in water, and it can travel anywhere in the body where water is meaning its effects can be felt everywhere.  Most common symptoms with a hangover can include headache, sensitivity to light and digestive tract discomfort.
There is no magic cure for a hangover; usually it just takes time.  However, eating certain foods or drinking certain beverages can help replenish your body's electrolytes that could have gotten thrown off from vomiting and rehydrating your body.  They can also give your body key nutrients to lower inflammation, which is beneficial anytime but especially during a hangover.
You can also read: How to get rid of a hangover quickly for other solutions besides food and drinks.
Coconut water
Replenishing fluids should be one of the top priorities during a hangover.  Alcohol is a diuretic meaning it increases urination.  Therefore, drinking a lot of alcohol can make you feel pretty dehydrated the next morning.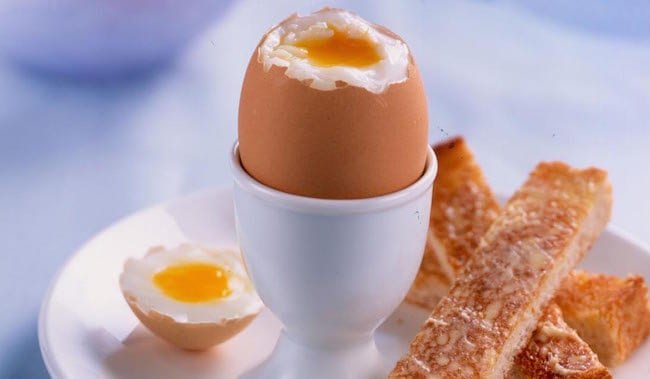 Replacing electrolytes is also important, especially if drinking too much alcohol led to throwing up the night before.  Electrolytes help control fluid balance, nerve signaling and muscle contractions in the body.
Coconut water can be helpful during a hangover because, not only will it replace fluid, but it is also naturally high in electrolytes.  It is similar to a sports drink but does not have added sugar, added food coloring or preservatives.
Fruit
Fruits are full of antioxidants and phytochemicals that can help lower inflammation in the body and protect cells from damage from free radicals (which may be from an over load of alcohol).  They are also a carbohydrate source which can provide some quick, clean energy that your body can use.
If the thought of eating fruit is unappealing because of a still queasy stomach, add fruit slices to water or seltzer water for an easier to digest benefit.
Green tea
Green tea will of course help your body rehydrate, but, like fruit, green tea will also provide your body with much needed antioxidants.  Potential health benefits of green tea are numerous, and some may be specifically beneficial during a hangover.  For example, green tea may help improve blood flow and a compound in green tea, theanine, can have a calming effect in the body.
The antioxidants in green tea and in fruits may help restore the liver from damage alcohol has caused.  Squirting fresh lemon juice in tea can add a burst of vitamin C and increase the bioavailability of some of green tea's compounds.
Ginger
Ginger has been used for centuries for its calming effect on the digestive tract and known anti-inflammatory effects.  If your stomach is still feeling a little queasy, drinking ginger tea may help.  Taking ginger in other forms such as dried ginger, ginger candies or adding ginger into smoothies are other ways you can get the soothing effects of ginger on your GI tract.
Ginger's anti-inflammatory properties can potentially benefit other parts of your body that have been damaged by too much alcohol.
Eggs
There's a reason eggs are healthy to eat any time of the day, especially in the morning.  Eggs are a source of protein, vitamin D, B vitamins and vitamin A.  All vitamins and minerals may be beneficial to help recover through a hangover, but getting B vitamins may help your body get needed energy.  B vitamins are necessary for your body to convert carbohydrates and fat for fuel, and B6 is also needed to make proteins in the body.
Eggs are especially rich in two amino acids that may be particularly beneficial during a hangover.  One amino acid, taurine, is thought to be especially beneficial for your liver by helping to reverse damage from too much alcohol.  Another amino acid, cysteine, is thought to help the body break down a metabolite of alcohol, acetaldehyde.
Chicken vegetable soup
Chicken can also provide these amino acids that may be extra helpful to the liver during a hangover.  The vegetables can add carbohydrate for energy and antioxidants to lower inflammation.  The chicken broth is rich in electrolytes and can help replenish fluid balance.  For an added bonus, there is some research that suggests chicken soup can also boost immune health to help you fight off getting sick.
Conclusion
Drinking a moderate intake of alcohol is unlikely to leave you with a hangover and is the recommended amount of alcohol.  However, if you drink more than the recommended moderate intake, you can wake up the next morning still feeling the damage the excess alcohol has caused in your body.
While there is no magic cure to rapidly make hangovers go away, some food and drink may help alleviate any side effects.  Drinking beverages like coconut water can increase fluid and much needed electrolytes to regulate fluid balance, and green tea can offer additional antioxidants which can help protect and restore cells from damage caused by free radicals.
Eating fruits will also give you a nutrient boost of antioxidants and phytochemicals and give you a quick fuel source of carbohydrates.  Ginger can help soothe the digestive tract, and eggs and chicken soup can give beneficial amino acids that can help boost liver function.
References used in this article