According to NPR, the average American eats about 270 pounds of meat per year.  Americans have the second highest intake of meat per person per year, just behind the people in Luxemburg.  Hamburgers and other meat heavy foods can be notorious for being high in calories and fat.  Does this mean you should give up hamburgers when you want to lose weight?
Hamburgers can vary greatly in terms of calorie content and nutritional value.  A general hamburger available at a restaurant can easily be over 1,000 calories just by itself.
However, if you make a hamburger yourself with a smaller patty of lean meat, a hamburger can be a decent sized meal conducive for weight loss.  Even better, pair with a hearty serving of veggies for a meal high in protein and fiber.
A possible benefit for hamburgers and weight loss is the high amount of protein you will get from the meal.  Foods high in protein have been shown to have a high satiety effect after ingesting which can translate to a reduced food intake later in the day.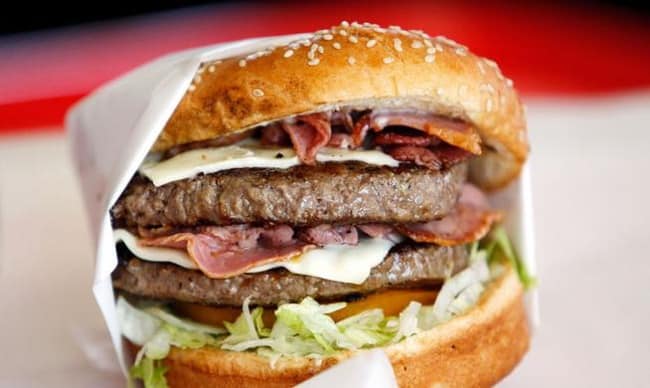 What type of meat is it?
If you're looking for a healthy alternative for a burger while trying to lose some weight, choose meat that is at least 95% lean.
If you have a higher fat content meat, cook it so the fat drips off the meat.  Lean meat still has the advantage of being high in protein and leaving you satisfied, but it doesn't have the extra calories.
A 2010 review article (1) also concluded grass fed meats have a higher amount of omega 3's, vitamin A, E and antioxidants compared to grain fed meat.  Grass fed meats tend to be leaner in general as well.
Just keep in mind the taste of purely grass fed meat can be different compared to grain fed meat.
Beef is the most common meat used for burgers, but other meats can be healthy lean options like bison, lamb, turkey or chicken.
A 2008 CNN article (2) suggests burgers can be part of a weight loss plan if you avoid hamburgers used with "prime" cuts of meat.  Prime meat is higher in fat, and ground sirloin is usually a leaner cut of meat.
What is the portion size?
When you're eating out, it is common to get a burger that is at least 6 or 8 ounces.  This is about twice the amount of the recommended 3 ounce serving of meat.
If you are eating out and want a burger, think about splitting it with someone.  Also, it's important to stop eating when you are full- not when the burger is finished!
Eat it slowly to give your body time to send the message to your brain when your stomach is full.
A benefit of eating a burger can be that you are getting a quality protein source that can stimulate protein synthesis.
However, more is not necessarily better.  A 2009 study (3) compared the effect of 90% lean beef on building muscle in old and young participants.
Researchers gave participants a serving of beef that was 113 grams (220 calories, 30 grams of protein) or a 340 gram (660 calories, 90 grams of protein).
Researchers took blood and muscle samples from participants up to 5 hours after eating.
Researchers found both the young and elderly groups had an increased muscle protein synthesis after eating the meal.
However, there wasn't any further benefit of protein synthesis from the 90 gram protein beef compared to the 30 gram protein beef.
This study suggests eating a huge piece of meat, like 90 grams of protein, does not offer additional benefit for most people for building muscle compared to eating a smaller portion of 30 grams of protein.
What is on the hamburger?
The condiments, other toppings and bun you use can greatly influence the calorie content of the meal.  Skip cream based toppings like mayo, sour cream or cheesy spreads.  Instead, pile on veggie toppings with a squirt of ketchup or mustard if you need it.
You could also use a spread of guacamole to get some additional heart healthy fats and vitamins.
The bun used for hamburgers can be high in excess carbohydrates.  If you are served a burger with a large bun, use only half or cut it out altogether.  Try using a whole grain bun when you can, or skip the bun and eat the burger as it is with some other veggies or whole grain food like brown rice.
Look up the nutrition before you go
If you are eating out and want a burger, scope out the nutrition on the menu before you go if it's available online.  Spending just a few minutes looking at the nutritional information could help you make the best choice for you.
Sometimes healthier sounding options, like a turkey burger, may actually be HIGHER in calories or fat than a beef burger.
Try a veggie burger
If you are looking for a meat free alternative for a burger, don't be afraid to try a veggie burger.  A veggie burger doesn't have to be a frozen, tasteless hockey puck.
There are many ways you can easily make hearty veggie burger patties that are still higher in protein and fiber content for a filling meal.
Veggie burger recipes can include: various legumes, nuts, seeds, whole grains and even hearty veggies like beets.
Conclusion
While it's not impossible to eat hamburgers and still lose weight, you need to be smart about your choices.  Choose lean options for the meat patty and limit your toppings to veggie heavy, light condiments.
Also, be aware of the portion size of the bun.  Use only half of it or ditch it all together if it's just a big piece of white bread.
Don't be afraid to experiment with leaner cuts of meat like grass fed meats, chicken, seafood or more gamey meats.
If you're eating out, hamburgers can be high in calories because of the type of meat used and the large portion size.  Scope out the menu beforehand if possible, and stick to splitting a burger with someone else.