With over two thirds of the American adult population classified as overweight or obese, weight loss supplements and the appeal for quick weight loss continues to increase.  About 15% of American adults claim they have used some sort of weight loss supplement at least one point in their life, and Americans spend on average about $2 billion per year on weight loss supplements.
With so many weight loss options, it can seem overwhelming to know which supplements actually work.  Many weight loss supplements do not have research backing up their claims, and dietary supplements don't need approval from the FDA before getting put on the shelf.
Many supplements have little to no evidence their product actually works.  Therefore, before you take any supplement, you should consult with your medical team.
Carbohydrate and/or fat blockers are a popular weight loss supplement.  The idea is you can eat normal foods, but if you block the absorption of carbs/fat, you won't get these calories in your body.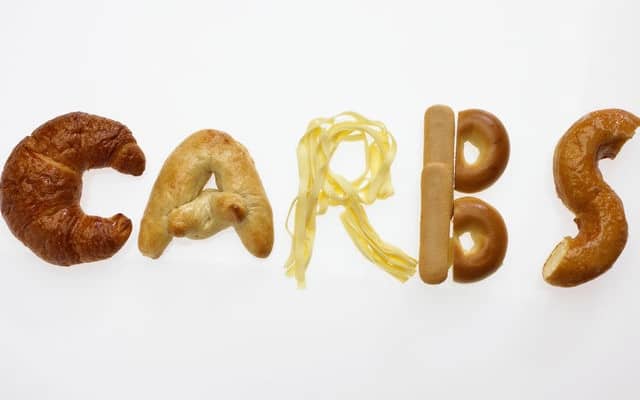 There is some research for certain carbohydrate blockers as a weight loss aid, but this can't be applied to all carb blockers on the market.  There should also be a strong focus on eating a healthy weight loss diet and following healthy lifestyle with exercise for weight loss.
You can't eat whatever you want, take carb blockers and expect significant weight loss.
Eating a high fiber diet and carb blockers can work in the same way.  Therefore, an alternative to taking carb blockers can be to increase your fiber naturally in your diet.
There are also some side effects associated with carb blockers that could be problematic for some people.
How do carb blockers work?
Carbohydrates from food have to be broken down into tiny molecules of single carbohydrate units.  In order to do this, enzymes from the small intestine break up large carbohydrates from food so they can get absorbed.
Carb blockers interfere with this action.  By stopping the enzymes from breaking down the carbs into smaller molecules, the carbs continue to go through the digestive tract to get eliminated.
According to WebMD (1), the weight loss claims for over the counter carb blockers are not based on reliable evidence.
For example, a 2014 Daily Mail article (2) suggests XLS Carb Blocker does not have independent research backing up their weight loss claims.
However, some reliable research evidence suggests if a carb blocker, specifically white kidney bean extract, is used along with a conducive weight loss diet and exercise program, it could help with weight loss.
Researchers are continuing to do more research on the safety and efficacy of carbohydrate blockers for weight loss.
Certain carb blockers that have more research behind them need a prescription and may be prescribed by a doctor.  Carb blockers may also be used for helping control blood sugar levels and should be used under physician guidance.
The research behind carb blockers
A 2009 review (3) suggests the carb blocker that is a white kidney bean extract has been shown in animal and human studies to have favorable effects on blood sugar control when combined with a healthy diet.
A misconception with carb blockers is they will block all the calories from carbohydrates.  One of the initial studies with carb blockers from 1982 (4) analyzed carbohydrate eliminated after a high starch meal with a placebo and with a carb blocker.
Both groups had the same level of carbohydrates eliminated after the high carb meal.  Researchers concluded the starch blockers don't inhibit all, or a significant level, of carbohydrates.
Side effects from carb blockers
The large intestine is not designed to handle a large amount of long carbohydrate molecules.
Normally the enzyme action in the small intestine to break up carbohydrates allows them to get absorbed into the blood stream across the small intestine wall.
When these large, unabsorbed carbohydrates enter the large intestine from using a carb blocker, there could be some unpleasant digestive side effects.
Side effects from carb blockers can vary individually and based on how much you use.  According to WebMD (5), side effects could include gas, bloating, cramping or diarrhea.
Carb blocker alternatives
Soluble fiber works in a similar way as carb blockers do for slowing absorption of glucose.
Slowing down glucose absorption is the primary benefit for prescription carb blockers.  Instead of trying to take a carb blocker weight loss supplement that could have questionable ingredients, upping your soluble fiber intake could be a safer and healthier approach.
Top soluble fiber food sources include: beans, oats, Brussels sprouts, citrus fruits, flaxseeds, avocado and sweet potato.
Conclusion
Over the counter carb blockers are advertised as a weight loss aid, but little, if any, evidence backs up weight loss claims from using carb blockers.
Some evidence suggests white kidney bean extract, when used in a proper dose, could offer beneficial help with blood sugar regulation.
However, studies have also shown carb blockers do not significantly block the absorption of carbohydrates.  Taking carb blockers does not mean you can eat whatever you want and you won't absorb the calories.
Even in research studies carb blockers were used in addition to a healthy diet and lifestyle.  The main benefit shown specifically from white kidney bean extract was the slowing of the absorption of glucose.  This action is similar to the effects of soluble fiber.
Before you take a weight loss or other type of supplement, speak with your health care team.  Carb blockers used in research studies were used under physician guidance.