Cutting calories for weight loss can equate for many to eating really small portion sizes and feeling hungry most of the time. However, you can cut calories fairly easily for quick weight loss results without starving. Changing some simple behaviors when eating may help with weight loss, and you will be losing weight in a healthy way.
#1 – Drink a glass of water before you eat
Drinking a glass of water before a meal may help you naturally not eat as much. The water can help fill up your stomach, and it can help lower appetite. Most people can stand to drink more water through the day, so this can be a healthy habit to help decrease food intake and boost hydration. Don't forget to continue drinking water throughout the meal!
#2 – Increase the volume of a meal by adding more veggies
Losing weight doesn't need to mean your portion sizes need to be tiny. Actually a key to sustained weight loss is to eat a large volume of healthy, low energy dense, high nutrient dense foods and feel satisfied. The USDA recommends adults have half their plate made up of fruits and vegetables, but most Americans have a hard time reaching this goal.
A way to do this is to bump up the fiber content of meals with fruits and vegetables is to aim for at least half your plate with produce. Replace extra servings of produce to meals by bumping up your portion size for a meal without bumping up the calorie content.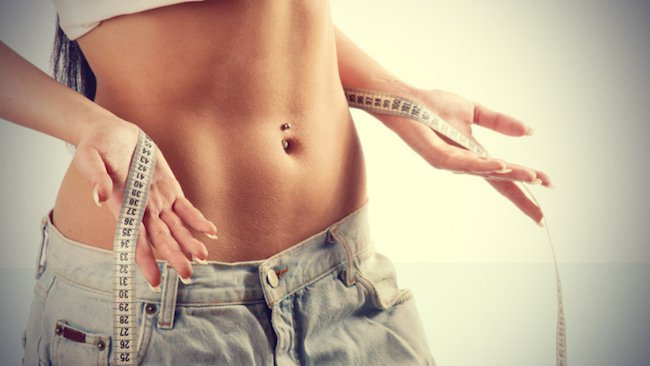 For example, in pasta dishes, use a little less noodles and more vegetables in their place. Add extra vegetables to soups, casseroles or even in puree form in macaroni and cheese or desserts. Use less rice for stir fry's and add more veggies; add extra veggies to an omelet in the morning for a healthy start to the day.
#3 – Eat off small plates or bowls
Some research suggests when we eat off of larger plates or bowls, we tend to eat a larger portion. Something as simple as eating off smaller plates can help you naturally eat smaller portions. Humans tend to eat with our eyes first, and a full plate, whether large or small, tends to send a signal to the brain that this will be satisfying.
#4 – Pause between bites
Most Western cultures eat very fast. However, slowing down when you are eating could help you regulate your food intake. It takes some time for the stomach to signal to the brain when it is full. By pausing between bites, you allow for adequate time to signal when you are full.
When you eat fast, you tend to bypass this signal and then you feel like you are over full. Set your fork/spoon down in between bites and slow down when you are eating.
#5 – Don't eat from large containers
If you snack straight from the container, you may be more likely to over eat. Instead of eating straight from a large container, portion out a small serving onto a plate or bowl. This will help your brain "track" how much food you are eating.
#6 – Eat soup before a meal
Similar to drinking water, eating a broth based soup before a meal can help lower total calorie content of the meal. According to a 2007 research study, research subjects ate significantly less energy in a meal compared to when there was no soup before the meal.
Make sure the soup is a low calorie, high volume soup that is broth based and primarily made of vegetables. Eating a cream based soup or a soup with high calorie ingredients will probably not have the same benefit as eating a broth based soup before a meal.
#7 – Don't multi-task when you're eating
The environment you eat in can have significant influence on how much you eat. Particularly, when you eat while distracted by something else, like TV, computer, work, etc. you may be more likely to over eat than if you ate without any distraction.
The conclusion of a 2013 review article looking at eating attentively concluded that adding eating attentive principles for weight loss can help without focusing on calorie counting. So, instead of eating at your work desk or eating in front of the television, just focus on your food. You will probably be satisfied quicker than if you were distracted.
Conclusion
There are many different slight changes you can make in your environment that can help lower calorie intake without drastically cutting down your food intake. Drinking a glass of water or eating some soup before a meal can help lower overall energy of a meal.
Instead of decreasing your food portion, increase the volume of vegetables and fruits you have at meal times. This increase of volume will keep you satisfied without packing on extra energy. Eating off smaller plates or bowls is another easy change to naturally help lower your food intake without feeling deprived.
Pay attention to what you're putting in your mouth by eating off plates or from a pre-portioned serving instead of a large container. Also, don't be distracted when you eat; some research suggests people tend to eat less than they are focusing on the food they're eating.
References used in this article