You are unique. Diet tips that worked for your best friend don't have to necessarily work for you. But one thing should be clear. There are no quick and easy solutions, especially when you are interested in a healthy way of dieting and long lasting success. However, here are five weight loss techniques that everyone should avoid.
#1 Don't throw out your eating habits overnight 
Commitment and dedication are great. Don't get me wrong. But adapting to a new diet plan overnight will get you nowhere. Significant change takes time. I mean think of any situation that required change, like learning a new language, learning how to swim or learning whatever. No one promised you that you would succeed just overnight.
Do you know anyone who had lasting results with a crash diet? If you choose a weight loss technique that asks you to throw everything over board at once be cautious. Initially you might drop some pounds but you may end up regaining the weight you've lost in no time. Just like in language school new skills require practice, understanding and building new routines. There is no quick and easy solution.
So allow yourself small steps. For instance overhaul your breakfast first, practice the new way of eating for a week and then move on to make some changes in regards to lunch as well. And so on and on.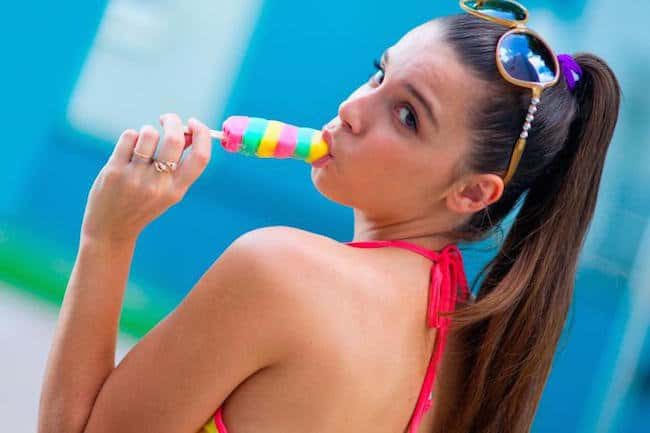 #2 Don't eat artificial sweeteners 
I did that. At some point on my weight lose journey I decided to follow a low-carb diet and replaced all sugars with zero-calorie-Splenda. Back then (before I enrolled at Nutrition School) it sounded like a smart move to cut back on calories. But I didn't know that I put my health in jeopardy.
Artificial sweeteners are a controversial topic. There are claims that they cause a number of health problems, including cancer and diabetes. Saccharin, aspartame and sucralose are the most popular. You know them by the small packages in the colors pink, blue and yellow from you favorite coffee shop.
Do you think you are safe because you don't add sweeteners to your coffee?
Artificial sweeteners are also widely used in many processed foods (salad dressings, BBQ sauce, bread, cereal, yogurt, …) and beverages. The processed food industry depends on artificial sweeteners. Because they are 200 to 600 times sweeter than sugar, less of it is needed to give your diet soda the same level of sweetness than your regular soda. It's a win-win for them.
First they need fewer sweeteners, which lowers the production costs. Second it lowers the calories in the processed food and beverage, which makes it attractive to calorie counting consumers.
But honestly, the food industry doesn't really care about your calorie consumption. All they care about is that you buy their products. And because every human being and its taste buds love sweetness, the food industry adds these chemicals to their foods and beverages to hook us. With a little bit more sweetness we will remember the great taste and buy the products again.
Do you think you don't buy processed foods with artificial sweeteners?
Well, the food industry thought about you as a health conscious consumer too. And then marketing becomes a very handy thing. Renaming the ingredient in question is a great solution: Calcium cyclamate? Calcium is good, isn't it? What about neotame? Lesys? Rebiana? Recognize any of these names when reading the label on the packaging?
Artificial sweeteners may do you more harm than good. In regards to dieting, they are actually a trigger that leads to overeating. It's like unwrapping a gift box that is empty. Your taste receptors taste sweetness and your body is expecting sugar but doesn't get any. Very disappointing. So what do you do? You eat more to satisfy your cravings.
So try to replace refined sugar with healthier natural alternatives like coconut sugar, raw honey, blackstrap molasses, maple syrup and stevia (See also: Is Stevia healthy?). Buy only products that have a short ingredients list with ingredients you understand. Or even better buy only whole foods.
# 3 Don't eat low fat products 
The topic of fat can be really confusing. I know. After all we grew up with the belief that dietary fat is evil and causes serious diseases. But things have changed in the last 20 years and tons of new studies now support a different view. It's the type of fat that matters.
It's time to let go of the belief that the fat we eat equals the fat we store on your waistline. It's not that simple. Fat is crucial for a healthy body. Hormones and cell membranes are made from fat. Omega-3' and omega-6' fatty acids are essential for mental health.
The body needs fat to utilize the vitamins A, D, E and K. If you start limiting fat in your diet it can impair important functions.
Secondly we pick low fat products to cut calories. But did you ever compare a "regular" product with a low fat product? It's not necessarily lower in calories.
And if these arguments are still not good enough then think about why we love melted cheese, whipped butter and crème fraiche in the first place. Fat carries flavor. It makes things delicious and irresistible.
If you take out the fat, then the product just tastes like cardboard. And you guessed right, the food industry knows a trick to deal with that. After all they want to sell their product. So what do they do? Exactly, they add sugar or artificial sweetener. Back to #2: Don't eat artificial sweeteners.
One more argument in my plea for fat, fat makes you feel full longer. If you are up to it, eat and compare a whole fat product with a low fat product and become your own judge.  (See also: Why is fat important in a healthy diet)
And last but not least a word of caution: It's true that fat is high in calories and eating too much of it will result in weight gain. But this is also true of carbohydrates. Balancing all macronutrients and picking the healthy ones is the key.
#4 Don't miss out on fiber
Fiber is the perfect diet food. I mean if you would see the following qualities on a TV commercial wouldn't that accelerate your excitement for this food group?
It has no calories.
It is filling.
It helps you to lose weight.
It lowers cholesterol levels.
It is absolutely necessary for good health.
Now the less glamorous sounding facts: Soluble fiber feeds the beneficial bacteria colonies in the colon and insoluble fiber acts like a broom and "sweeps" the colon. And a happy colon is a happy you.
Well, there is much more to say about fiber. Start with a great overview about high fiber foods or find a fiber food like chia seeds or flax that you add to your morning smoothie. (See also: How much fiber you need a day) 
#5 Not building lean muscle mass
Muscles eat calories. Fat pockets store calories. Therefore more muscles = more calories burned. And don't worry; we are not talking about bulky muscles. We are talking about sexy lean muscles.
So don't ignore strength training on your weight loss journey. It's not all about riding the elliptical to total cardiac exhaustion.
You don't know what exercise you should do? Buy some cheap dumbbells at the Thrift store or fill empty water bottles with sand. Then search diverse fitness websites for an instructional video and get going. Need more supervision and community? How about a barre fitness class or hiring a fitness trainer? It's like with everything, making smart and efficient moves towards your goal. Get strong. Happy lifting everyone. See you at the free weights.