Childhood obesity is becoming an increasing problem in western countries, with children choosing to spend more time in front of the TV, surfing the internet and playing computer games than engaging in active, healthy play.  Coupled with an increased intake of junk and fast food, these is leading to the unhealthiest generation of young people yet, so what can parents do to get the kids moving?
Children are heavily influenced by the habits of their parents, so as a parent it is important to set a good example by keeping active and eating healthily.  By taking part in active fitness activities as a family, children are more likely to want to participate and enjoy keeping healthy.
Not only it is great for the child, but also helps the fitness levels of the parents who may find it hard to make time to exercise when working and looking after children.
So get the family together and find some activities that you can enjoy together to increase fitness, strengthen family bonds by spending more time together.  The following 10 ideas will give you some food for thought.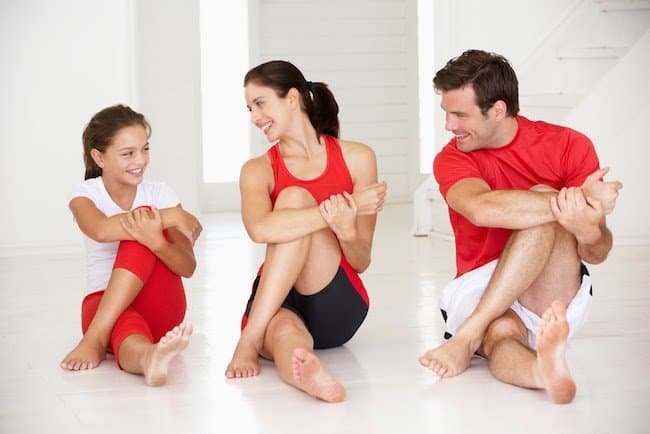 Cycling
Cycling is usually a lot more exciting than walking for children, as well as being a faster way to get to places.  A family bike ride once a week can be a great way to get outdoors and increase fitness levels for all ages.  Bikes can also be used to get to school and other locations when appropriate and can be a more time efficient, not to mention environmentally friendly way to reach destinations.
Team Sports
Many children prefer team sports such as football, soccer, basketball and baseball as they tend to be more sociable than individual activities.  Divide the family into teams, borrowing a few friends or neighbours if necessary, and set up a tournament to encourage a little competition, which often increases the incentive.
Walking the dog
A family pet, particularly one that need regular exercise is a great way to get your child out on a walk too as it makes it much more interesting and entertaining.  Try to walk the dog as a family as much as possible and spend time playing games with the dog and kids in parks to make sure the whole family gets a workout.
Active parties and gatherings
Birthday parties often involve sedentary activities, such as going to the movies or a fast food restaurant, but this does not have to be the case.  Activities such as ice or roller skating, a picnic and football game in the park, or perhaps rock climbing for older children can be much more entertaining and give the whole family an opportunity to get a bit of exercise.
Many children may not have even done these activities before and will be excited to try them for the first time.
Outdoor play
Children are spending increasing amounts of time inside in front of electronic equipment from an early age, so it is important as a parent to get your child out of the house and playing outdoors.
Simple activities such as kicking a football, going to the park or bouncing on the trampoline are all great fun and fitness for the whole family.  Skipping is another great calorie burner that is great for all ages so get the family jumping together.
Active holidays
Holidays are a great opportunity to spend more time outside being active as a family, so choose a destination that gives the opportunity to do this when possible.  Skiing and cycling holidays may inspire older children, whilst even a nice bit of beach with water sports and beach games can be great for all ages.  Try activities you wouldn't normally do such as canoeing, rock climbing and rafting.
Do gardening and outdoor work together
Gardening and outdoor work may not be obvious exercise, but there is no doubt it burns calories and gets the family out in the fresh air.  By engaging children in gardening and the growing of fruit and vegetables you may also encourage them to eat these healthy foods, improving their health in another way.
Encourage healthy competition and set challenges
To motivate older children, competition between family members and physical activity challenges may be a good tool to inspire interest.  Play team games, or set challenges such as races, relays and distance events, for example you could invest in pedometers and compete to walk the most steps in a week.
Join a class together
This applies more for older children, who may like to participate in more fashionable activities such as yoga or spinning classes.  By doing this activity with your children there is motivation for both parents and children to attend the class and push themselves, perhaps even to challenge them to outperform the other.
Play active fitness video games
Although many would argue that fitness focussed video games are not the same as getting outside and actually doing the activity, there is no doubt that children (and adults), enjoy these games.
There is definitely a novelty factor involved and there is also a competitive aspect that is attractive.  Video games can also be played by numerous players together and on days when the weather is bad and outdoors exercise is not an option.