It can seem difficult to know what to eat when trying to lose weight.  Before mentioning what to steer clear from, here are some foods that should be kept in your diet when losing weight.
Fruits and veggies, especially dark leafy greens
Lean proteins
Legumes (black, pinto, kidney, etc. beans)
Healthy fats like avocado, olive oil and nuts
These foods are rich in nutrients like vitamins, minerals and antioxidants that are important for health and sustaining healthy weight loss.  If you're cutting down on calories, you want to make sure the calories you're eating also give your body nutrients.  In general, you should steer away from food with empty calories, especially when trying to lose weight.
Here are some empty calorie foods and drinks to cut when trying to lose weight.
Sugary drinks
Sugary drinks like soda or juice are a concentrated source of calories and sugar that can easily spike blood sugar.  After drinking sugary drinks, blood glucose levels spike.  Insulin is released in response to spike in glucose and brings the glucose out of the blood into the body's cells.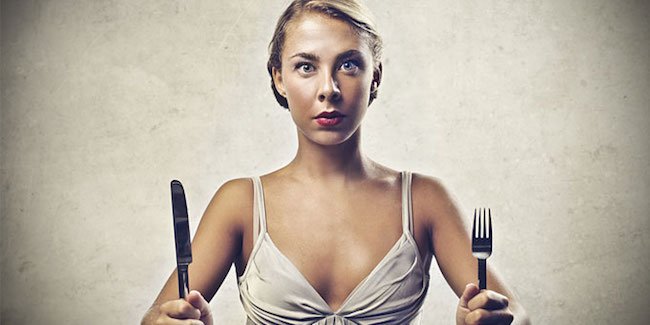 One of insulin's roles is to promote fat storage.  The more insulin is released, like after drinking sugary beverages, the more likely fat storage is going to happen.  According to Harvard School of Public Health Publication, the rising consumption of drinking sugary drinks has contributed to the increasing obesity problem in the US.
Another problem with sugary drinks is that the brain has a hard time registering these calories.  A 20 oz can of soda can have around 240 calories, but after drinking this soda most people don't feel like they've ingested 240 calories.
Drinking sugary beverages just adds calories and sugar without providing satiety, the feeling of satisfaction from a food. See also: 4 natural sweeteners that are good for you and Does diet soda cause weight gain?
Pre-packaged diet food
Pre-packaged dinners are usually full of preservatives, sodium and food like substances.  There are some exceptions, but overall pre-packaged dinners can be a far cry from real food.
If packaged food is labelled diet, it may be a warning that it has even more artificial ingredients than normal.  Read the ingredient label before buying any diet packaged food.  If it has a long list of ingredients you can't pronounce, you may want to think twice before eating it.
Eating a lot of artificial sweeteners, which are prevalent in diet foods, could increase tolerance for sweetness and increase cravings for sweets.  Moderate intake of sweets, whether from natural sugar or artificial sweeteners.
Refined grains
Refined grains can include white bread, packaged sweets and bakery products.  Refined grains are high in carbohydrates, sugar and low in fiber.  This combination can make these foods low in satiety (feeling full) and high risk for eating a large portion size.
As mentioned above, high amounts of sugar cause an increase in insulin response that promotes fat storage.  Fiber can help slow the release of glucose from the digestive system into the blood, but since refined grains are low in fiber the sugar enters the blood system fast.
Stay away from packaged baked goods, even if the package says they are low calorie.  Most packaged sweets still contain a high amount of simple carbohydrates and little other substance, even if they are low calorie.
Unbalanced meals
Eating balanced meals are important for stabilizing blood sugar levels and getting adequate nutrients.  Balanced meals should include a fiber source like fruits vegetables or whole grains, lean protein and healthy fat (see intro).
Avoid eating meals that are only one food group.  Balanced meals can help keep you full longer, lowering food intake later in the day.
Low nutrient dense foods
Most of the food listed above would be considered low nutrient dense foods.  Any junk food like chips, candy, soda or packaged baked goods can fall under this category.  It's important to eat nutrient dense foods when trying to lose weight.  Eat real foods over pre-packaged foods to make sure your body is getting all the necessary nutrients for weight loss.
Avoid foods that have calories and little else nutrition.  They are taking up space in your calorie allotment without providing any other benefit.  They probably will not fill you up and may negatively impact your blood sugar.
Conclusion
In conclusion, be aware of false marketing on nutrition labels.  If something says sugar or fat free, it does not mean that it will help you lose weight.  Diet packaged foods are often filled with simple carbohydrates, fillers or preservatives.  These ingredients will not help you when trying to lose weight.
Stick with balanced meals that provide fiber, protein and healthy fats.  This combination from foods can help stabilize blood sugar and keep you satisfied longer.
These foods are also more likely to be high in nutrient density, meaning they provide other nutrients your body needs besides just calories.
References used in this article