The key to healthy cooking for meat is to not add a lot of excess fat and calories during the process.  For example, deep fat frying can add extra calories and fat compared to baking.  Avoiding charring from an open flame is also recommended, as charring could increase carcinogens in meat.
It is recommended to trim excess white fat from meat before cooking, but the good news is that there are many ways to healthfully cook meat that won't lead to an over cooked, dry piece of tasteless meat.
Poaching
Poaching is often associated with cooking eggs, but it can also be used for fish or chicken.  Poaching requires a small amount of liquid for the meat to simmer in until the meat is done.
Note the liquid should remain a simmer not a boil.  You can use water to cook, or to add more flavor use broths or a tomato based liquid.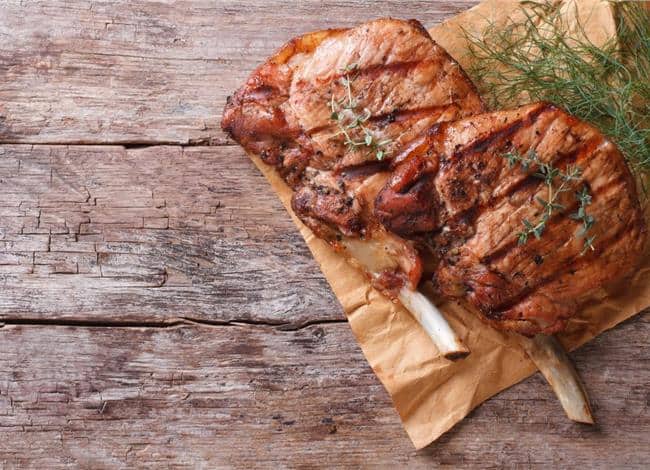 Poaching should produce a tender, flavorful piece of meat.
Sous vide
Sous vide is translated to under vacuum in French.  Traditionally, meat is placed in a vacuum sealed bag which is placed in a water tank that is held for a certain temperature.
When the food is adequately cooked, which can be done via time or internal temperature, you can also sear it in a pan for added flavor.  Cooking sous vide will produce a tender, moist piece of meat.
While some may be intimidated to try sous vide cooking at home, Modernist Cuisine™ suggests it isn't a complicated or expensive cooking style.  They also suggest there isn't need to worry with using sous vide bags for cooking because the plastic is made with polyethylene which has been studied for cooking with heat.
Using plastics made with polyvinyl chloride, like most plastic wraps, may have a risk for leaching chemicals into food during cooking.
See also: Is red meat bad for you? and Should you eat meat every day?
Broiling
Broiling involves a high cooking temperature but a short duration.  Some tender cuts of meat can be cooked this way because of the short cooking time.  The heat is above the food instead of underneath it.
Stir-frying
Stir-frying can be an easy way to cook bite size pieces of meat quickly.  Stir frying involves using a small amount of oil and can quickly cook meat.  You don't need to go overboard on the amount of oil you add to the pan, and be sure to choose heart healthy oils.
An easy addition to stir-frying meat is adding in some veggies and herbs to your pan.  If you're already stir-frying some meat, you may as well add some veggies to go with it!
Adding in peppers, onions, snow peas, tomatoes, zucchini, mushrooms, etc. for a way to bump up your nutritional value for your meal.  Avoid using a lot of sauce for stir-fry's as they can add a lot of empty calories and sugar.
Stews and soups
Making a stew with some meat can be a one pot wonder meal.  Although this requires a longer cooking time, it can be a really healthy way to cook meat.
Like a stir-fry, making a soup or stew with meat is an open slate for adding all different kinds of vegetables and/or whole grains.
A benefit with stews and soups is you use the cooking liquid.  This is beneficial because water soluble nutrients like B vitamins and vitamin C can leach out into a liquid when they are cooking.
If you drain the water you can lose some of the nutritional value.
If you are using a fattier piece of meat for a stew, trim off the excess fat.  If you are using ground meat, cook the meat and drain the fat before adding to a stew/soup.
Roasting/ baking
Any piece of meat can be roasted in the oven.  Roasting is also convenient for cooking a whole chicken or turkey.  When you are roasting a leaner piece of meat, adding a broth and keeping the pan covered in the oven can help prevent the meat drying out.
Using herbs and spices is an easy way to add flavor for roasting; using a spice rub on the outside of a piece of meat can also help lock in flavor.
Grilling: use caution
If you are grilling, avoid charring meat.  Charring meat can increase the carcinogen risk.  Grilling can be a healthy option if you avoid over cooking!
Conclusion
There are many healthy ways to cook meat.  Roasting or broiling are convenient for the oven and don't require excessive oils for flavor.  Instead, you can use spices and a small amount of oil if necessary.
For leaner cuts, cooking in broths or tomato based liquids can also add flavor.  Stir frying smaller cuts of meat can be easy and also an easy way to add in some veggies.
Cooking with poaching or sous vide can help keep the meat moist and don't require added fats.
Cooking meat via a stew or soup can be easy because you keep in all the nutrients of the added vegetables in the cooking liquid.
References used in this article