Agave nectar has grown in popularity in the past decade, but as of late some health professionals are questioning its potential health benefits. Agave nectar is from a plant and has been touted as a healthier sweetener option compared to regular sugar. It is in a liquid form and is a viable substitute for vegans who don't want to eat honey.
Is agave nectar healthy or not? As with most foods, it really depends on how much you eat and what the rest of your diet looks like. Here are some health considerations of agave nectar and if it is a sweetener you want to choose.
Where agave comes from
Agave nectar comes from the agave plant that grows in the southern part of the US and northern parts of South America. Although we associate food from plants as usually being unadulterated and close to nature, agave nectar has to go through much processing before it reaches our tables.
Most agave nectar is from the blue agave plant because it has a relatively high carbohydrate content. The sap is extracted from the middle part of the agave plant, called the pina. The sap is heated up until it resembles a sweeter syrup.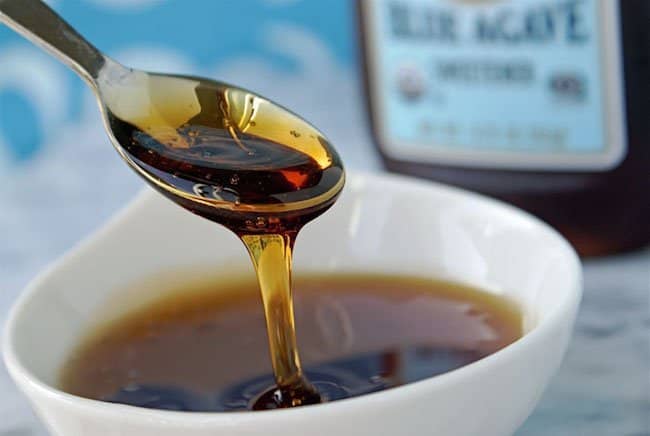 Nutritional profile
Agave nectar contains about 60 calories per tablespoon and about 15 grams of sugar. This is more calories than a tablespoon of sugar, as a tablespoon of sugar provides about 40 calories.
Because agave nectar is sweeter than regular sugar, you can generally use less of agave than you would sugar. Because of this, agave nectar can be a lower calorie choice because you are using less amount.
Fructose level
One of the reasons why agave nectar has come under more scrutiny is because it is fairly high in fructose. In fact, agave nectar is about 90% fructose while high fructose corn syrup is about 55% fructose. Why is the high level of fructose potential cause for concern?
Some research suggests the increasing consumption of fructose, coming from added sugars, may contribute to the growing obesity epidemic. Ingesting high amounts of fructose can also increase risk for cardiovascular disease and non-alcoholic fatty liver disease. There is also concern that eating high amounts of food with almost pure fructose may have more of a negative impact than eating foods mixed with glucose and fructose.
Glycemic index
Because agave nectar is high in fructose, it is considered a low glycemic index food. The glycemic index is a way to measure the effect of a food on blood glucose level. For example, eating something with a high amount of glucose, like table sugar, will raise blood sugar levels after eating. White sugar is considered a high glycemic food. Since agave nectar is relatively low in glucose, it will not raise blood sugar levels as much as sugar.
Eating low glycemic index foods could be advantageous for diabetics or people with insulin resistance. However, this does not mean diabetics can eat as much agave nectar as they want and not worry about any negative effects. In fact, the American Diabetes Association still recommends to limit intake of agave and considers it like other sweeteners.
What does the rest of your diet look like?
As with many foods, when considering if agave nectar is a healthy choice, it's important to look at your diet as a whole. Are you eating a lot of other foods that are high in added sugars? Are you eating foods that are high in fructose? What is your overall added sugar intake?
The American Heart Association (AHA) recommends limiting intake of added sugar, whether it's from white sugar, agave nectar, high fructose corn syrup, etc. This equates to about 100 calories per day for women and about 150 calories per day for men for added sugars.
If you add sweeteners to your diet, try cutting back on the total amount. Sweetened beverages are an especially easy target to lower added sugar intake.
Alternatives
More nutrient dense options for sweeteners could be honey, maple syrup or molasses. Any added sweetener will add calories and sugar, but these three also provide vitamins, minerals and antioxidants instead of just providing empty calories.
Conclusion
Agave nectar is from the agave plant and has been used for centuries as a sweetener. It is mainly composed of fructose, and because of this has a low glycemic index. Low glycemic foods can be beneficial for diabetes and insulin resistance because they do not spike glucose levels.
However, eating a high amount of fructose in the diet may increase risk for obesity, type 2 diabetes, heart disease and non-alcoholic fatty liver disease. Focus on the total amount of any added sweeteners in your diet and try to limit over all intake.
Agave nectar can be part of a healthy diet as long as it is not excessive and the rest of the diet is balanced and nutrient dense. Make sure you are not getting over the recommended amount of added sugars per day, whether it is from agave nectar or regular sugar.
References used in this article