What are the best foods to eat before your run? The most important factor in a pre-run snack or meal is digestibility. Proper digestion requires time and blood supply.
Timing does matter
If the food in your stomach has not been digested completely you might end up with stomach cramps. Foods are digested at a different speed. Sugar and starches are digested and absorbed quickly while proteins and fats can linger in your stomach to up to 4 hours. (However protein powders are absorbed more quickly than the protein in the form of meat).
Blood supply
If you eat shortly before exercising blood is drawn to the stomach to aid digestion. Needless to say, that the same blood can't deliver oxygen and remove metabolic waste products to and from your working muscles at the same time.
Another important factor that can optimize workout performance are nutrients.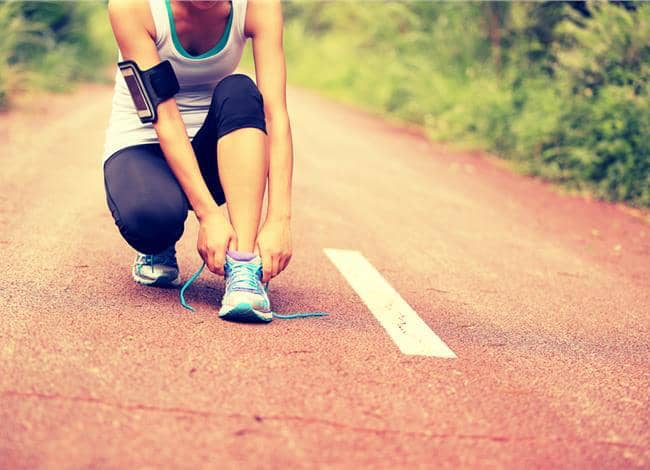 Macronutrients
Carbohydrates are the preferred energy source of your body. Researchers at the University of North Carolina found that performance during moderate to high intensity exercise lasting 35-40 minutes improved after eating a moderately high carbohydrate, low fat meal 3 hours before exercising.
See also: What to eat before your workout for max results.
Micronutrients
Hmm, going into detail here would be too much for today's post. Many micronutrients play key roles in energy metabolism. However, there are your electrolytes to consider or your performance enhancer beet juice.
Anyway, lets see what to eat and what enhances your running performance depending on how much time you have between eating and running.
You run first thing in the morning before breakfast
6 a.m.? Wow, you are determined. Good for you. I like the way you run. May I ask what your motivation is? Do you like this time of the day for your run because:
Your brain doesn't realize what you are doing until its over?
You like to get it done so you can focus on the other crazy things in your life?
It's peaceful out there and the street cleaning crew celebrates you with a high five?
Exercising first thing in the morning burns more body fat?
According to researches from the University of Connecticut exercising on an empty stomach may encourage your body to burn slightly more fat for fuel after an overnight fast.
However, you also may fatigue sooner or drop your exercise intensity and therefore end up burning fewer calories. So if performance is your main goal, then exercising on an empty stomach will likely reduce your endurance.
Anyway, if you just dropped out of bed and intentionally slipped into your runners before having breakfast, then I would recommend eating some simple carbohydrates before you grab the house keys.
Chew them wisely to make sure to kick-start their proper digestion with the digestive enzymes that linger in your saliva.
What to eat before your run
Foods rich in simple carbohydrates and electrolytes
1 oz. raisins
½ small ripe banana, papaya, grapes
3-4 dates, dried figs or dried apricots
2 tbsp. raw honey
2 tbsp. maple syrup
Sea salt or dulse powder
1 tsp. coconut oil
Commercial available pre-workout energizer (check for clean ingredients)
Commercial available gel
1 cup apple juice or coconut water
What not to eat before you run
Foods with fat
Nuts and seeds, nut butter, cream cheese, French fries, energy bar, avocado
Foods with protein 
Protein requires fluid to be metabolized, which will result in cramping during your run.
Deli meat, meat, fish, cottage cheese, tofu, beans
Foods high in fiber and complex carbohydrates
Granola, whole grain toast
Fruits and veggies low in carbohydrates
Cherry tomatoes, cucumber, celery
You are going for a run in about 1-2 hours
With 1-2 hours for digestion you should think in snack-portions. The more time before your run, the larger the snack. Furthermore pick foods that are richer in carbohydrates.
What to eat
Foods rich in carbohydrates and electrolytes
Fresh fruit like berries, banana, apple, mango, papaya with 1 tbsp. organic nut butter
Smoothie with cold-pressed whey protein, almond milk and coconut oil
Chia seed pudding with blueberries
Plain organic Greek yoghurt with applesauce and cinnamon
Cottage cheese with grapes, strawberries and shaved almonds
Energy, cereal or breakfast bar
Fruit loaf or raisin bread with butter
Small bowl of oatmeal with 1 tbsp. dried fruit and flax meal
Bagel with cottage cheese, pineapple and cashews slivers
Toast with ¼ avocado and pomegranate seeds
Cooked potato with butter
Rice pudding with raisins and cinnamon
Salty pretzels
Waffles with 2 tsp. organic almond butter and 1 tsp. jam
Whole grain toast with hard boiled egg and sea salt
What not to eat 
Foods high in protein and fat
Cold cuts, meat, fish, beans
Foods with lots of spices
Chorizo sausage, chili con carne
Foods high in fiber
Raw vegetables
You are going for a run in about 2-4 hours
This is the ideal window. If you have 2 to 4 hours before running you will leave your stomach enough time to settle. Liver and muscle glycogen will be topped up, which will enhance your performance. Overall you will feel not too full and not too hungry. Perfect! Let's eat and go for a run later.
What to eat
Sandwich/roll/bagel/wrap filled with chicken, fish, lox, cheese, egg, avocado or peanut butter
Potato with beans, cheese, tuna, coleslaw or chicken
Pasta with tomato based sauce and vegetables
Chicken with rice and salad
Vegetables and prawn or tofu stir fry with rice
Porridge with goji berries and nut milk
Whole grain cereal
Oatmeal with nuts and seeds
Cheese omelet with spinach
What not to eat
Foods that can cause digestion troubles
Raw onions, leek, garlic and beans
Foods you have a sensitivity to like
Dairy products for instance can promote mucus in the throat, which makes breathing harder
Basically one rule of thumb for what to eat and not to eat before your run is:
The more time you have the more complex and bigger the meal can be.
After your run you are not done. A perfect workout does not only include well-fuelled energy storage beforehand. For a quick recovery afterwards post-run nutrition is equally if not more important than what to eat before your run. Post-workout snacks restore energy and rebuild muscles.
Happy running everyone!