Hmm? If you are reading this in the hope of finding a "wild card" on you weight loss journey this article isn't the place. There is no such thing as the best cocktail for weight loss just as there is no best pasta and bread dish for weight loss. It's a contradiction. Either you want to lose weight or you want to drink cocktails. Sorry for disappointing you. But hold on. Keep reading there is still some hope.
Losing weight is a difficult task and you decide what's part of your journey. Just be mindful. If you really want to succeed you have to stop searching for loop holes and excuses and commit to your goal.
The most important thing for losing weight is making every calorie consumed as "nutrient dense" as possible. You're restricting calories because you want your body to burn off your muffin top.
But at the same time your body has to do all the stuff that keeps you healthy and fit like producing red blood cells, building hormones, keeping your skin hydrated and so on. And for these tasks your body needs nutrients like vitamins and minerals.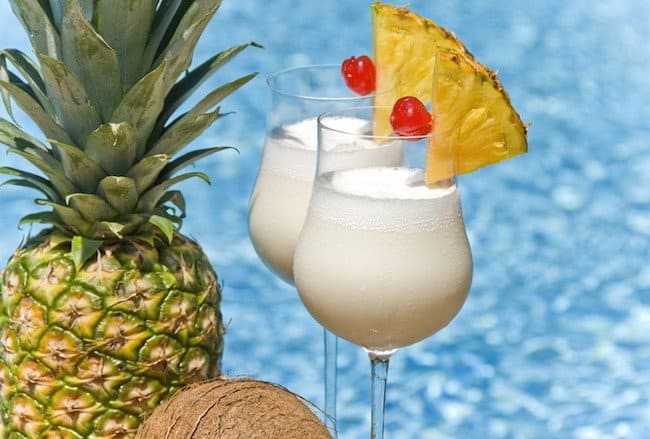 Nutrient dense food low in calories is one key to weight loss success
Turns out, some foods are loaded with vitamins and nutrients and provide very little calories. Others provide tons of calories with very little health benefits (also called empty calorie foods). On a weight loss journey you want to dig into the first group, the "nutrient dense" foods. Unfortunately alcoholic beverages, especially cocktails do not belong there. They provide a lot of calories with very little or no extra benefits.
I know what you are thinking right now: "Science says that one or two alcoholic beverages a day are healthy." Well, let's clarify that. It is not the alcohol that holds the health benefits. It's the stuff that comes with it, like the flavonoids that are present from grapes and hops in the making of red wine or beer.
Alcohol contributes nothing and even robs your body of nutrients. And it is even worse when you combine it with a mixture of sugar loaded fruit juice, syrup or lemonade.
However, there are evil and less evil choices. So when your excuse is "One won't hurt" then you should know what to look for.
These three components influence your weight loss success when drinking alcohol
Pure alcohol content
Calories from simple carbohydrates
Calories from fat
Alcohol
Pure alcohol is calorie dense. It contains 7 calories per gram. Fat has 9 calories per gram, protein and carbohydrates 4 calories per gram. Besides its high caloric content alcohol provides absolutely zero nutrients. Even worse it is toxic to the body.
Shortly after your first sip of cocktail the alcohol is absorbed via the stomach lining. It then reaches the brain and starts damaging your brain cells. What makes you feel relaxed is not the immediate loss of brain cells but the ability of alcohol to dilate your blood vessels (warm cheeks anyone?). This might feel pleasant to you but for your heart it means extra work. Basically it has to cover more ground with the same amount of blood. But not only your brain and heart are under stress.
Your liver is the busiest organ of all, drinking alcohol or not. It tries to juggle more than 500 life functions. One is metabolizing fats. Another is filtering toxic alcohol out of your blood system, breaking it up and using it for energy. Because dealing with the toxic alcohol is a priority to keep your body systems running, burning fat for energy is put on hold. And that is what you don't want when you are trying to lose weight.
In addition to that, alcohol robs you of important nutrients needed for weight loss. It blocks the absorption, interferes with processing and the use of vitamins and makes you lose nutrients with the urine.
Simple carbohydrates
Unfortunately sugary syrups, fruit juices and lemonades are staple ingredients in a cocktail. You don't need me to tell you, that this is not good for weight loss. Simple carbohydrates/sugars are readily absorbed, especially on an empty stomach. Your blood sugar level will spike, which triggers the release of insulin. Insulin is your sugar storage hormone. And whenever insulin cruises along in your blood you store sugar in your liver, muscles and fat cells of your muffin top. Basically when you store sugar you gain weight.
The hormone that releases sugar from your fat cells is called glucagon. But insulin and glucagon are like the sun and moon. Never appearing at the same time.
And no. Sorry. The pomegranate margarita does not count for healthy carbohydrates and an extra serving of antioxidant. Whatever fruit name your cocktail has been given it does not contain the benefits of real fruit. It's all flavored syrup. Basically concentrated sugar water with lots of calories and zero nutrients.
Fat
There is nothing like a "White Russian" or "Mudslide". The more heavy cream in the cocktail the tastier. And this might surprise you but fat is not your main enemy.
Healthy fats are essential to a healthy body. Your brain consists to 60% of fat. Fat is part of every cell membrane and your immune system relies on fats. However, this is not the place to get into the very complex topic of fats.
And I don't want to give you the impression that heavy cream cocktails are a great choice. But if you're enjoying a cocktail with some dairy or egg, the fat actually can prevent your blood sugar to spike. The fat lingers in your stomach and slows down the absorption of carbohydrates/sugars. Furthermore dairy and egg yolk carry some vitamins and minerals.
So yes, fat is an energy colossus but probably the most nutrient dense ingredient in your cocktail at the same time. However, it is still a cheap excuse for indulging. Again, due to the fat content these cocktails are some of the highest in calories.
To sum up, if you're drinking cocktails your weight loss journey will go off the rails. It will also increase the stress on your body since it will have to metabolize empty calories from the alcohol and sugar.
The actual damage that each cocktail does depends on things like your bartender's recipe, the mixology products used, serving size, amount you drink and of course on your health status, body composition and if you drink on an empty stomach.
Therefore I want to emphasize that the following predictions are just estimates and are not recommendation:
Some of the worst cocktails for weight loss
| | | | | |
| --- | --- | --- | --- | --- |
| | Calories | Fat | Carbohydrates | Alcohol |
| Long Island Ice Tea | 272 | 0g | 33g | 20g |
| Mai Tai | 257 | 0g | 17g | 27g |
| Pina colada | 253 | 3g | 32g | 14g |
| Red bull & vodka | 182 | 0g | 28g | 10g |
Less evil cocktails for weight loss
| | | | | |
| --- | --- | --- | --- | --- |
| Mojito |   95 | 0g |   8g |   9g |
| Bellini | 100 | 0g | 11g |   8g |
| Daiquiri | 114 | 0g |   4g | 14g |
| Martini | 135 | 0g |   0.5g | 19g |
Things that make a cocktail less evil
Ask you bartender for a cocktail
Without refined sugar, syrup or additives
With just one type of liquor and one serving size (1oz.)
With real fresh vegetable juice, NOT canned tomato
(canned tomato juice is loaded with sodium, I mean juices made fresh from carrot, cucumber, watermelon, beets or maybe even avocado? Please, let me know when you have found this gorgeous, creative bartender).
Enjoy alternatives like
Make sure
For each cocktail you drink have at least one glass of spring water.
Drink only one cocktail per hour (your liver can process about ½ oz. of alcohol per hour).
Don't drink on an empty stomach and eat a healthy meal before you drink.
Don't fall into the virgin trap. Some virgin cocktails are loaded with sugar.
The bottom line is, when you drink drink responsibly!