When you're on the beach, the last thing you want is to feel bloated, uncomfortable or feeling like your mid-section is heavier than normal.  You will want to eat or drink something light so you feel comfortable and if you do go swimming you will be less likely to get a cramp.  You also want to eat and drink foods that will hydrate you if you're going to be in the sun for a while.
Here is a list of food and drinks you may want to skip before heading to the beach.
Coffee drinks
Coffee itself can have many health benefits including antioxidants and phytochemicals.  However, when that plain coffee is added with milk or cream, flavored syrup, whipped cream, the health benefits can go out the window.  (Ways to make your coffee healthier)
Avoid the temptation to get an iced coffee drink before hitting the beach.  You will save yourself a lot of calories and extra sugar.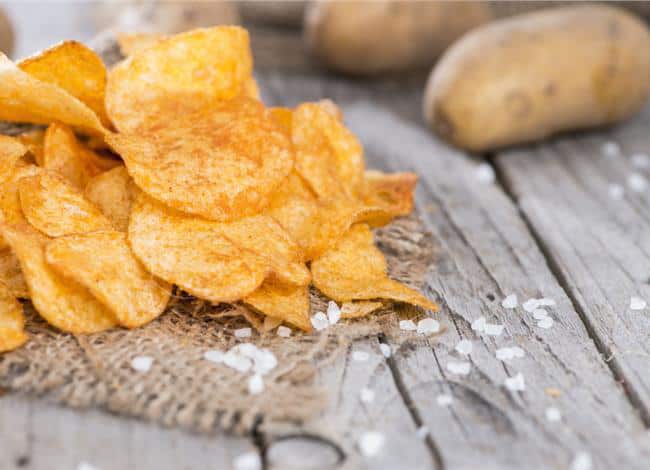 Some people are sensitive to caffeine, dairy or artificial sweeteners or preservatives.  Drinking this before heading to the beach could make you feel bloated, heavy and will not hydrate you the best.  Instead of coffee drinks, choose plain iced tea, water flavored with real fruit or coconut water to keep you hydrated.
Chips
Any salty food can make you feel bloated, especially for salt sensitive people.  Sodium and chloride are electrolytes in the body that help direct fluid balance.  Getting too much salt can pull extra fluid in extra cellular space in the body making you feel bloated.
Avoid snacking on high salt foods like chips, pretzels, packaged crackers or cookies or over doing packaged dips that are high in sodium.
Instead, opt for fresh or dried fruits and vegetables that will give you a source of potassium instead of too much sodium.  Potassium also is involved with fluid balance, and it can help pull water into cells which can help decrease the feeling of being bloated.
Fast food
Eating fast food before going to the beach can make you feel heavy because fast food is high in calories, fat, preservatives, sodium and sugar.  Fast food is not high in fiber either, so this combination means fast food can sit in your digestive tract for a long time which could make you feel bloated.
Instead of going through a drive-thru before heading to the beach, pack food from home with you.  A sandwich, fruit or a salad will probably sit better in your stomach than fast food.
Mixed drinks
Similar to coffee drinks, mixed drinks like cocktails, wine coolers, etc. are high in calories and sugar.  Getting too much sugar before going to the beach can cause extra water to be pulled into the digestive tract making you feel bloated.
Alcohol also can be dehydrating, which is the last thing you want when sitting in the sun all day.  Make sure you are staying hydrated at the beach with natural, low sugar options like unsweetened iced tea, fruit flavored water or coconut water.
Gas forming foods
Whether you're laying out on the beach or heading in the water, you don't want to worry about passing gas while you're trying to relax and have fun.  Gas forming foods can be different for everyone, but usual suspects are broccoli, beans, cauliflower, Brussels sprouts, dairy for lactose intolerant people or too much carbonated beverages.
Chewing gum can sometimes cause excess gas as well because you tend to swallow more air when chewing gum.  If you want to have vegetables as a healthy snack before going to the beach, ones that tend to be less gas forming include carrots, celery, cucumbers, tomatoes, snap peas or avocados.
Some people have allergic responses to other foods like gluten, eggs or soy, so avoiding these foods before you go to the beach can also limit bloating.
What to eat before you hit the beach
Light foods that are naturally hydrating like fruits, low gas forming vegetables, lean proteins, nuts, avocados or whole grains usually sit well in your stomach.  Eating a combination of healthy carbohydrates, fats and protein can help keep blood sugar levels stable. Drinking water before and while at the beach is important for staying hydrated and for healthy digestion.
Conclusion
Before going to the beach, you want to choose the right foods that will limit chances of feeling bloated and feeling uncomfortable.  Coffee or alcohol mixed drinks will not hydrate you that well and will give unnecessary extra calories and sugar.  Instead, choose water, unsweetened iced tea, sparkling water or coconut water.  Carbonated beverages like diet or regular sodas could also cause excess gas formation and bloating.
Limit high sodium foods like chips, pickles, packaged snacks or fast food before heading to the beach.  Choose foods higher in micronutrients and potassium to minimize bloating like fruits, vegetables or homemade sandwiches.