Skin aging is a natural process that happens over time when the epidermal and dermal skin cells get degraded.  As we get older, skin aging is a normal process, but premature aging can happen to the skin from environmental factors.  Synthetic skin care procedures and topical applications can benefit skin health, but dietary factors can also attribute to skin health and how the skin looks.
Components in certain foods can provide the building blocks to make collagen and structural support for healthy looking skin.
They may also help protect your skin from damage caused by the sun.
Antioxidants from fruits, vegetables and spices can help protect skin cells from damage, and eating foods high in vitamin C and amino acids that build collagen all can help benefit skin health.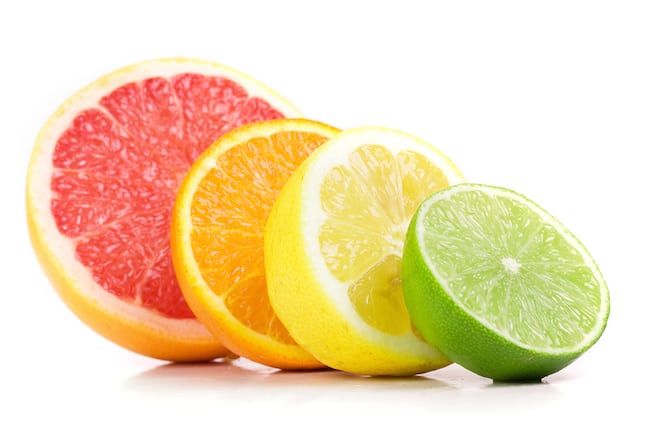 While getting these nutrients in your diet is not a guarantee you won't get wrinkles, it will provide your skin nutrients to help lower signs of premature aging.
See Also: Foods to eat for perfect skin
Strawberries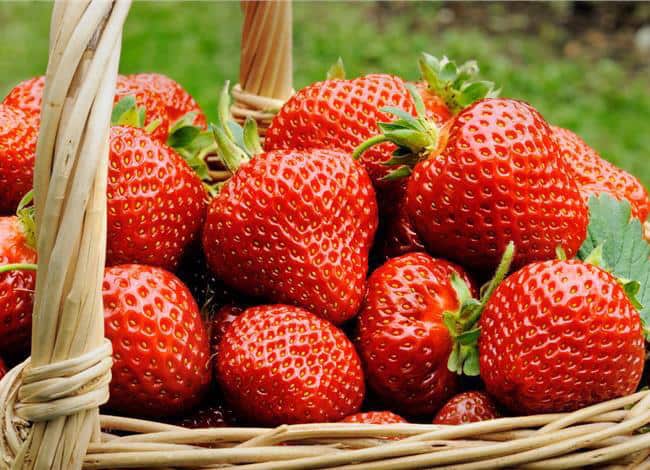 According to a 2007 study (1), data from over 4,000 women suggest higher intakes of vitamin C were associated with a lower likelihood of wrinkles and dry skin.
Therefore, eating foods high in vitamin C can be some of the best anti wrinkle foods to eat.
Fruits and vegetables in general are a good source of vitamin C.
For example, a cup of strawberries provides over 100% DV vitamin C. 
Eating a cup of strawberries along with a variety of other fruits and vegetables can provide a high amount of vitamin C.
Linus Pauling Institute (2) suggests the role vitamin C has in collagen synthesis makes it such a vital role for skin health.
Collagen is the matrix underneath skin layers that holds the skin together and gives it firmness.
As we age, collagen production goes down which is one reason for an increased wrinkling and sagging skin in the elderly population.
Another reason vitamin C can help skin health and act as anti wrinkling is because it can help limit damage to skin cells from UV light.
Eating vitamin C rich foods or taking a vitamin C supplement is not a replacement for using sunscreen, but it could add another layer of protection against UV damage to the skin.
Vitamin C may also help your skin stay hydrated and not dry out.
Therefore, vitamin C can help promote collagen formation, which is critical for deterring wrinkle formation, and it may help keep skin from appearing dry.
Citrus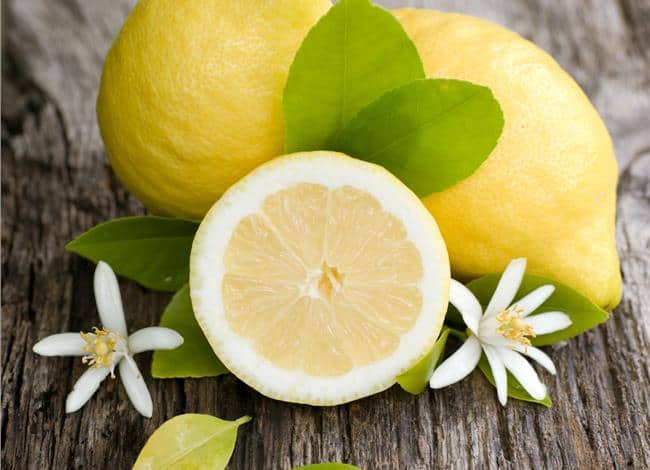 Besides strawberries, citrus fruits are a good source of vitamin C and because of this can be considered an anti wrinkle food.
A medium sized orange provides over 100% DV vitamin C.  Lemon, limes and grapefruits are also high in vitamin C. 
Besides eating oranges and grapefruits, one way to easily get the vitamin C from citrus fruits is to squeeze fresh citrus in water throughout the day.
Bell peppers
Bell peppers are another rich source of vitamin C.
Adding more peppers to sandwiches, salads, stir fries, omelets, pasta dishes, etc. can help bump up your vitamin C intake.
One medium bell pepper provides over 100% DV vitamin C.
Cocoa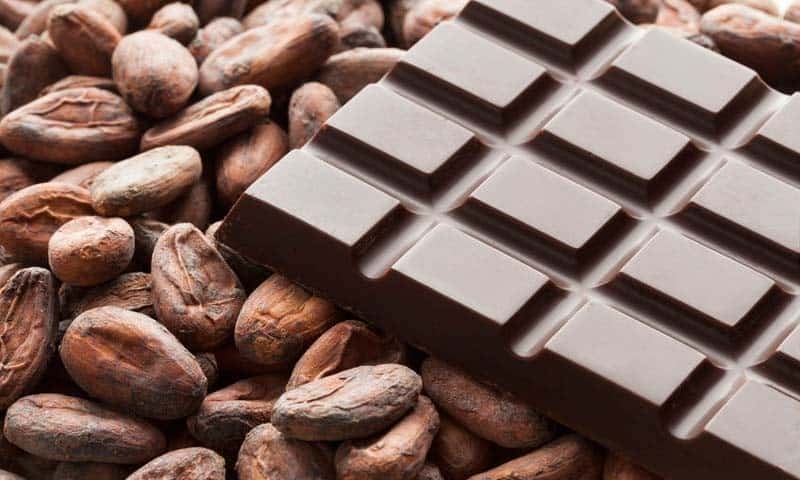 Cocoa beans are a rich source of polyphenols.  These polyphenols act like antioxidants that protect body cells from damage.
Research has shown the polyphenols from cocoa can have heart health benefits, and a 2009 study (3) concluded consumption of chocolate high in polyphenols can offer skin protection from harmful UV rays.
The antioxidant capacity level in chocolate products depends on where the cocoa bean is from, growing conditions, soil conditions, post-harvest handling, and manufacturing process.
Most processed chocolate products have low antioxidant content.
So, don't assume eating all chocolate products will benefit your skin.
Chocolate products that have a higher content of cocoa will have a higher amount of antioxidants.
Therefore, these foods will have the highest anti wrinkling potential effects.
However, since other factors can affect antioxidant content of cocoa beans, more research is needed to know what levels of antioxidants can benefit skin health.
Tomato products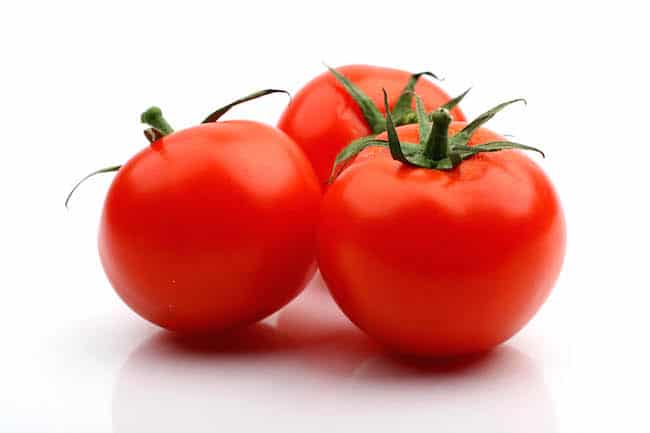 Antioxidants are stored in the skin to varying degrees.
Scientists suggest higher antioxidant levels in skin may offer protection against wrinkling and protecting skin cells from damage.
In fact, a 2008 study (4) found higher levels of the antioxidant lycopene in skin can lead to lower levels of skin roughness.
How can you get more lycopene in your diet? 
One way is to eat more tomatoes and tomato products, as tomatoes are a rich source of lycopene.
Eating more tomatoes can help increase levels of lycopene in the skin.
Garlic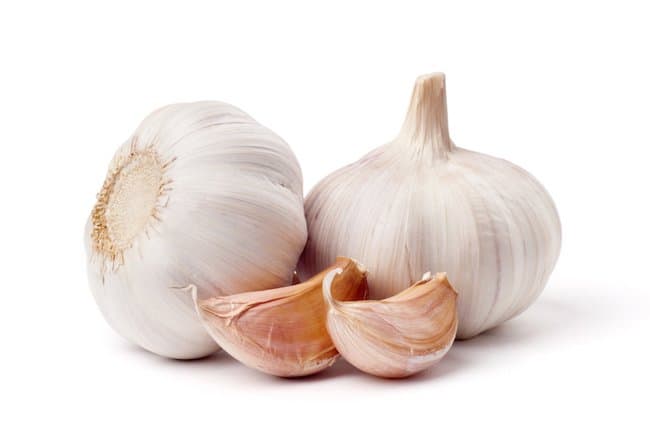 For thousands of years, garlic has been used as a remedy for multiple conditions.
The antioxidants from garlic have been shown in research to back up some of these associations with garlic (5).
Garlic has been associated with providing benefit with aging ailments including: lowering risk for cardiovascular disease, inhibiting platelet aggregation, lower cancer risk and rejuvenate skin.
While garlic is not a magic bullet cure for anything, eating garlic could help protect skin from wrinkling.
Exposing garlic to high heat can lower the content of antioxidants, so consuming raw or lightly cooked garlic can offer higher antioxidant benefit.
Fatty fish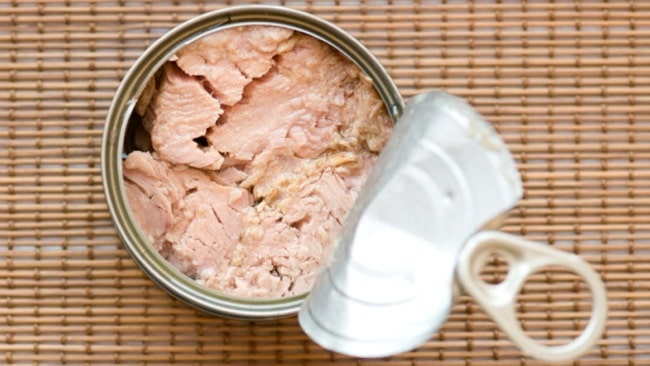 Omega 3 fatty acids are an essential fatty acid.
They help lower inflammation in the body and can lower platelet aggregation of the blood.
Omegas 3's are associated with many health benefits, and lowering risk for wrinkles may be one of them as well (6).
Omega 3's may help protect collagen from breaking down which could translate into fewer wrinkles.
Omega 3's may also help lower risk for skin cancer by lowering inflammation and helping to protect against cancer growth in skin cells.
Foods high in omega 3's can include fatty fish, olive oil and nuts.
Health recommendations suggest eating 2 servings of fatty fish per week which can include tuna, salmon, mackerel, herring or sardines.